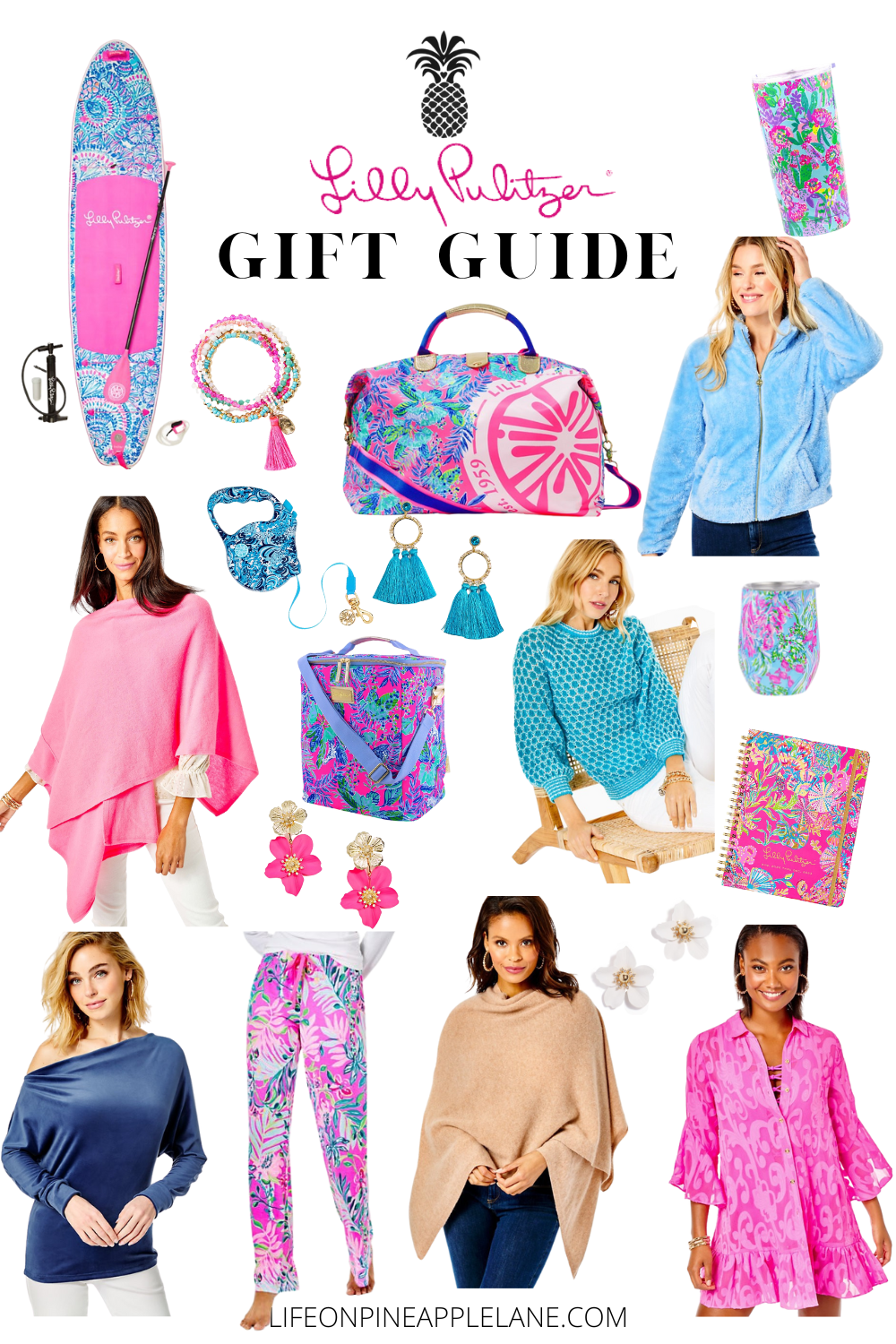 The Best Lilly Pulitzer Holiday Gift Guide

Hi Friend!
Have you started your holiday shopping yet? I just started thinking about it but no purchases made yet! I put this  round up, The Best Lilly Pulitzer Holiday Gift Guide for you to help with ideas for that gal in your life who loves Lilly! Let's get to it!
Jewelry Gifts
-I love this tassle bracelet set.
-I have these beautiful orchid earrings in light pink(sold out) but the white are still available. They are gorgeous in person I also love these bright pink and gold earrings!
-I love these tassle earrings! They'll add a pop of color to an outfit for sure!

Travel & Beach Gifts
–This Swimsuit coverup is stunning!
-I love this insulated beach cooler! It's perfect for all the snacks and drinks you need for a day at the beach!
-How convenient is this printed packable weekender bag? I need it for my next getaway!
-I love these colorful, printed stainless steel wine tumblers with plastic lids! Perfect to take on the boat or just for a backyard soiree!
-How fun is this Lilly Stand Up Paddleboard!

Cozy Gifts
–These pajama pants are perfect for a weekend away or a cozy night in! Comes in 8 colorful prints!
-I love this cozy sherpa zip up.
-I gave this cashmere wrap to my mom last year and she wears it all the time! It's perfect for going out to dinner or for travel! She took it with her when we went to Seattle this summer and wore it everywhere! Available in 4 solid colors.
-I love this blue velour one-shoulder top! Pair it with the matching velour joggers and you have the coziest outfit ever!
-Last but certainly not least is the this Corabelle Sweater! Everything about this sweater is gorgeous!
-Not really a cozy gift but you can cozy up and plan your 2023 year with this planner! My son gets me a Lilly planner every single year and I always look forward to it!

Well, that's a wrap on The 16 Best Lilly Pulitzer Gifts! I sure hope you find some inspiration here for the Lilly lover in your life!
Check out my other gift guides for your BFF,  Beach Lover's, Teen Girls, Tween Girls, Tween Boys, Men,  and a Gift Guide For Her! You can shop below by clicking on a product!
Thank you so much for reading The 16 Best Lilly Pulitzer Gifts! Feel free to reach out to me via email or instagram DM if you have questions or suggestions! I'd love to hear your feedback! Don't forget to subscribe by clicking the little envelope in the upper left hand corner of this page and follow me on Instagram and Pinterest!


Shop This Post