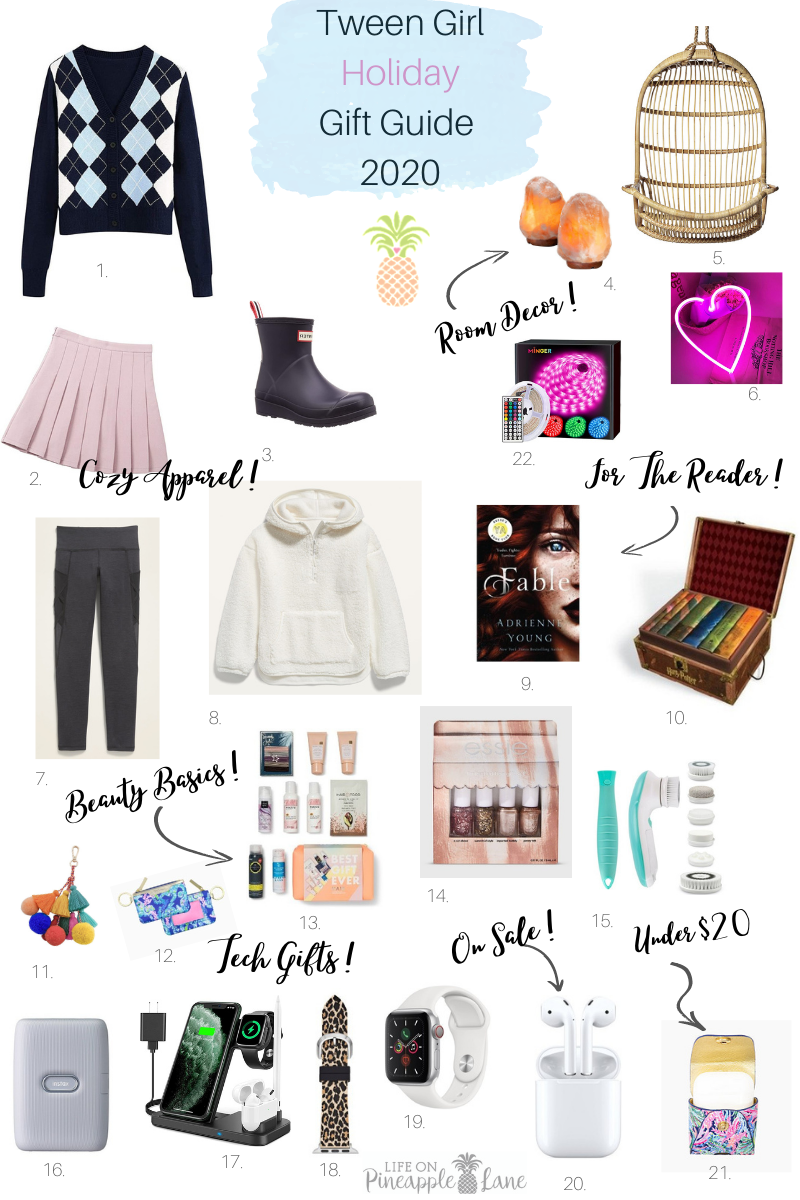 1 // 2 // 3 // 4 //5 // 6 // 7 // 8 // 9 // 10 // 11 // 12 // 13 // 14 // 15 //16 // 17 // 18 // 19 // 20 // 21  //22
Hi Friends!
How are you? Are you shopping all the cyber week sales? There are so many out there! As you might know, My boy-girl twins are tweens and I think it's an interesting age to shop for. Not quite teens, but definitely not little anymore. I was struggling with what to buy for them this year so I went straight to the source for this Tween Girl Holiday Gift Guide! I hope you find it helpful!
Tween Tech Ideas
Tweens are definitely into the tech gifts. This Instax printer is perfect.
My girl got the Instax Camera last year and then saw the printer and put that on her list.
She loves her earbuds, but the Apple Airpods are even better quality, and I think she is responsible enough to take care of them. The Lilly Pulitzer Airpod case is so adorable (and practical too.)
I love this charging station so that she can charge all of her devices conveniently. I have this exact one and I love it. I now no longer have 16 cords around my nightstand!
Tween Clothing Ideas
A no brainer for a tween girl is an adorable outfit. She loves the look of this argyle sweater with the pleated skirt. Reminds me of Clueless — Cher was always classy with a bit of sassy. My daughter is also loving the short Hunter boots and anything sherpa like this cute pullover. 
Tween Beauty Ideas
This gift set is perfect for a tween girl. She loves painting her nails and this Opi gift set is a perfect stocking stuffer. I really like the quality of Essie too. I notice that it doesn't chip and lasts longer than many other brands.
Tween Room Decor Ideas
At this time in their lives, tweens are spending more time in their rooms for obvious reasons, and my daughter loves to decorate her little haven. Here are some of her favorite bedroom decor picks: She is dying for this Serena & Lily hanging chair, loves this light strip that is super easy to install, the neon lips are too cute and the Salt Lamp is a favorite gift that she likes to give her friends.
Tween Book Ideas
My girl LOVES reading! She has read the Harry Potter Series at least 4 times. If you have a girl who loves reading, this is a timeless series for girls and boys. My step-daughter got this gift box years ago and these books have been passed down and are very well loved.  I don't think a tween is too old for this gift.
Thanks so much for reading! I hope you enjoyed browsing my Tween Girl Holiday Guide 2020! I've linked all of the products below for easy shopping! Also, check out my Best Target Holiday Decor 2020 roundup here to get you and your home in the holiday mood!
If you're looking for more holiday inspiration,  Make sure to check out this Lilly Pulitzer Gift Guide and Check back tomorrow because I'll be popping in with a Tween Boy gift Guide! And,  be sure to subscribe to my newsletter by  clicking on the little envelope in the upper left corner of the page to keep up to date! I'll have gift guides for the whole family as well as some other fun holiday posts! Also, follow me on Instagram here and Pinterest here!


Shop This Post