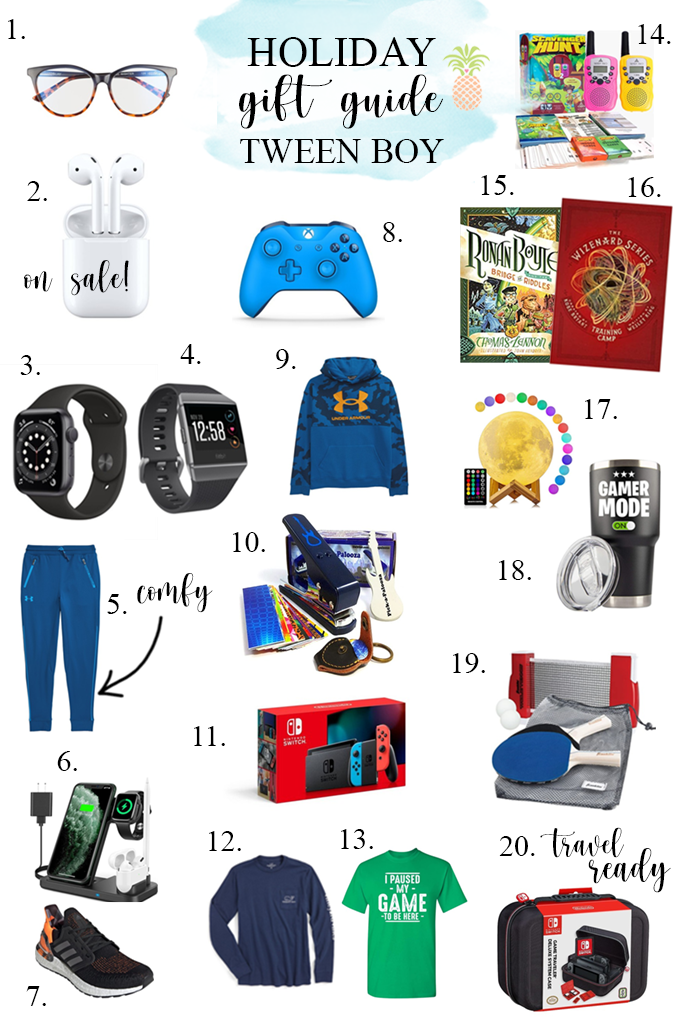 Hi Friends,
Usually my son is making his Christmas list in July but I've had to coax it out of him this year. I'm excited to share my Tween Boy Holiday Gift Guide with you! Tweens are hard to buy for. My son is at that weird age where his is kind of in between a teenager and a little boy. A Tween! Truth be told, he's very happy just being a little boy. He'd rather just keep things the way they were, nerf guns, bikes, scooters and a soccer ball.  His sister on the other hand is fully immersed in the teen experience. Clothes and shoes, tech gadgets and all the teen related things. They couldn't be more different! I wrote a blog post for a Tween Girl Holiday Gift Guide. You can read about that here!
One – Blue light glasses. These are going in his stocking for sure! For the amount of time he is staring at a computer screen these days (hours of homework!)
Two – Air pods have been on his buying list for a long time!
Three & Four – He got a Fitbit last year as a gift and has loved it!
Five – Comfy joggers are always a good idea!
Six– I bought this charging station for myself and love it so much I'm buying my whole family one for Christmas!
Seven – Favorite Sneakers to make them run faster!
Eight – A new X box controller is always a favorite!
Nine – My boy loves his hoodies! This Under Armor hoodie will be perfect
Ten – I know this seems like an odd gift but a guitar pick maker is a fun addition to the gift of online guitar lessons from Fender Play. He got a guitar last year and really hasn't done much with it. I think this year the gift is the classes and the pick maker.
Eleven & Twenty– The Nintendo Switch is something he's been asking for for a while and the travel case is a must have for all the car travel we've been doing lately.
Twelve – A long sleeve Vineyard Vines T-shirt is great for the cooler weather here! We love the high quality of the Vineyard Vines brand.
Thirteen – If you're buying something for a tween who likes gaming, this graphic T-shirt is a cute idea. You can also check out my Holday Gift Guide For Gamers here.
Fourteen – My twins still love a good scavenger hunt and this one comes complete with walkie talkies for the full experience! Perfect to get them away from the all the screen time!
Fifteen & Sixteen – Books are alway a gift in our house. My kids have always loved reading and they are currently looking for a new series. This one and this one seem like good options.
Seventeen – This moon lamp makes a cute gift and comes with a remote control to change the light colors.
Eighteen – I'm trying to get my kids to drink more water. This cute insulated cup might help him be more motivated about that.
Nineteen – I love this portable ping pong game. It's perfect for him to take to a friends or take with us on a trip!
Thanks for reading my blog! I hope you find the Tween Boy Holiday Gift Guide helpful! Click the links below or links in the text to shop!
If you're looking for more holiday inspiration, you might also want to check out this post I wrote on The Best Target Holiday Decor , Holiday Gift Guide For Gamers, Gift Guide For Him , Tween Girl Gift Guide and be sure to subscribe to my newsletter by clicking on the little envelope in the upper left corner of the page to keep up to date! I'll have gift guides for the whole family as well as some other fun holiday posts! Also, follow me on Instagram here and Pinterest here!
Merry Christmas!!


Shop This Post