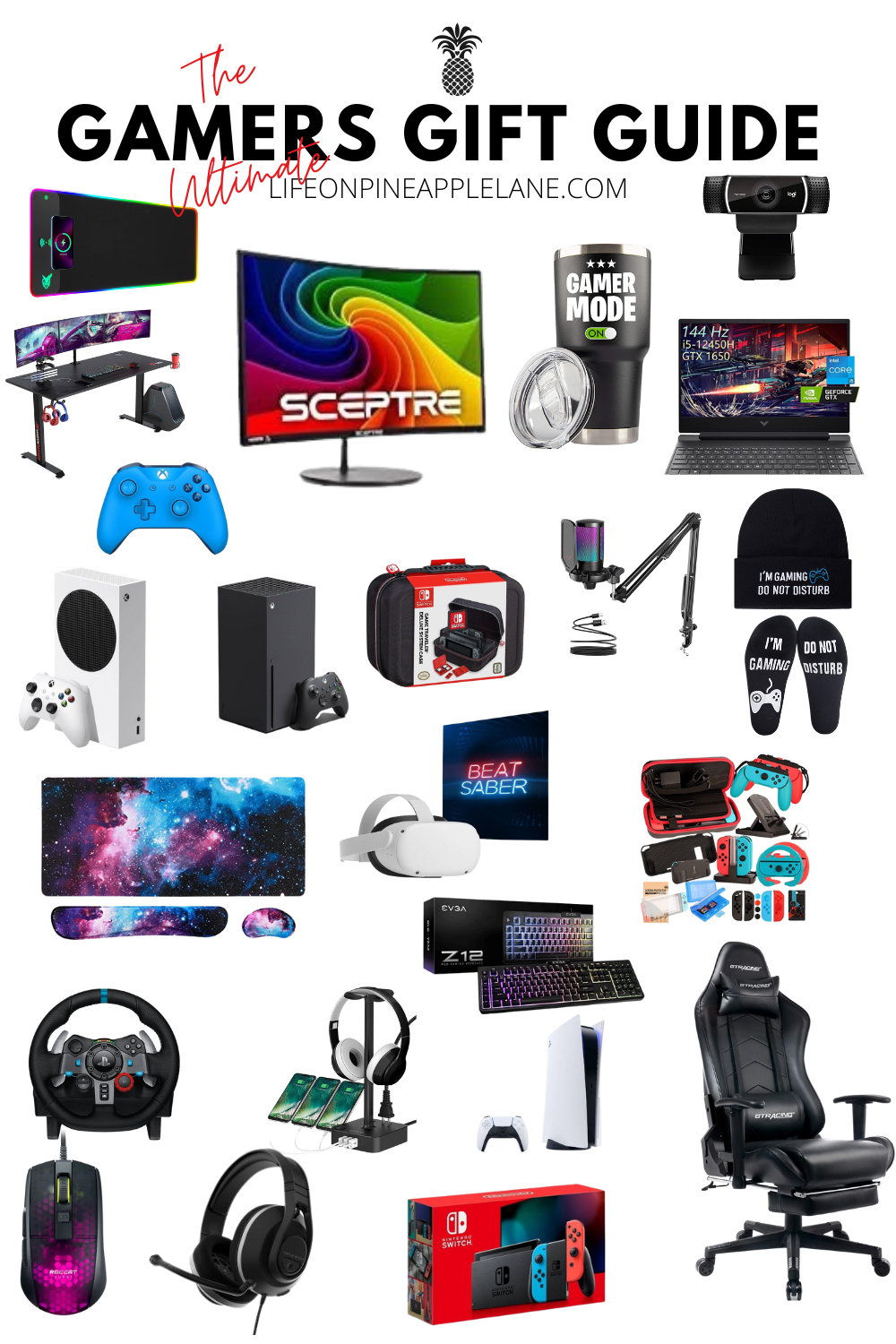 Gaming consoles
Although me and my husband Slade wouldn't really know the first thing about gaming consoles, my enthusiastic sons always keep us in the loop. One of the most interesting consoles is the Meta Quest 2. This console immerses you into a 3d virtual reality, creating totally unique experiences in the comfort of your own living room. I'm usually more inclined to enjoy the Florida sunshine or a nice boating outing, but there's something quite exciting about escaping for a bit with this dynamic console. Then, of course you can't go wrong with XBox or the always in demand Nintendo switch. Shop all the best consoles below.

Computers & Accessories
From an ergonomical gaming desk, to a 2022 HP Gaming Laptop, I've linked some of the best computers and accessories that every gamer needs. Whether you're a seasoned pro or just getting started, the gamer in your life will love all these hand-picked items I've found below.

Gaming Storage
Let's be honest. When you finally peel your eyes away from your gaming endeavors to perhaps eat dinner or take care of something in real life, all of the chords, controllers, headphones and other accessories can overake an entire room. That's why I think every mom or type A personality would find great joy in the benefit of having these convenient storage options. Who knows, maybe having a neat area will help you thrive even more during your gaming sessions.

Gifts For Streaming
Ok TWITCH fans or perhaps any up and coming gamer – we all know how important a great microphone is while you're sharing all your secrets and talents with the gaming community. Every bit of Wifi matters, and so does the quality of your streaming. Make sure you check out these gifts to ensure that when you go live, it's clear and crisp both audibly and visibly.

Fun Stuff
For the truly dedicated gamer, you may as well look the part too. Don't just roll out of bed in some flannel shorts. Level up your fashion with this fun sock and beanie combo to ward off anyone who could possibly impede your game. Find some other fun gifts that would most likely make any gamer smile when you shop below.

I hope I was able to inspire your early shopping  for your favorite gamer this year with The Ultimate Gift Guide For Gamers! As Christmas approaches, I'll be adding items to this list so check back from time to time to see what's new. My gift guides will be added over the next few weeks. But, if you want them sooner,  subscribe to my blog and get them before everyone else.
Also, Check out my earlier gift guides for Tween Girls, Tween Boys, and Men by clicking on the links. You can shop below by clicking on any product. Thank you so much for reading The Absolute Best Gifts For Men This Season post. Feel free to reach out to me via email or instagram DM if you have questions or suggestions. I'd love to hear your feedback! Don't forget to Follow me on Instagram and Pinterest!