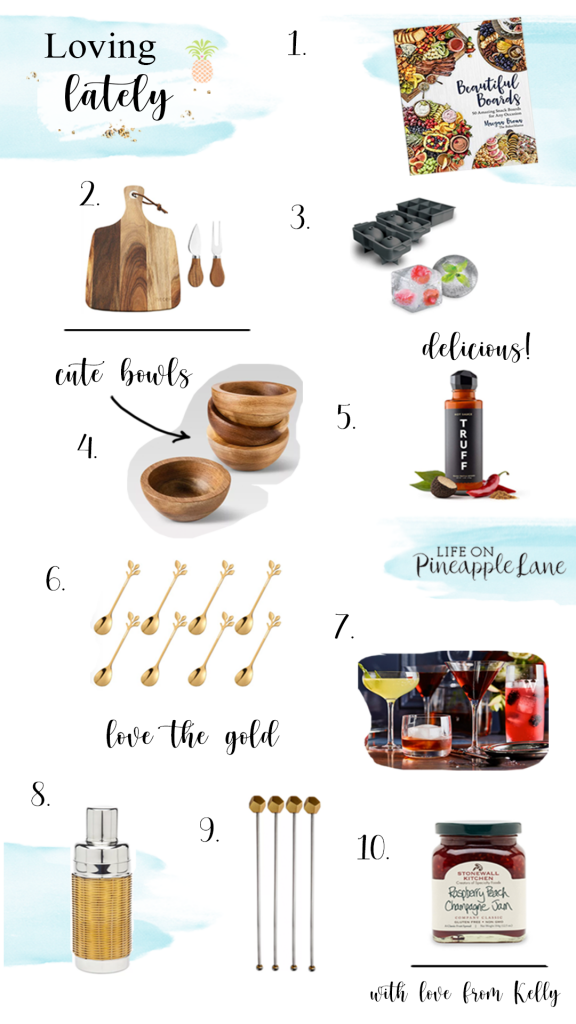 Hi Friends,
Thanks for checking out my post, Cocktails & Charcuterie For A Perfect Fall Gathering. This post contains affiliate links. If you purchase something from one of my links, I make a small commission. It's how I keep this little blog running and hopefully bring you inspiration and a little bit of fun!
Recently, we had a few  friends over and enjoyed a lovely evening under the stars on the lanai and I served a beautiful charcuterie board and some watermelon martinis. Sounds amazing right? It was! But let me tell you the secret behind this…Hint, It's not what you put on the board.
Being with friends we hadn't seen in a while was fantastic. And that's all that really mattered. The charcuterie board was beautiful (but I didn't create it, I bought it! More about that later). The secret to any great gathering is to not sweat over the food and drinks. Just invite the people you enjoy being with and everything else will fall into place.
\
The Charcuterie Board
I knew I wouldn't have time to shop so I purchased a charcuterie box for $55 from a local company called A Grazing Haus. It came in a box and it was just gorgeous! I'm sure that wherever you live, you most likely have a company like this who creates charcuterie boards. In my case, it was well worth the extra expense. It came beautifully arranged and I just transferred to a board I had on hand, and there you go… Done!
If you want to create your own charcuterie board, this book so good. There are so many ideas to create a board for every occasion.
Choose a Beautiful Board
A beautiful wooden charcuterie board like this one HERE or HERE, is a key element! Even if you buy a pre-made charcuterie box like I did, all you have to do is transfer it to the board and you're off to a great start.
What Goes On The Board?
You can make it as fancy or as simple as you want. Any sort of crackers, cheeses, meats, fruits, sweets or any other small items will work perfectly.
Make It Pretty
Spoon in a few flavors from these cute dip bowls using these cute gold spoons and your board will be over-the-top amazing!
Add In Some Flavor
I love this yummy Rasberry Peach Champagne Jam ,  this Honey or my absolute favorite Truff Hot Sauce.  Adding a variety of flavors is important to keep it interesting. But let me talk about the hot sauce for a sec… The Truff Hot Sauce is so good! I seriously want to put it on my cereal! It is THAT good. IF you've tried it, let me know how you like it and what you use it on! I have be known to put it on cheddar popcorn!
The Cocktails
I made watermelon martinis from a recipe I found online and they would have been ok if I had followed the directions! But, I finally got the REAL recipe (The one below) from one of my favorite local restaurants, Cibo, and mixed it up another time and they were great. HERE is another cocktail recipe I posted about a while back. It is still one of my favorites.
Shake it up
I love this wicker wrapped cocktail shaker! I have a similar one and love the look of it! Or use these lovely stirrers for your cocktail mixing. Pour it into this beautiful glass and enjoy!
Ice, Ice Baby
This Ice mold is perfect for creating a large ice cube to use in a Manhattan or a good Bourbon (not my thing though) in one of these beautiful lowball glasses.
Watermelon Martini Recipe
To a cocktail Shaker add:
fresh watermelon
A splash of Sprite
a splash of sour mix
a squeeze of lime
a squeeze of lemon
Muddle together above ingredients.
Add Ice and 1 ounce of watermelon vodka. Shake well and strain through a cocktail strainer into a martini glass. Garnish with a lime wedge.  Enjoy!
Let me know how you like the martini!
If you want to host a small gathering, I would highly recommend Cocktails & Charcuterie. It is easy, beautiful and fun! You can keep it really simple!  Don't stress over the food or the presentation. Being with friends and family  and enjoying each other is the most important thing.
Thanks so much for reading Cocktails & Charcuterie For A Perfect Fall Gathering! If you'd like to receive some exclusive content and insider tips and info, subscribe to my newsletter by clicking that cute little envelope at the top left hand corner of the page! Also, check out  15 Fall Things I'm Loving Lately!
Have a great weekend!