Hi Friends,
I hope everyone had a fantastic weekend! I'm loving all of the Fall things I'm seeing all around the internet! So many cute items that I really can't wear yet because our weather is still in the 90s and SO hot! I do love Fall though, and I try to bring fall vibes into my home and wardrobe in other ways. Here are some Fall Things I'm Loving Lately: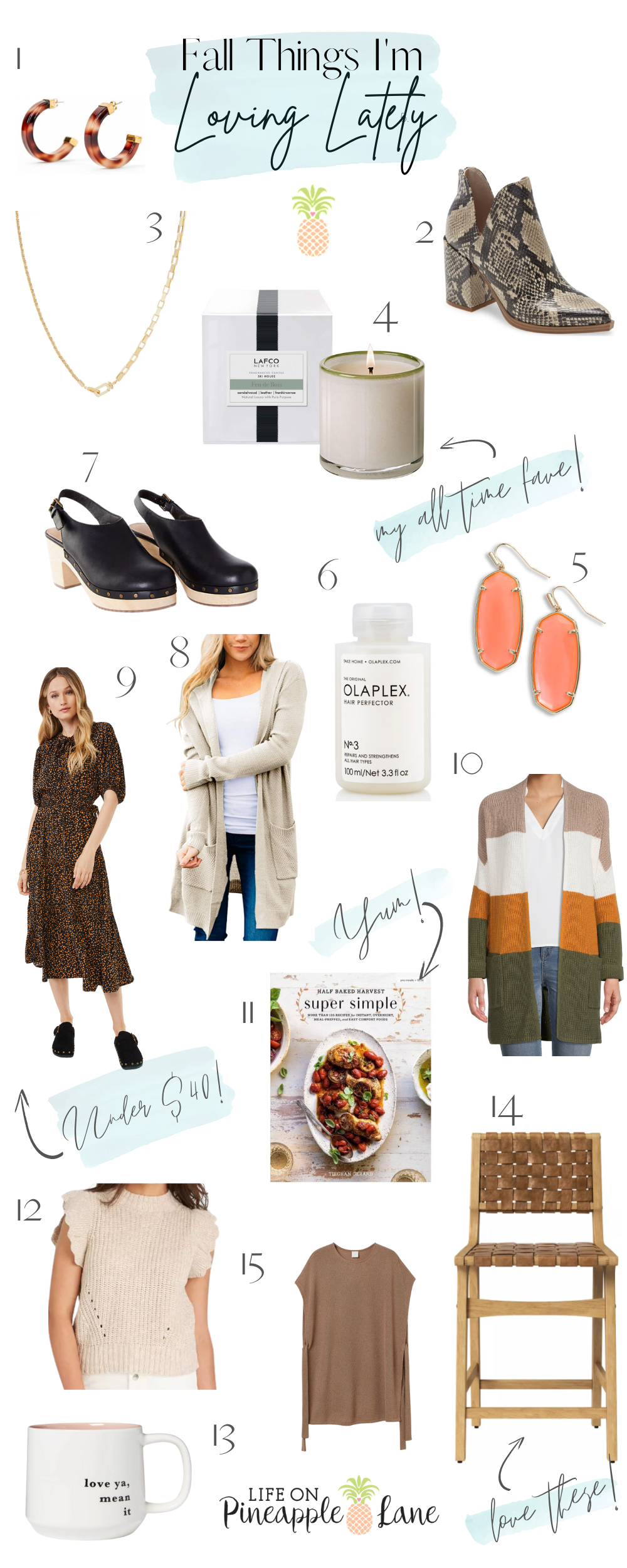 One//Tortoise Hoops – Love these for a fall touch in my wardrobe.
Two//Python Booties – I'm still loving python print and these booties are on point! Check out this post about adding python print to your wardrobe.
Three//Rope Chain Necklace – Always a great addition!
Four//Feu De Bois Candle – My all-time favorite candle. It transports me to a ski lodge, or somewhere cozy with a giant fireplace and sipping hot chocolate. Mmmmm.
Five//Beautiful Earrings – These by Kendra Scott will undoubtedly elevate your fall wardrobe.
Six//Olaplex Hair Perfector – Summer took a toll on my hair. Olaplex Hair perfector is just what I need!
Seven//Clogs – Are you ready for this trend? I didn't think we'd see this trend again but I'm liking these from Loft for fall.
Eight//Hooded Cardigan – I bought this cardigan last year in black and I'm loving the neutral one for fall this year.
Nine//Midi Dress – This pretty midi dress is under $40 and I think it's a perfect fall transition dress and so affordable.
Ten//Fall Cardigan – Definitely feeling all the fall vibes with this color-blocked sweater!
Eleven// – Half Baked Harvest Cookbook – I absolutely love anything from Tiegan Gerard of Half Baked Harvest. This cookbook is on my fall bucketlist!
Twelve//Short Sleeved Ruffle Sweater – Perfect for bringing fall into your wardrobe if you live in a hot climate like I do.
Thirteen//"Love ya, mean it" Mug – Not really fall-ish, but just cute and a nice little gift.
Fourteen//Tie Detail Sweater Vest – This is so cute and for sure on my wishlist for fall.
Fifteen//Woven Counter Stool – I love the natural look of these counter stools. If they come back in stock in white, they're mine!
Well that's a wrap on this roundup! I hope you liked these items as much as I do. Which one is your favorite? Tell me in the comments! You may also want to check out my post Cocktails & Charcuterie – What I'm Loving Lately for some more Fall inspiration!
As always, thank you for reading! I'd love it if you'd follow me on Instagram and Pinterest and subscribe to my blog by clicking on the little envelope in the upper left corner of this page!
Sending Sunshine!