I love sharing things to check out on the weekend + an outfit!
Casual Florida, beach outfits are my thing. I want to help you with great ideas on what to wear and accessorize with your outfit! Oh & don't forget to check out this for a cocktail to make while reading the weekly items!
5 Things For The Weekend + An Outfit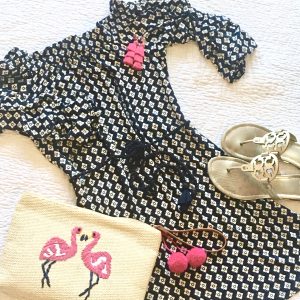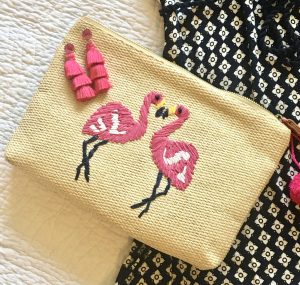 It has been quite a week! I traveled to Pittsburgh (where I grew up) to see my sweet Daddy for Father's Day. He is recently a widower and not in good health so we had a lot of good one on one time together. We watched old movies, talked about memories and all of his crazy stories of growing up in the city, some doctor appointments and I capped my trip off by cleaning out his attic and garage!
I'm making a promise to my kids right here…I will never keep things like a 3 foot Air India Maharaja statue or 17 boxes of assorted glassware or 5 cushioned toilet seats for you to decide what to do with and if I do, I am giving you permission to donate, gift, trash it or whatever you want to do with all of that!
Just bought this adorable dress during the Loft 40% off sale and have been wearing it out!! I wore it on the plane when I flew to see my dad, out to dinner with my friend and I'm wearing it this weekend when I go out to dinner for a casual event. It's perfect for travel because it doesn't wrinkle. The cute clutch is a steal and you know my love for straw bags, and not just for summer!
Here's Five Things for your Weekend!
My stepdaughter is in Bali doing a "Study Abroad" program with her college. The photos look pretty amazing and now Slade and I have the travel bug. So, here's a Bali travel guide.
I love looking tan but want to look that way without the risk. Camille Styles has a good post on this topic today.
I'm also trying to get a menu together for our upcoming boat trip to South Seas Island Resort on Captiva and these yummy summer salads caught my eye!
I just discovered this Australian hotel on my instagram feed. It looks gorgeous. Their IG handle is @barrel.and.branch.byron and their feed is amazing!
Here's everything you need to know about boating in Florida.
What did you do this weekend?