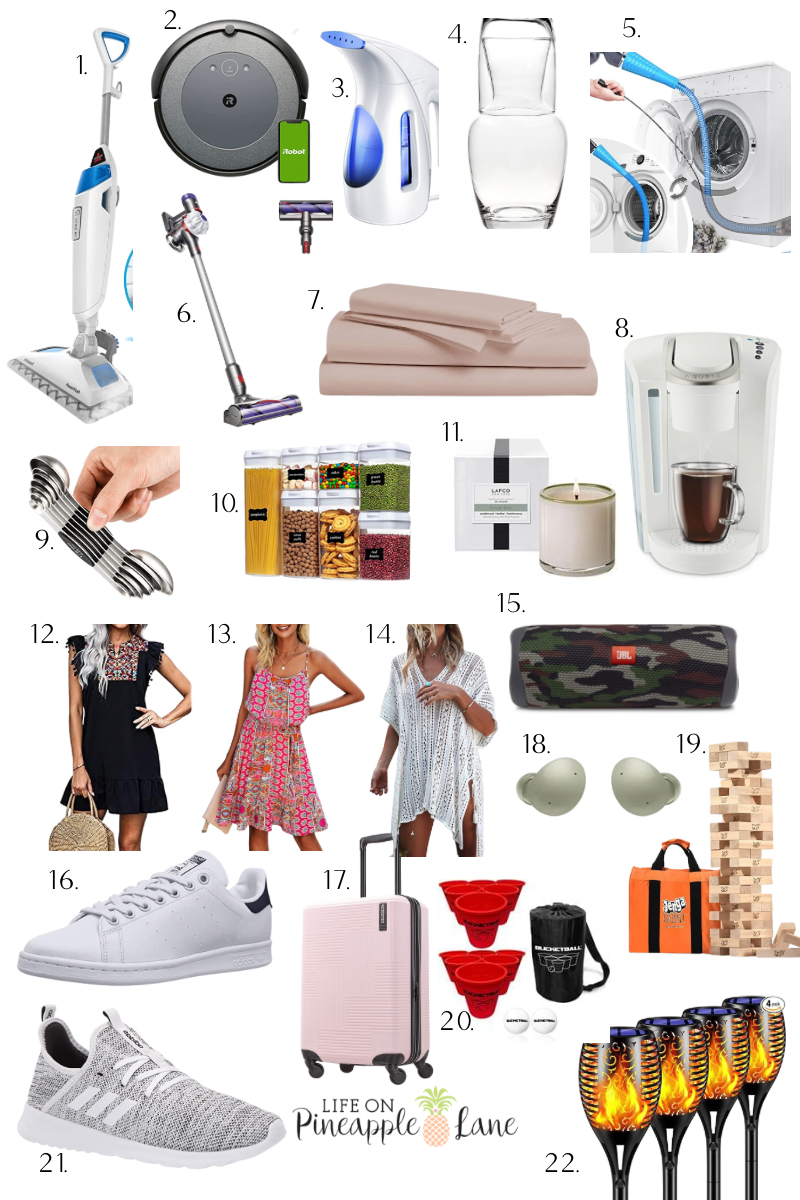 1 // 2 // 3 // 4 // 5 // 6 // 7 // 8 // 9 // 10 // 11 
12 // 13 // 14 // 15 // 16 // 17 // 18 // 19 // 20 // 21 // 22
What I'm Eyeing For The Amazon Prime Day Sale
Hello Friend!
I hope you're having a great summer! I've taken some time off of blogging and social media to enjoy time with my family! But, today I'm back bringing you an Amazon Prime Day round up What I'm Eyeing For The Amazon Prime Day Sale in case you're shopping the Sale! Prime Day starts Tuesday July 12, so get ready! Some of these items are already on Sale, some will be on sale and some I'm just hoping will go on sale! You can shop by clicking on the links in my post or scroll down to see all (lots more there!) the products and shop by clicking on the photo! Let's dive in!
Amazon Home Products
-I have my eye on this Dyson V7 Vacuum cleaner AND the I Robot Roomba! Overkill? No Way! Not when you have two dogs who shed like mine do!!
-I'm buying this Large Blue Air 211 Air Purifier for my main living area and this smaller BlueAir 411 Air Purifier for my son's room even if it doesn't go on sale! He has allergies and I honestly should have bought it sooner. It has great review!
–This Keurig coffee maker is in my cart right now. I'm buying it for my 22 yr old son who is moving into his own apartment this month. We have the same one in our kitchen and I don't know how I'd get through the morning without it!
-My steamer is on it's last legs and this one has good reviews. Also, this dryer lint cleaner seems oddly satisfying to me.
-I love the idea of these magnetic measuring spoons! Honestly, sometimes I see a product and wonder why I didn't think of inventing it! So simple!
-Kitchen organization is something I'm always striving for! I love canisters for my pantry and this set is so good!
Amazon Prime Day Fashion Picks
-I own this dress and it is so cute!
–This dress  and this dress are in my cart as we speak! Aren't they so cute?!
–These high waisted leggings come in a set of two, have tummy control and pockets! What more could you ask for!
-The Addidas Cloudfoam Sneakers are my absolute favorite! I have bought at least four pairs of them! My daughter keeps stealing them from me! Add to Cart! I'm also getting these white Addidas sneakers for wearing with casual dresses and shorts this summer.
-Love these square toe braided slides! they come in several colors and the brown are in my cart!
A few of my favorite (and top selling) swimsuit cover ups are included in the sale. I love and wear this one all the time and this one is one of my top selling items!
Amazon Products I Order On Repeat
–Mike's Hot Honey and Truff Hot Sauce are staples in our house.
-We seem to loseYeti rambler cups so I am always ordering new ones! They also make great gifts!
-I got impatient and re ordered these solar tiki torches last week and now they're on sale for a great price. I love these torches so much and 2 of them stopped working so I ordered more. They are seriously the best thing we added when we did our backyard makeover last year! They "burn" all night long!
-This LAFCO Candle is my favorite Fall candle and I order it on repeat! My favorite summer candle is this Nest candle!
Amazon Prime Day Tech Deals
-My husband Slade wants this Garmin Watch! The price is great and I can get a head start on my Christmas shopping (which never happens!)
-This 50″ Amazon Fire TV is on sale for a fantastic price and in fact many of the Amazon products are! You can check them all out HERE!
Prime Day Picks For Gift Giving
–This Thermoflask cup is a great gift for a teacher or really anyone! Gotta keep that coffee warm!
–This Bogg Bag is a perfect gift for your beach or boat loving friend! I have one in blue!
-We bought this exact inflatable BOTE Stand up paddle board for our son for Christmas last year and my daughter had gotten a lower quality version previously . The BOTE board is like new while the other one is deflated and wrecked. Grab the BOTE version! Makes a great gift for kids or family or just treat yourself!
I hope you are planning to shop the Amazon Prime Day Sale and this guide was helpful to you! Let me know what you buy! I'll be sharing updates in Instagram stories on Prime Day to keep you informed about new items added to the sale!
Thank you so much for reading What I'm Eyeing For The Amazon Prime Day Sale! If you liked this post, you may want to check out my other Amazon related posts The Best Amazon Swimsuit Cover ups under $30, March Amazon Finds or 15 Budget Friendly Amazon Coastal Home Decor Finds.