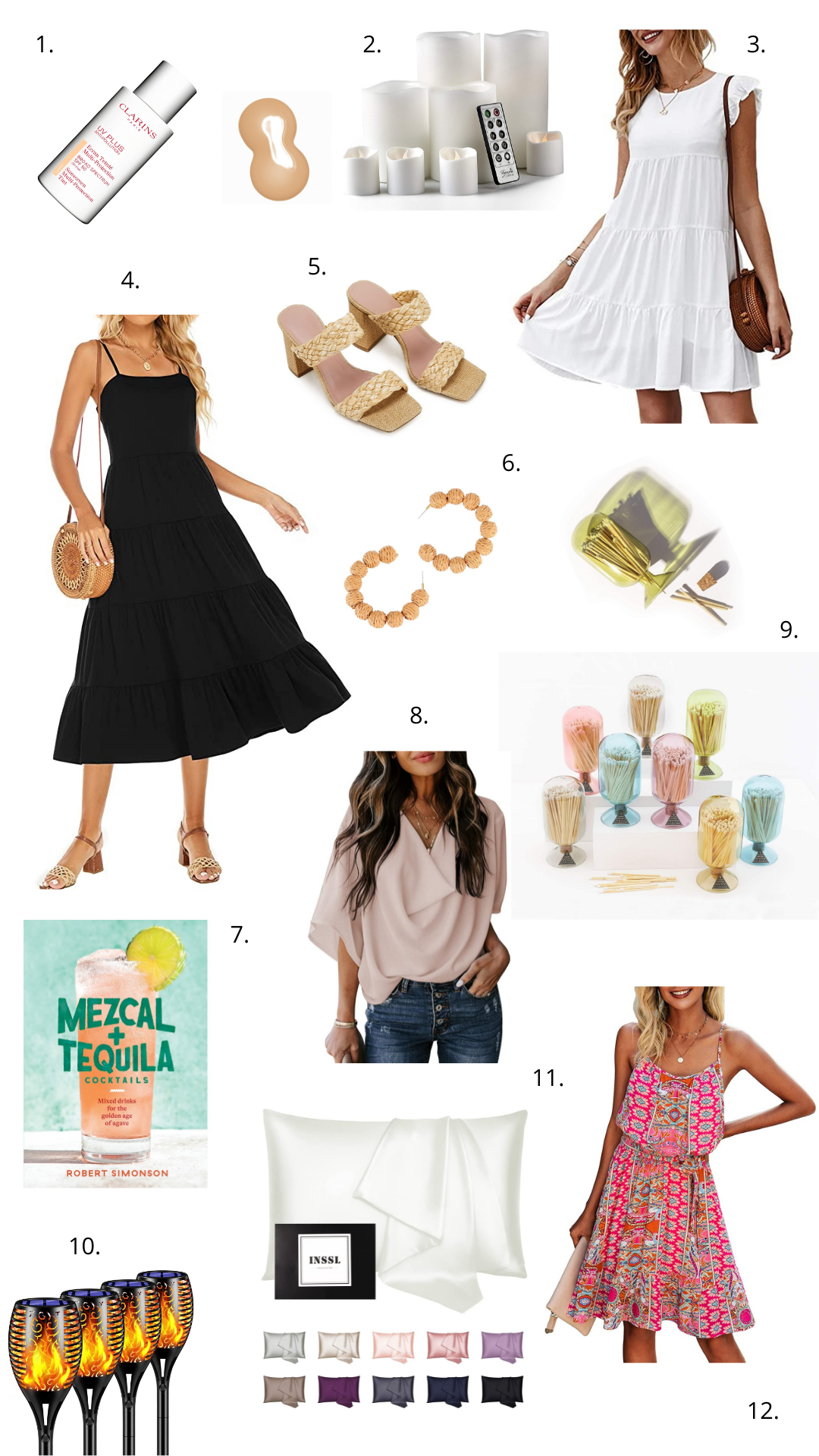 1 //2 // 3 // 4 // 5 // 6 // 7// 8 // 9 //10 // 11 // 12
Hi Friends!
I hope you had a great week! mine has been crazy trying to get caught up after our spring break cruise! I need a vacation from my vacation!
Yesterday I published a post  The Best Amazon Swimsuit Cover Ups Under $30 and I was just thinking about the wide variety of things I actually buy on Amazon! Probably more than my husband thinks is ok! lol.  It's kind of crazy! I thought you might like to see some things that were in my cart and things I recently purchased. I've noticed some other bloggers do this and they seem to be popular posts! So, just thought you might be interested. For More of my Amazon buys, please go shop my Amazon Store here!
Here are my Amazon March Finds:
Amazon Home Finds
-I'm ordering these Solar Torchlights for the third time! They have 5 star ratings and they are amazing in our backyard! They really add so much ambiance! Highly Reccomend!
-These flameless candles are so beautiful! I have them and love them! They make great gifts
-I absolutely love the taste of Mezcal Tequila but have no idea how to make Mezcal Cocktails! This book is in my cart and I cant wait to get it!
-I've been admiring this Match Cloche for a while now. It's just so pretty! I can't wait for it to arrive!
Amazon Fashion Finds
-I ordered this cute dress a while back but haven't had the chance to wear it yet. I'll be featuring it on my IG stories this week! Make sure to check it out!
-Speaking of perfect summer dresses, this tiered dress is the cutest and is in my cart right now. It comes in several colors! I like the pink one!
-These adorable $16 rattan earrings are in my cart and I cant wait to get them along with these braided sandals! I saw a similar pair at another store for much more and I was so excited to find them for under $60.
-I ordered this dress last year and it is back in stock. It's a perfect casual summer dress!
–
This top
is so versatile! I've worn it with jeans  for date night and also with a black pencil skirt for a work meeting. Love!
Amazon Beauty Finds
I ordered this Mulberry Silk Pillowcase for myself a while ago and it's in my cart again this month. I'm getting one for my mom for Mother's Day! Shhh, don't tell her! This pillowcase is a beauty gamechanger!
Just re-ordered my favorite Clarins Tinted SPF 50 Sunscreen that I wear every single day. I use it as my foundation. I love this product so much!
Thank you so much stopping by today and for reading March Amazon Finds!  Also, Check out The Best Amazon Swimsuit Cover Ups Under $30!
Feel free to reach out to me via email or instagram DM if you have questions or suggestions! I'd love to hear your feedback! Don't forget to Follow me on Instagram and Pinterest!