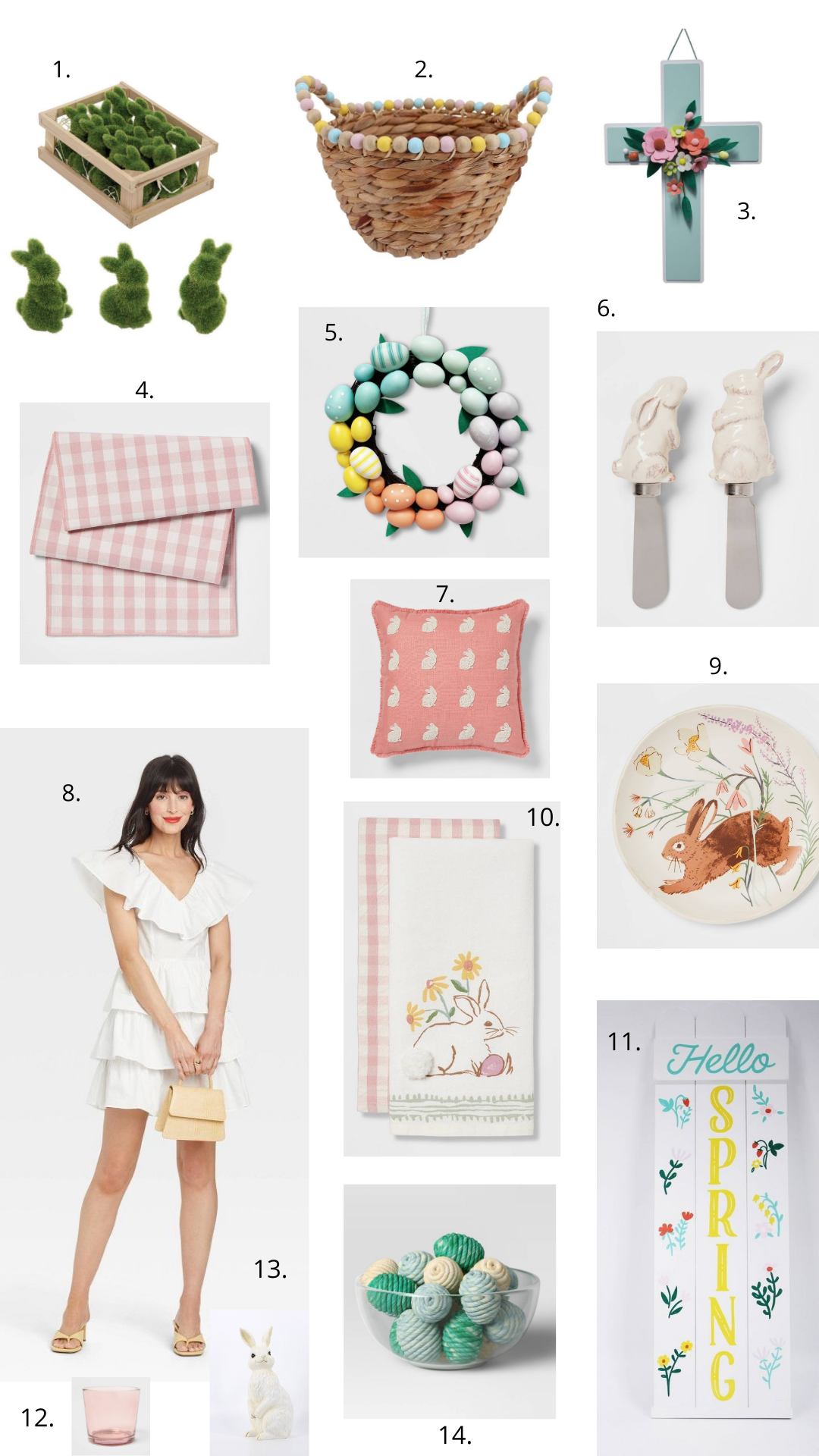 1 // 2 // 3 // 4 // 5 // 6 // 7 // 8 // 9 // 10 // 11 // 12 // 13 // 14
Hi Friends! Happy Spring!
I love this time of year! Everything just seems so hopeful and the weather is amazing here in SW Florida! Usually on Sundays after church my daughter and I pop in for our weekly Target run at our local Target and this past week I saw so many cute Easter things there! Everything from cute Easter outfits to Easter Decorations for the home and I really wanted to share The Sweetest Target Easter Finds with you! I'm sharing it in my Instagram stories today as well so if you want to hop over there (see what I did there?!) and take a peek at that that would be great! Let's dive in!
Easter Decor
-I love these little Moss covered bunnies! I picked them up in the Target dollar spot! They're so cute I bought two of them and they are now perched in my kitchen on my open shelving.
-I love this "Hello Spring" sign and This cross with flowers is so beautiful and I love the reminder of why I love Easter so much.
-This egg wreath is the cutest thing! And would definitely add a pop of color to your front door I also loved this carrot garland! This bunny is so adorable.
-I also love this beaded bunny pillow It is beautiful in person, much more beautiful than the price tag would suggest. It also comes in white and blue but the blue is currently sold out.
–These vase fillers are raffia easter eggs that come in a rainbow of colors. So cute!

Easter Dress
-I love this white dress! It is so perfect for Easter. I just did a full post on the most beautiful white dresses for spring you can check that out here. Growing up, I always looked forward to getting a new dress for Easter! How about you?

For Your Easter Table
-We usually do an Easter Sunday brunch so I bought these bunny spreaders to use for our charcuterie board. I'll be doing a fun Easter themed charcuterie board for our Easter brunch. I'll most likely share that in stories so don't forget to check that out.
–These adorable plates would make such a cute Easter table! Add these gingham napkins and you're all set!

Easter Basket
-I love this cute basket with pom-pom trim. Now that my kids are older I still like to do Easter baskets for them and this would be perfect to use. They are 14 now so I don't think they will want to do our usual Easter egg hunt on Easter morning and I sure will miss that!
-Let's not forget all of the Easter Candy that the Easter Bunny brings! I love all of those sweet treats! Especially the chocolate bunnies! What's your favorite Easter candy?
Be sure to check out all the Easter items at Target! there are so many fun things to choose from!
Thank you so much for reading The Sweetest Target Easter Finds! I hope you have a fantastic Weekend! For more inspiration check out The Most Beautiful White Dresses For Spring!
Feel free to reach out to me via email or instagram DM if you have questions or suggestions! I'd love to hear your feedback! Don't forget to Follow me on Instagram and Pinterest!

Shop This Post