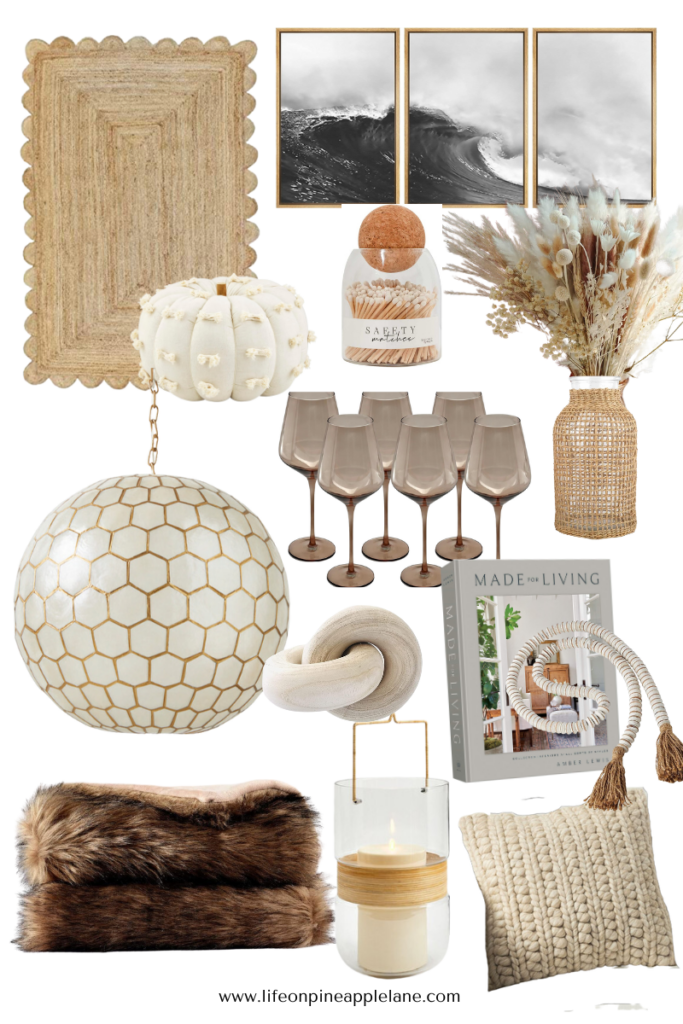 Hi Friend! Are you ready to cozy-up your coastal home for fall? Impact-Site-Verification: 110577657I've rounded up some beautiful and affordable cozy coastal home decor ideas for fall! It's the perfect time to add some fall vibes into your decor and your won't break the bank with these additions. Let's dive in!
Even though it's still warm here in Florida, I love to see my home change with the seasons. We're all about the fall football, cozy nights in, fall scents and a little change of color goes a long way to make your coastal home feel cozier. If you're looking for some ideas to add a little bit of fall to your coastal home, keep scrolling for some affordable ideas.
Add Some Fall Color
I love adding some color to my home to make it feel like fall. Here are a few things to try:
–These oversized Aspen branches
THIS CAPIZ SHELL CHANDELIER is a top seller! It is absolutely gorgeous and will add so much to your home.
For more Capiz Shell Chandelier inspiration, check out the post 7 Gorgeous Capiz Shell Chandeliers

Add Festive Pumpkins & Pumpkin Spice
Adding in a few pumpkins to your decor instantly adds a feeling of fall! And pumpkin spice scents are my favorite!
–I love THESE ROPE PUMPKINS
–THESE LITTLE RATTAN PUMPKINS are so affordable.
–THIS FABRIC PUMPKIN is so cute!
–THIS KNIT ONE is adorable

Add Some Cozy Layers
Adding a few decorative fall pillows and a cozy throw can add a warm fall feel to your home.
-I love THIS FAUX FUR THROW
–THIS FAUX FUR PILLOW is so fun
-I'd love to snuggle up in THIS CABLE KNIT THROW BLANKET. THIS ONE is a bit more affordable.
–THIS CABLE KNIT STOOL adds another layer of cozy.

Add Fall Candles
Fall scents are a great way to set the scene in your home to give a cozy fall vibe.
-I love THIS SCENT and the candleholder it comes in adds great fall color.
-THIS SCENT reminds me of a fall bonfire.
-You can't go wrong with a pumpkin spice smell and THIS ONE is so good!
–This BEAUTIFUL RATTAN WRAPPED HURRICANE is perfect for fall lighting. I also love THIS ONE.
-If you prefer FLAMELESS REMOTE CONTROL CANDLES, THESE are my favorites.

Add Moody Coastal Artwork
Why not change up your regular artwork for some moody coastal decor?
-I love THIS MOODY BLACK AND WHITE ARTWORK. Gives me Big Little Lies Vibes. IYKYK!
–Love THIS ARTWORK as well. Subdued and slightly moody. Perfect for fall.

Add Cozy Fall Decor Pieces
Adding some fall decor pieces can really enhance that fall feeling in your home.
I love THIS COPPER BOWL. I usually have one on my open kitchen shelves during the fall season.
–THIS LITTLE DRINK TABLE is so pretty and the perfect place to set your glass of wine.
–THESE BEAUTIFUL WINE GLASSES are perfect for fall. I also love THESE STEMLESS ONES.
-I love THIS LEATHER LINK. It's a great little fall coffee table accessory
Well that's a wrap on this roundup! I hope you were inspired to add some fall touches to your home. Which one is your favorite? Tell me in the comments! You may also want to check out my post Cocktails & Charcuterie – What I'm Loving Lately for some more Fall inspiration!
As always, thank you for reading! I'd love it if you'd follow me on Instagram and Pinterest and My LTK shop. Subscribe to my blog by clicking on the little envelope in the upper left corner of this page!
Sending Sunshine (and Fall vibes)!



Shop This Post