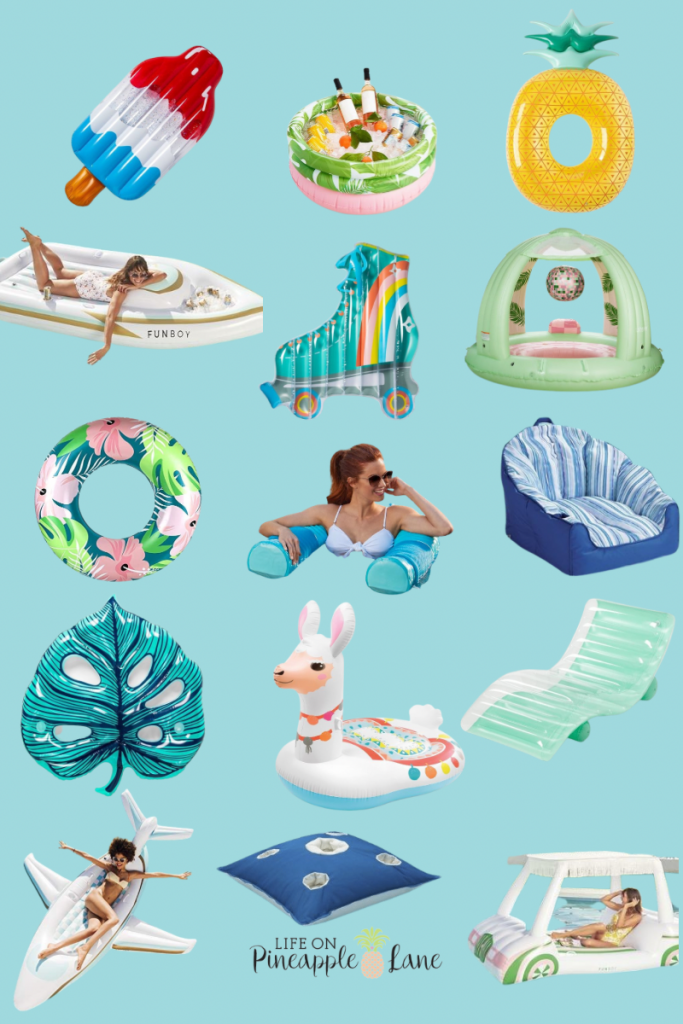 The 15 Best Pool Floats For Summer
Friend, I love summer so much and one of my favorite things to do on a hot summer day is grab a fun pool float and head out to my backyard pool with a frosty drink and relax! Relaxing in the pool is a great way to spend the day!
These days the pool floats are so creative and fun! I love to see all the new arrivals. Target usually has a wide range of pool floats at great prices as well as affordable pool toys, pool noodles and of course that iconic beach ball.
Frongate always has high quality pool floats and pool accessories that, if cared for properly should last for years. I love their selection of giant pool floats like this Golf Cart! They have some of the best options for the whole family!
Floats For The Kids
The best part about summer is the swimming pool fun the kids can have with these inflatable pool floats. Pool parties would not be the same without them!
–This cute Llama pool float will surely be a favorite with the younger set this summer.
–This Golf Cart inflatable float is next level! It would be such a hit for your summer pool parties and I've seen it all over social media recently.This limited-edition design from Funboy supports up to 400 pounds and stands  over 4 feet tall when inflated! It has a removable tasseled mesh sunshade, two cupholders for stowing beverages, two handles for boarding, two tether points for docking and towing and it Inflates in just three minutes!  Can be used in saltwater or chlorinated pools. Repair kit included.
-All kids love the funny inflatable floats like this popsicle float and this cute roller skate float!
-They'll have endless fun on this fantastic boat pool float! This amazing vinyl float features a reinforced, built-in cooler compartment as well as two cup holders, handles for easy boarding and towing. It is 9 feet long Holds up to 250 lbs. Repair kit included.
-I love this private jet pool float! What an awesome pool float!
-My teenage daughter would love this Disco Dome float for a fun backyard girl party while my son is more about the water toys (squirt guns).Repair kit included.
Click the links below to shop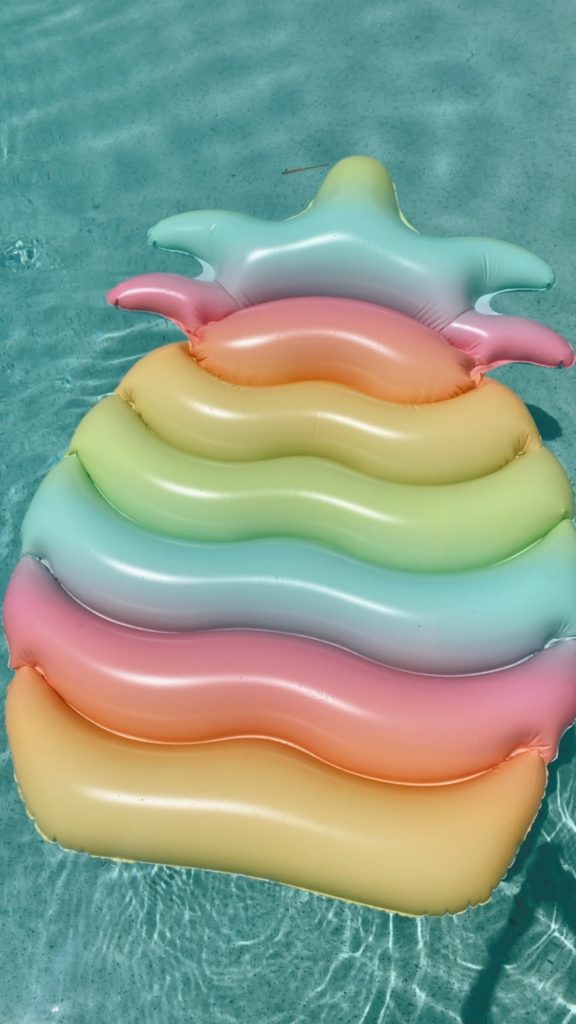 Pool Floats For The Adults
Pool Floats aren't just for kids! They are for the whole family! Here are some floats that are perfect for the adults!
-I bought this pineapple inflatable pool float from Target last week but haven't had a chance to use it yet! It's a great quality, large pool float and only $16! This pineapple float is another cute option.
–This Frontgate lounge chair is great for those lazy pool days, offers back support and bonus, it has cup holders! Win, Win!
–This Floating Drink Caddy is the ultimate in convenience for keeping drinks within arm's reach when floating in the water. It has four drink holders and a  center compartment for ice or snacks! Made of marine-grade, fade, stain, and mildew resistant Sunbrella fabric and  filled with buoyant mold- and mildew-resistant foam beads.
– I also love this Tropical Palm Inflatable Drink Cooler! It fits up to 18 cans and 3 bags of ice. Floats in the pool or use it as the perfect centerpiece for your backyard party table.
–This Frongate resort pool float "Noodle Seat" is designed for sitting in the water as a seat with a  backrest, but also can be used as a 5-foot pool noodle if sling is removed.  Can be used in salt water or chlorinated pools,won't sink if punctured and supports up to 300 pounds!
–This inflatable pool chaise lounge is a great affordable option!
Click the links below to shop

Use And Care Of Your Pool Float
Make sure you get an inflator! No one wants to spend 3 hours manually blowing up a pool float! This Ryobi inflator is battery powered and can be used for many other things and this plug in inflator is a lower cost alternative.
Most pool floats can be cleaned with gentle soap and water. I like using Dawn dish detergent when I clean my floats.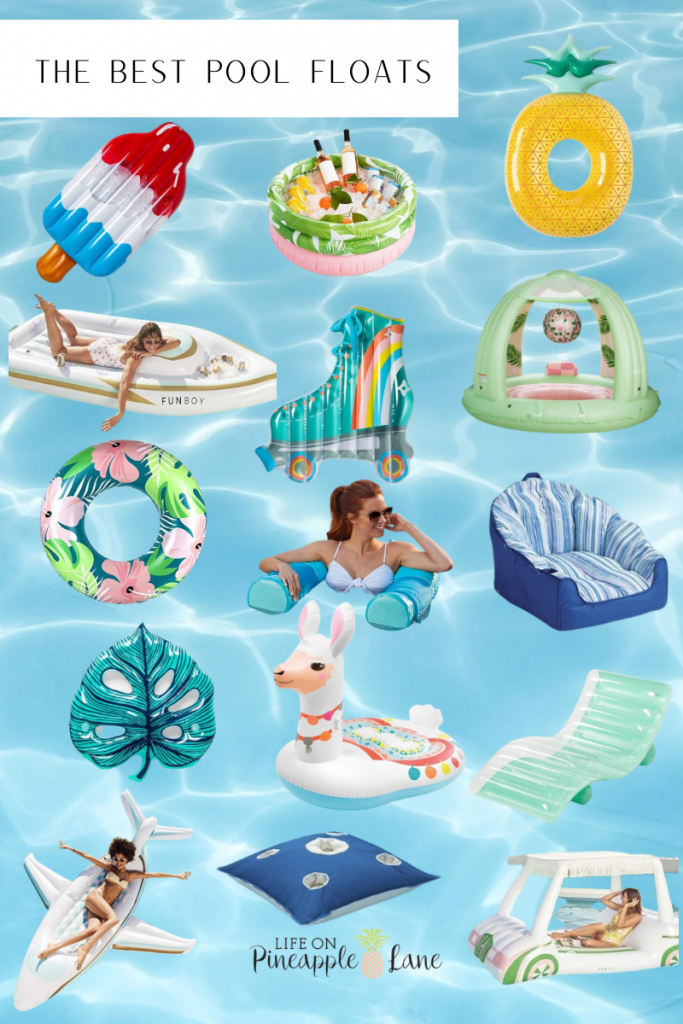 If you enjoyed this post, you might also enjoy 13 Backyard Games Perfect for Staying Home or The Best Outdoor Pillows For Summer. Also, make sure to download my Summer Bucket-list for some fun summer inspiration with your family.
Thank you so much for reading The 15 Best Pool Floats For Summer! I hope you enjoy every minute of these sweet summer days!


Shop This Post