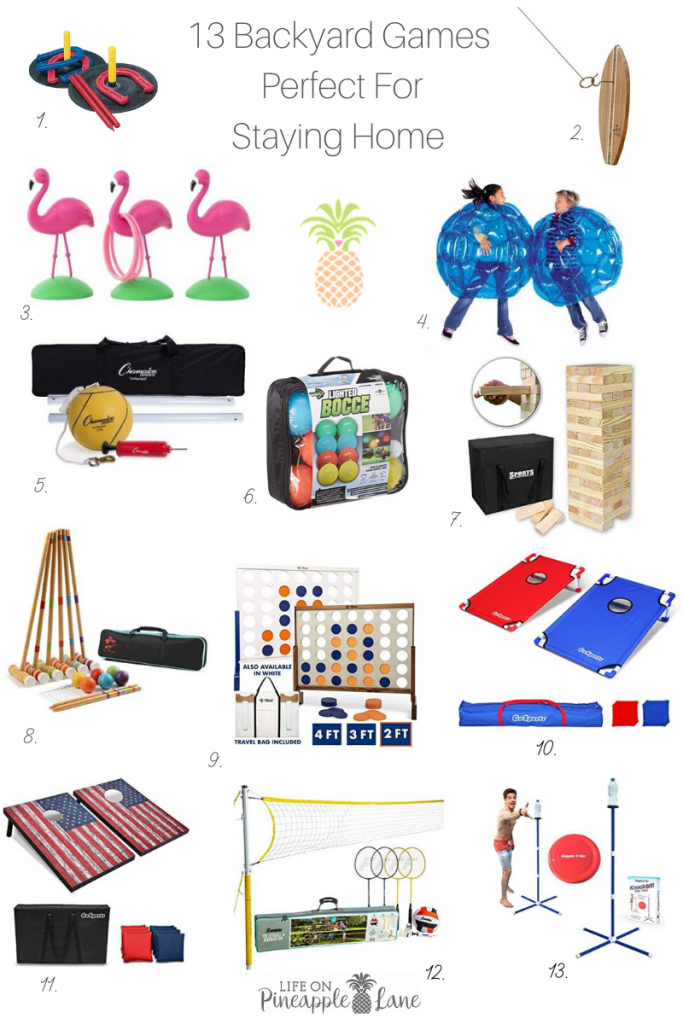 1 // 2 // 3 // 4 // 5 // 6 // 7 // 8 //9 // 10 // 11 // 12 // 13
Hi There!
How are you holding up? We are still very up and down here. Last week my son said (about the quarantine), "Its like summer only not that much fun".  I totally understood and agreed with him 100%! The weather is great but we really can't go anywhere! We can't get together with friends and its just hard for kids to be so isolated.  So I decided to try to make our backyard a little more fun. I came up with a little round up of 13 Backyard Games Perfect for Staying Home.
I chose all of these games because of  the affordability and the ease and portability of each one so that if you ever want to take them to the park, lake  or beach you can easily throw them into your car and take them with you. You could also play some of these games indoors!
Here are the details:
1 Horseshoes – This horseshoe set is perfect for the backyard and we have this exact one. The kids will go outside between breaks from "classes" and play a little game. Totally portable and light.
2 Wall mounted ring toss game – We made our own, which you can do easily with string, a hook and a ring or you can buy this one and install it in a few minutes. It's a fun game that my boys  and my husband  really love.
3 Flamingo ring toss – I just thought this was so cute. Perfect for a fun backyard game.
4 – Inflatable Bumper Balls – I just keep chuckling thinking about Slade and I getting into these and sorting out our frustrations!
5 Tether Ball – A classic backyard game and this one is portable so you can take it to the beach when you are able to go!
6 Lighted Bocce Ball – I love this Bocce ball game. We have this and have taken it to the beach at night. So much fun!
7 Giant Jenga – We have had so much fun playing this on our back patio with friends. So many laughs!
8 Croquet – A classic! What else can I say? Dress up in your best white shorts and tops and have a fashionable family croquet tournament!
9 Giant 4 in a row game – Your favorite childhood game only giant! The whole family will love it!
10 Cornhole – This portable version fits into a small bag that you can easily store or take with you to the beach or the park. We have this exact one and have taken it on the boat to the beach and currently have it set up in the backyard.
11 Cornhole – a more traditional version, also portable.
12 Badminton – This was one of my favorites as a kid. My grandparents always had a badminton net set up and we played at every family get together! Time to bring this old-school game back! One of my neighbors has one set up in their front yard right now. I'm dying to play a game with them!
13 Knock off toss frisbee Game – I have never played this but it looked fun and definitely something my kids would love!
Currently we have numbers 1,2,6,7,10 & 11 all set up in the backyard and are playing games in between "classes" to keep things interesting. I have SO much appreciation for teachers! I don't know how they keep kids on task!
Are you getting outdoors? Would adding outdoor games make things a little bit more fun? Let me know what you're doing to make this time at home a bit more enjoyable for you and your kids! If you need something to do indoors, check out this post on 30+ Movies To Watch While Staying Home for a little movie watching inspiration.
Stay safe and thank you for reading!
I would love it if you followed me on Instagram HERE, Pinterest HERE. Let's Connect!