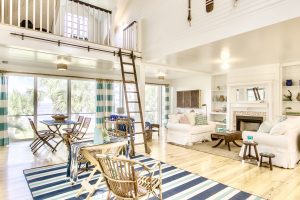 My friend Dawn Hillman of Sanibel has designed some of the cutest beach cottages. So fresh, in fact, that they have garnered some national attention.  Dawn has been featured on HGTV and one of her Sanibel Bayfront Cottage renovations was recently featured on House Hunters.
We met recently and she showed me her newest design. A client's bay front beach house on Sanibel. The 3 bedroom 2 and a half bath 1990's era house was completely gutted and remodeled. One of Dawn's signature styles is her heavy use of shiplap and bead board. You may think that the only thing shiplap represents is the modern farmhouse style that Joanna Gaines has popularized but Hillman's take on it is just as fresh, yet completely different.
Sanibel Bayfront Cottage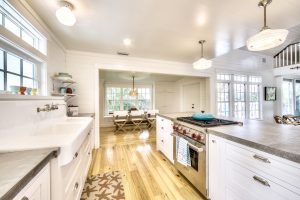 The huge sink, adds so much character to this kitchen!
A lot of counter space and huge island makes this perfect for the whole family.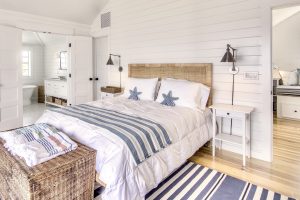 This is screaming Sanibel Bayfront Cottage! Or really any cottage! Wouldn't this be a lovely place to get away too!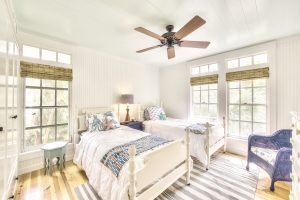 So much space for the whole family!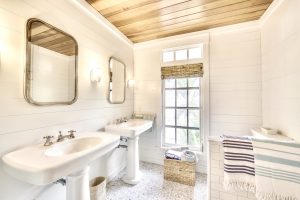 I love the idea of two stand along (big) sinks without the counter tops! Makes the bathroom feel so much bigger!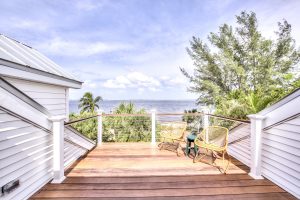 My favorite part of the house, the deck top! Picture yourself with a wonderful drink and reading out here!
Love this Style!
A little bit retro, a little bit preppy and a lot beach-y. Her style gives the feeling that you are visiting a beach house from a bygone era. Don't you love it? Thanks for stopping by!