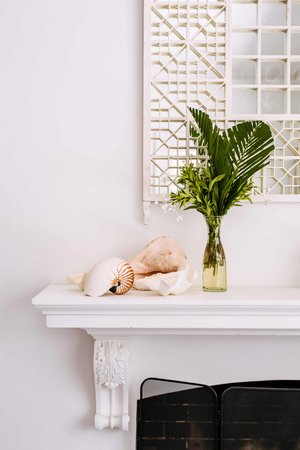 Via Paddo To Palmy
Hi! I hope you're having a wonderful summer! We are getting down to the wire with school starting in less than 2 weeks and right now I'm just trying to keep my kiddos entertained! Have you been to the beach at all? What do you do with all of your beach treasures you bring home?
My home is filled with little treasures from my beach trips. I just can't seem to part with any of them because they were almost all found by my children or with my children on our vacations. I can still see their little faces, so happy and proud of what they had collected. Some of them are not perfect shells, one was a piece of driftwood that my son thought looked like a gun and played with it for an entire weekend at the beach.
I have never hesitated to add these gems right into my decorating scheme. They make me smile and think of happy memories. Some times I don't know where I'll put them and other times I just toss them right into a jar or bowl. I mix it up too and will "retire" some pieces for a while to a cabinet and bring them out a few months later just to keep it fresh. I started to get bored with my arrangement and went looking around the web for some ideas and I thought I'd share them with you. Here are some ideas for you to use your beach finds in your decor.
 A friend of mine keeps a basket of shells in her guest room along with a fine point sharpie marker and her guests leave her a little note on the shells. I love this idea!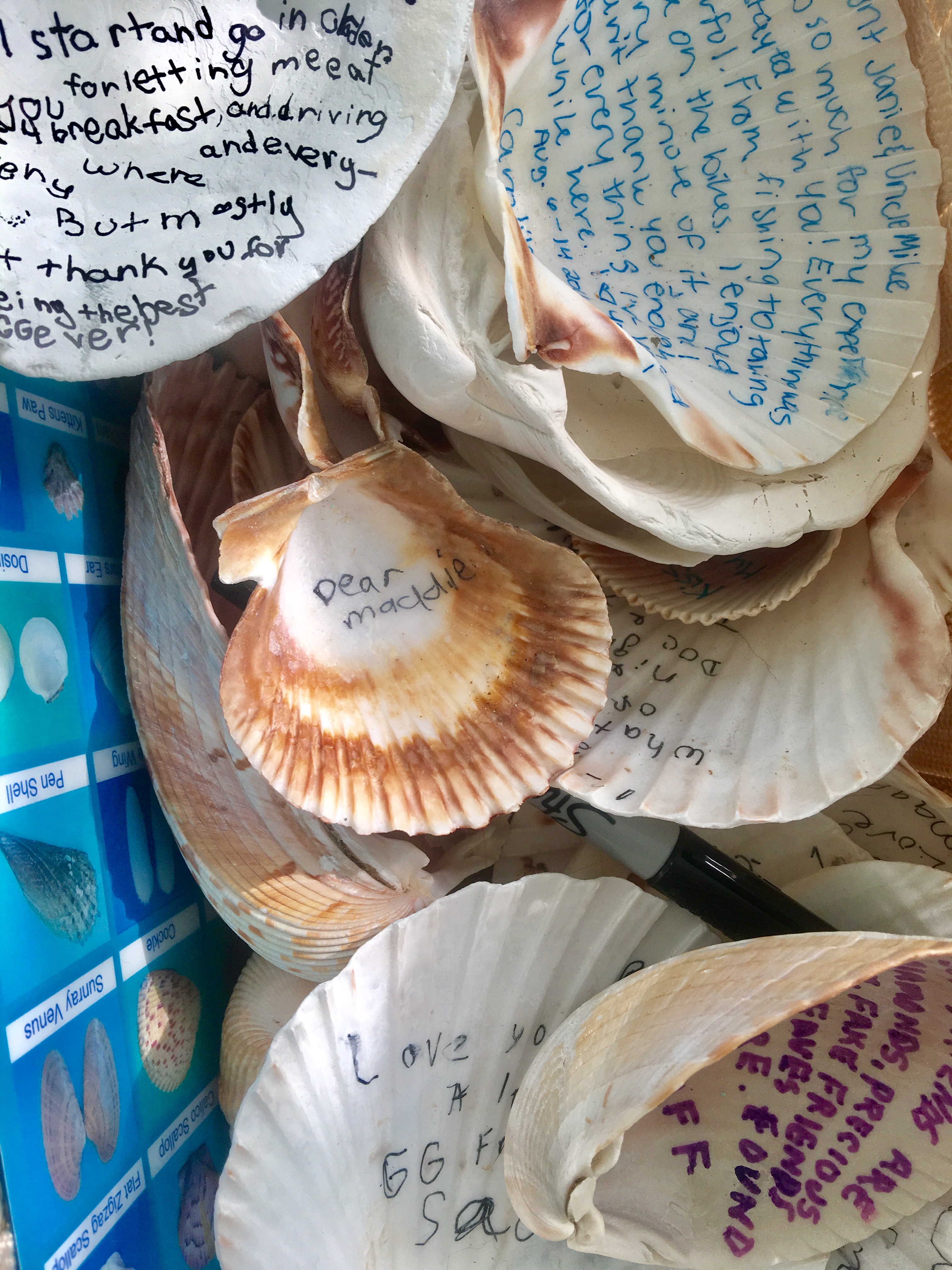 In this gorgeous bathroom,  designed by Alessandra Branca, shells are incorporated in several ways. Grouped in a tray on the counter and in the amazing statement chandelier. I'm not sure I'd be able to pull off a craft of this caliber but (#goals!) I can certainly add a few shells to my bathroom countertops! Alessandra's website and Instagram feed are definitely worth checking out!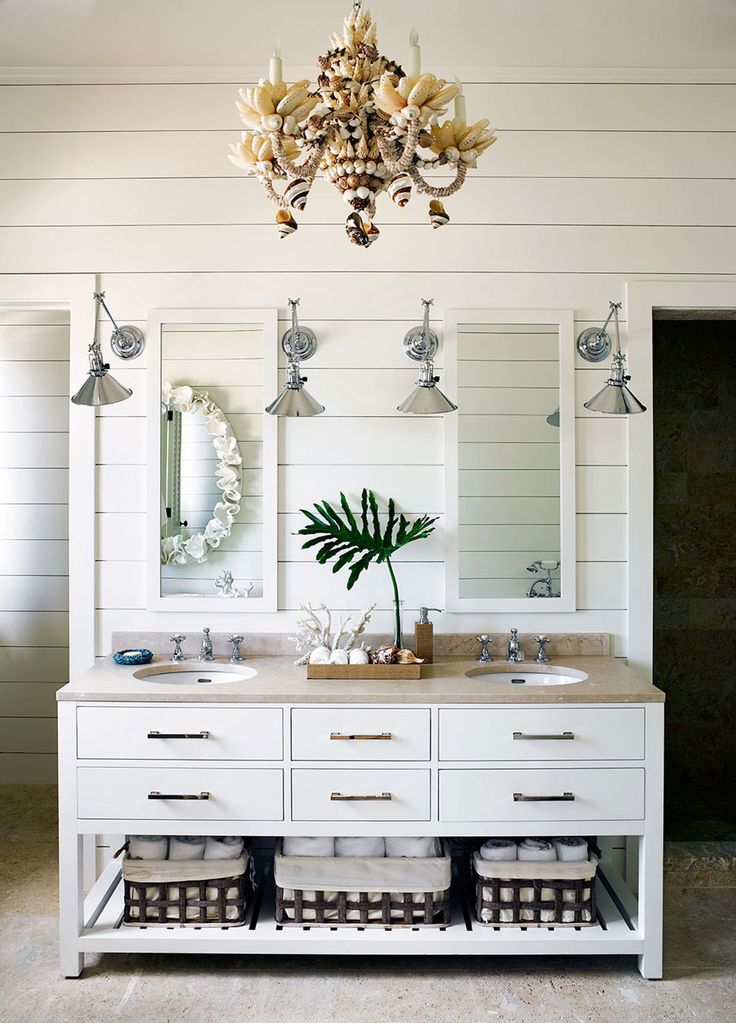 Via Lonny .  Photo: Douglas Friedman
More bathroom inspiration by Three Birds Renovations.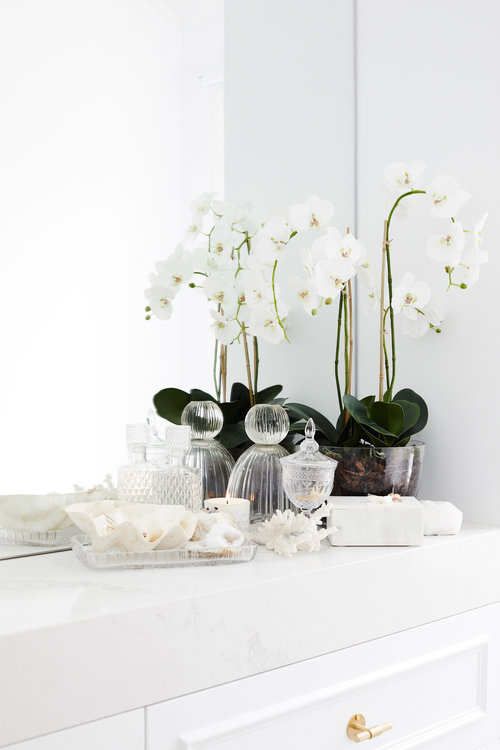 Via Three Birds Renovations
This very simple nightstand arrangement is so organic and beautiful.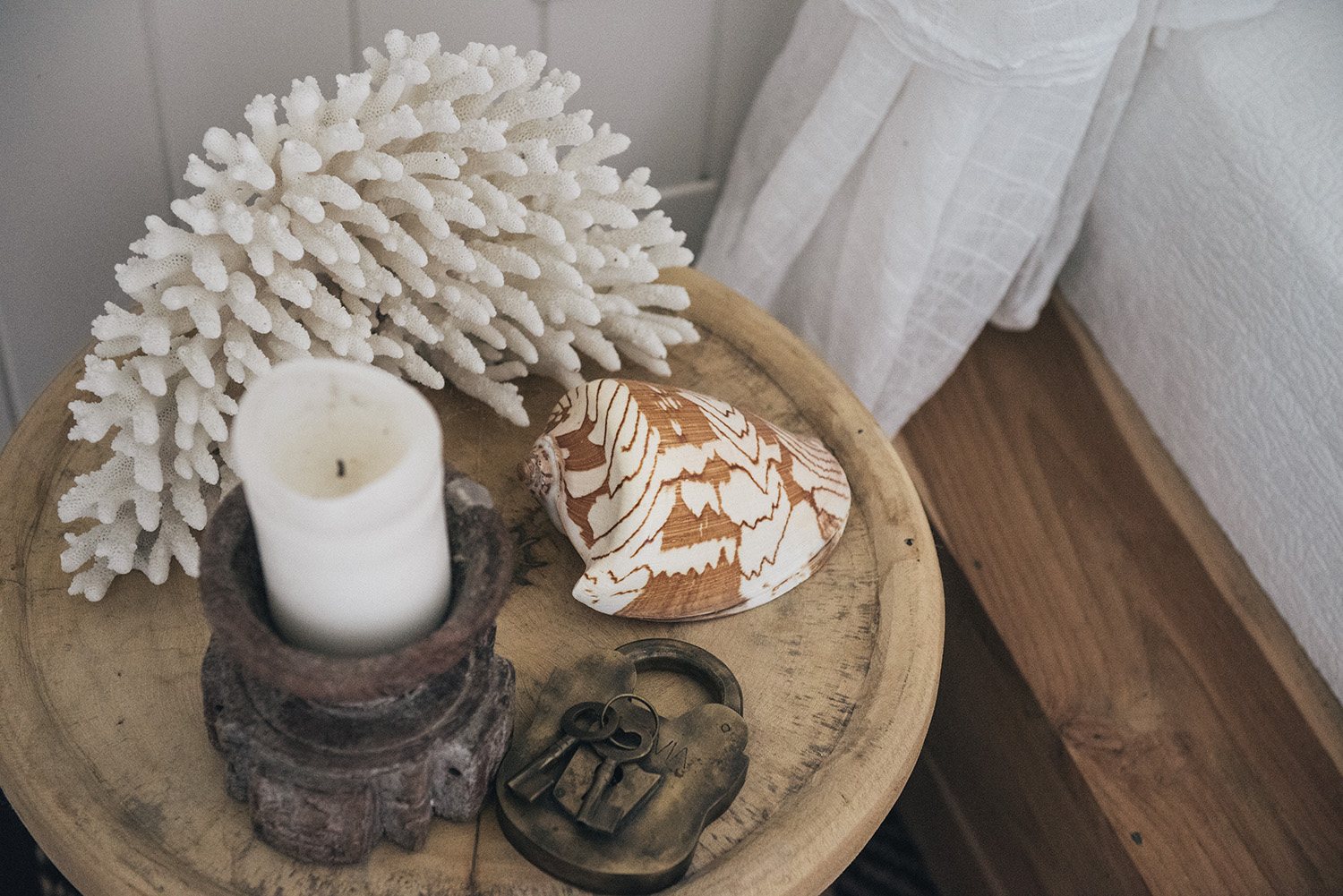 Via Spell & The Gypsy
I love that the bookshelves in this home are entirely devoted to displaying shells, coral and beautiful beach finds.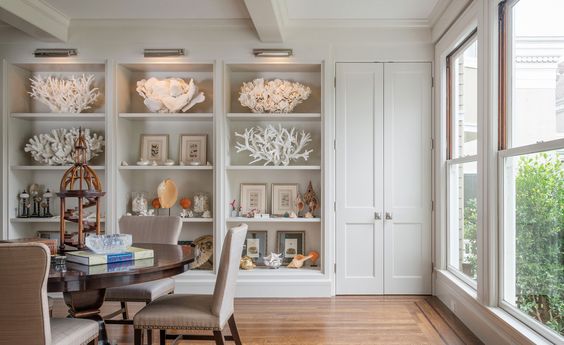 Via Sutro Architects
More bookshelf inspiration.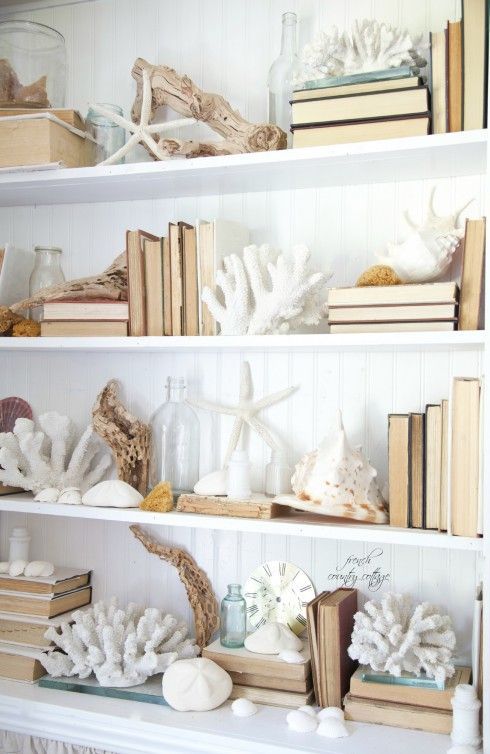 Via Pinterest
Sea glass is one of my favorite things to hunt when I'm in the Bahamas. I detailed my last trip here along with some tips for visiting the Abacos. The photo below by Elizabeth of @EBDesigns shows  a lovely way to display your sea glass. Elizabeth's instagram account is one of my favorites.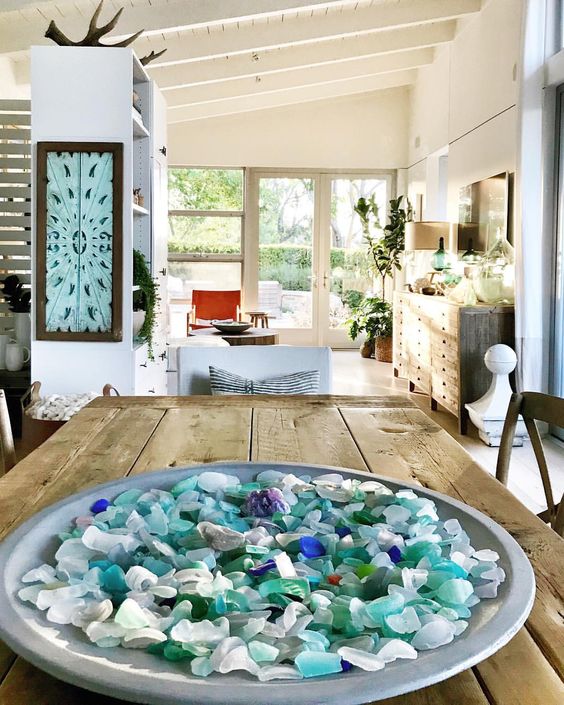 Via Instagram
This simple but stunning tablescape (again, by Alessandra Branca)is so inviting! I love the use of conch shells as a centerpiece. Easy and Beautiful!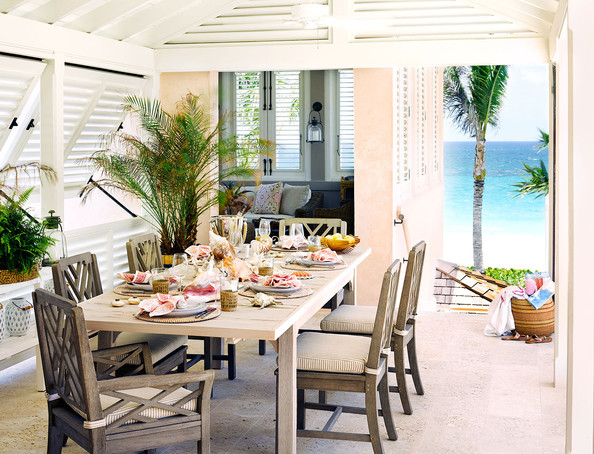 Via Lonny  Photo: Douglas Friedman
Recently, I was gifted an amazing shell mirror by  special, sweet clients of mine and I absolutely love it. It's currently on my dining room table waiting for the spot I have planned it for to be finished but I will certainly post a pic on instagram when it's hung. The beautiful mirror below is from a tutorial on HGTV. If you're an ambitious shell crafter and  want to make a gorgeous mirror, click here for all the details.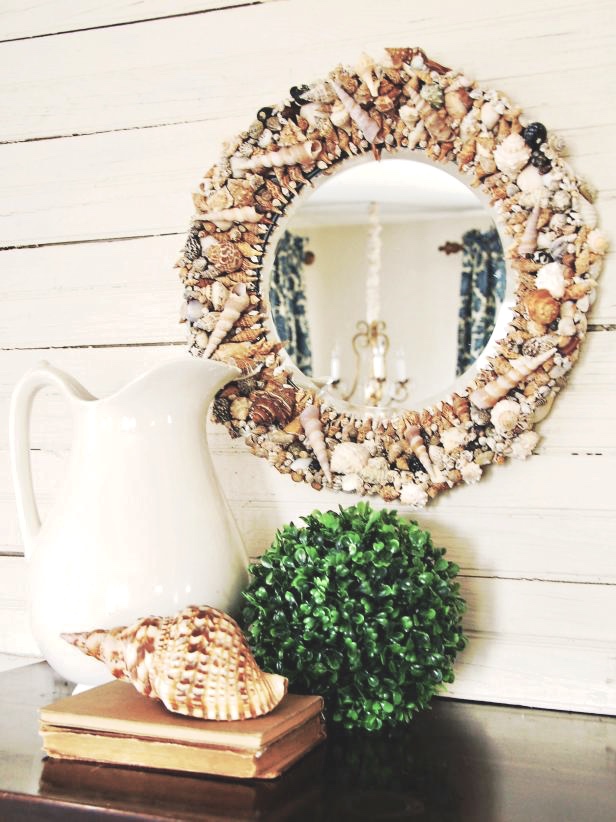 Via HGTV
A mantle is a wonderful place to display larger shells.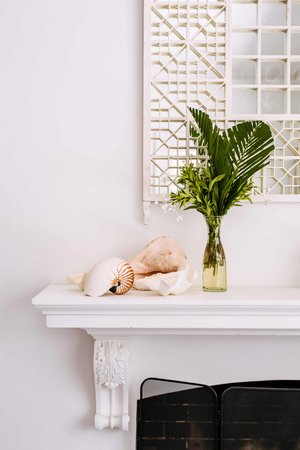 Via Paddo To Palmy
I hope you're inspired to use your beach finds in your home decor! They will always make you smile and think of beautiful beach memories. Thanks for reading! I'd love for you to follow along with me on Instagram: @lifeonpineapplelane,  and hit the subscribe button in the top left corner of the page!