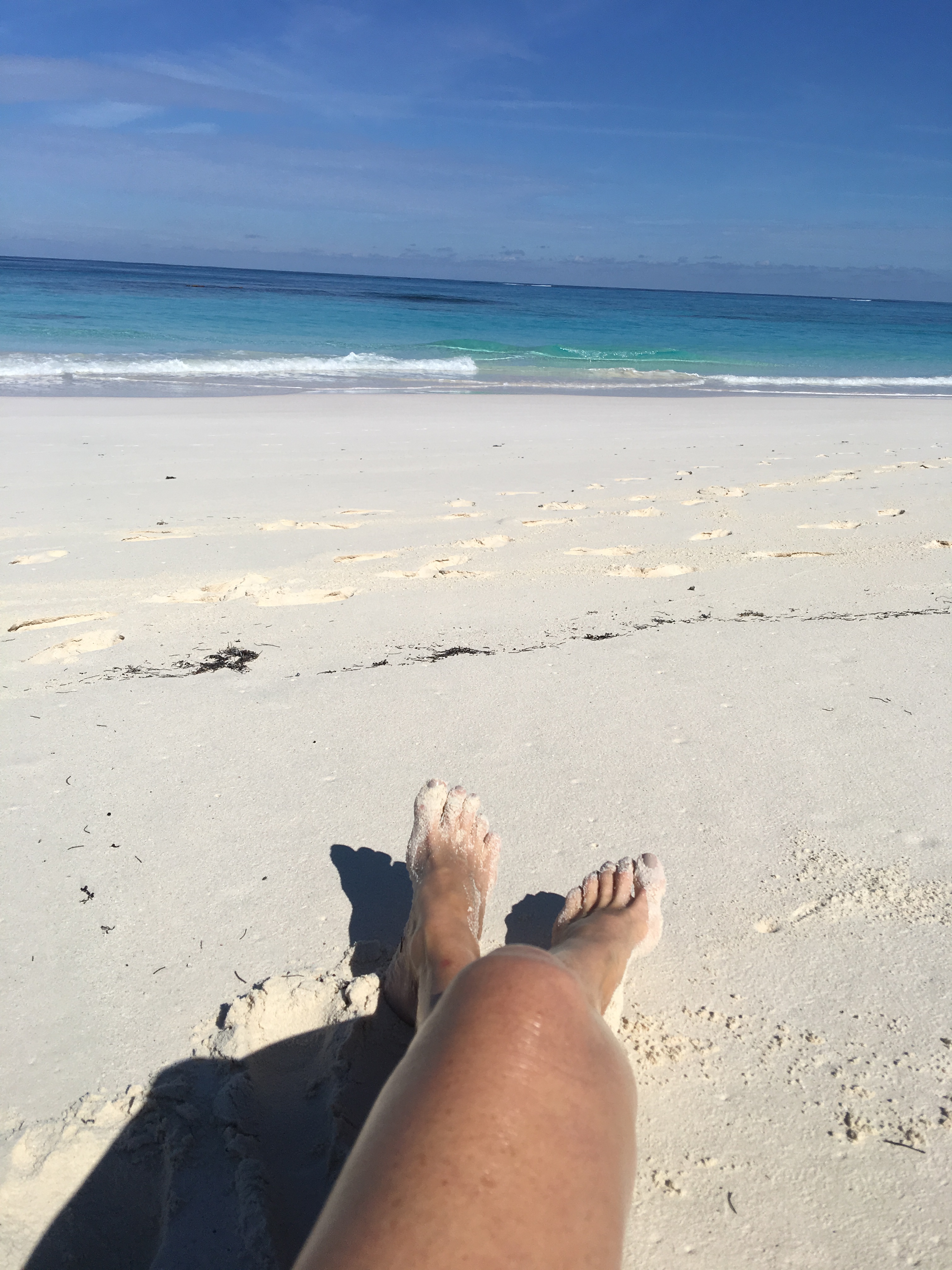 Hi Friends!
We went to the Abacos, Bahamas a few weeks ago and I am just now getting to this post! Although I did get My Bahamas Packing List post up last week (win!) I thought you might like to see what we did on our trip. I have to say, I really checked out for this trip and I was a bit disappointed in myself for not taking better photos. I was in total vacation mode and was not thinking about blogging or really anything else! After our stressful past 6 months, I really needed that! Anyway, let's get to it!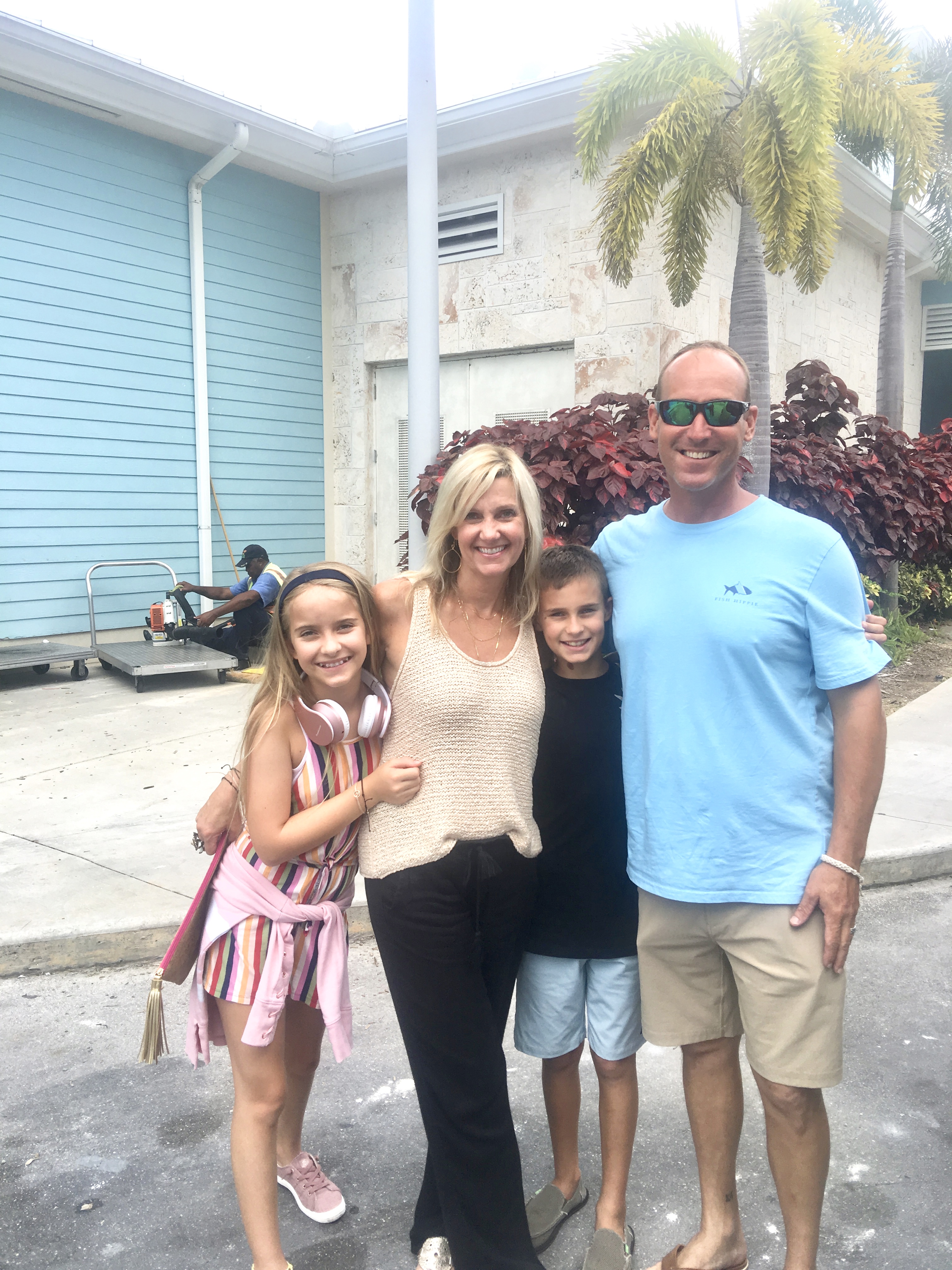 Getting There
We flew out of Ft Lauderdale into Marsh Harbour via Silver Airways. (Side note: I don't recommend Silver. They are known for being unreliable.  There are other options and I would definitely consider those before booking a trip. Particularly if you are going for a long weekend. You don't want your flight delayed or worse yet, cancelled on such a short trip. We did have delays coming and going  and a friend who was flying in after us, had delays and they were not weather delays! Ugh. So frustrating!
Here are a few other options for you:
Delta   www.delta.com  (ATL-NAS)
Airgate www.flyairgate.com  (EVB-MHH)
American Airlines  www.aa.com (MIA-MHH)
Bahamas Air www.bahamasair.com (NASMHH)
There are also several charters that fly out of Florida that could be good options. I've been hearing good things about Island Tyme Charters.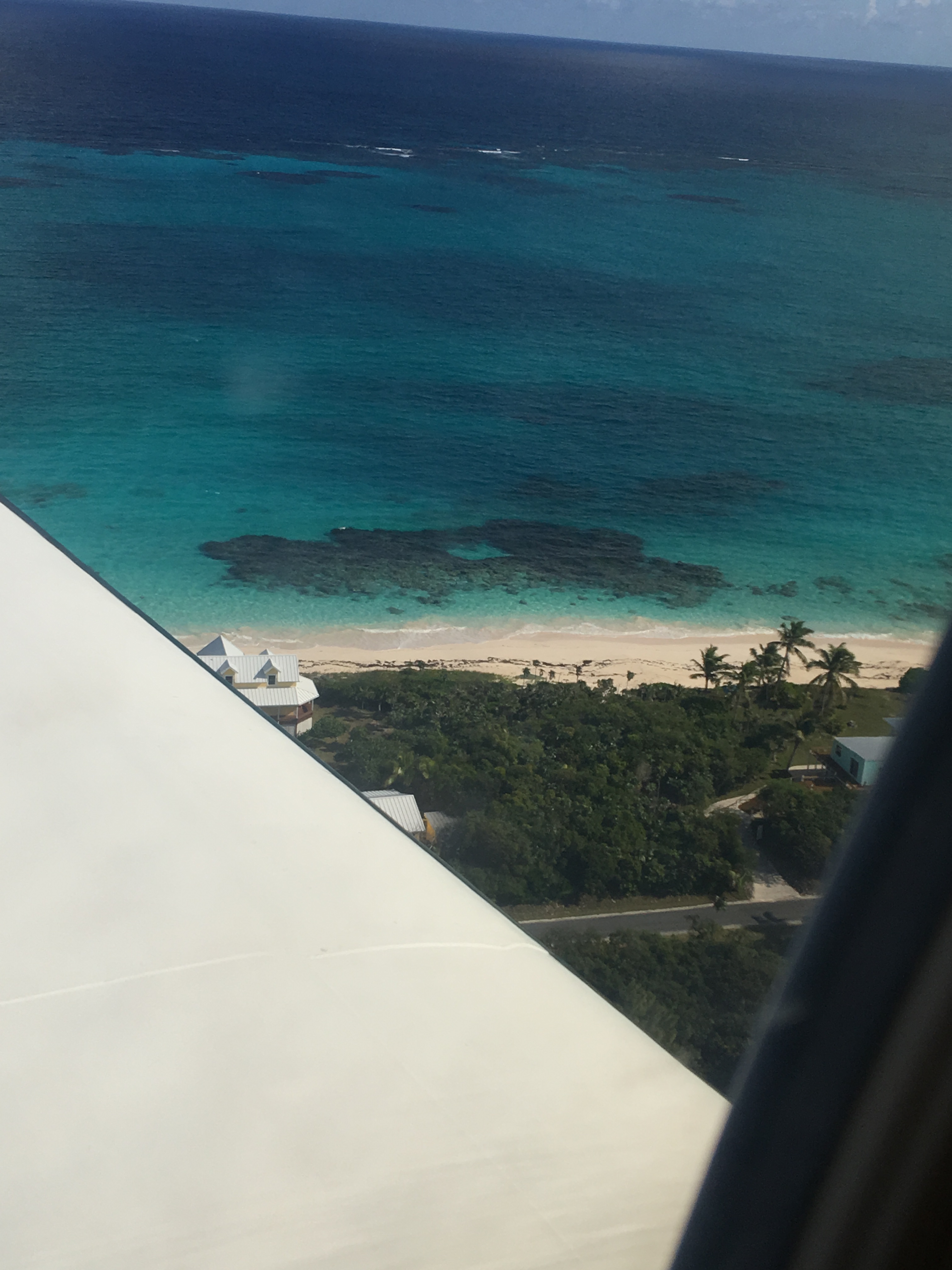 Once in Marsh Harbour, you will need to take a taxi to the ferry dock (if you are staying on a neighboring island)  Make ferry reservations before you leave the states.
If you are staying at a home or condo and will not be eating 3 meals a day at a resort, you will also need to consider provisioning ahead of time in Marsh Harbour. We take a taxi from the airport to Maxwell's Supermarket, do our grocery shopping (the taxi will wait for you), then head to the docks. Albury's Ferry has a provisioning service and will have your supplies ready for you upon arrival at the docks.  Most of the rentals have services like this as well. Plan ahead!
There are several ferrys that operate out of Marsh Harbour. The Abaconian Newspaper (and website) has the ferry schedules posted and all the contacts. Click here to see those.
Where we stay
My Brother-in-law owns a house on Scotland Cay which is a private island near  Great Guana Cay  (and a short boat ride from Marsh Harbour) and we are lucky enough to be able to stay at his gorgeous beach-front home.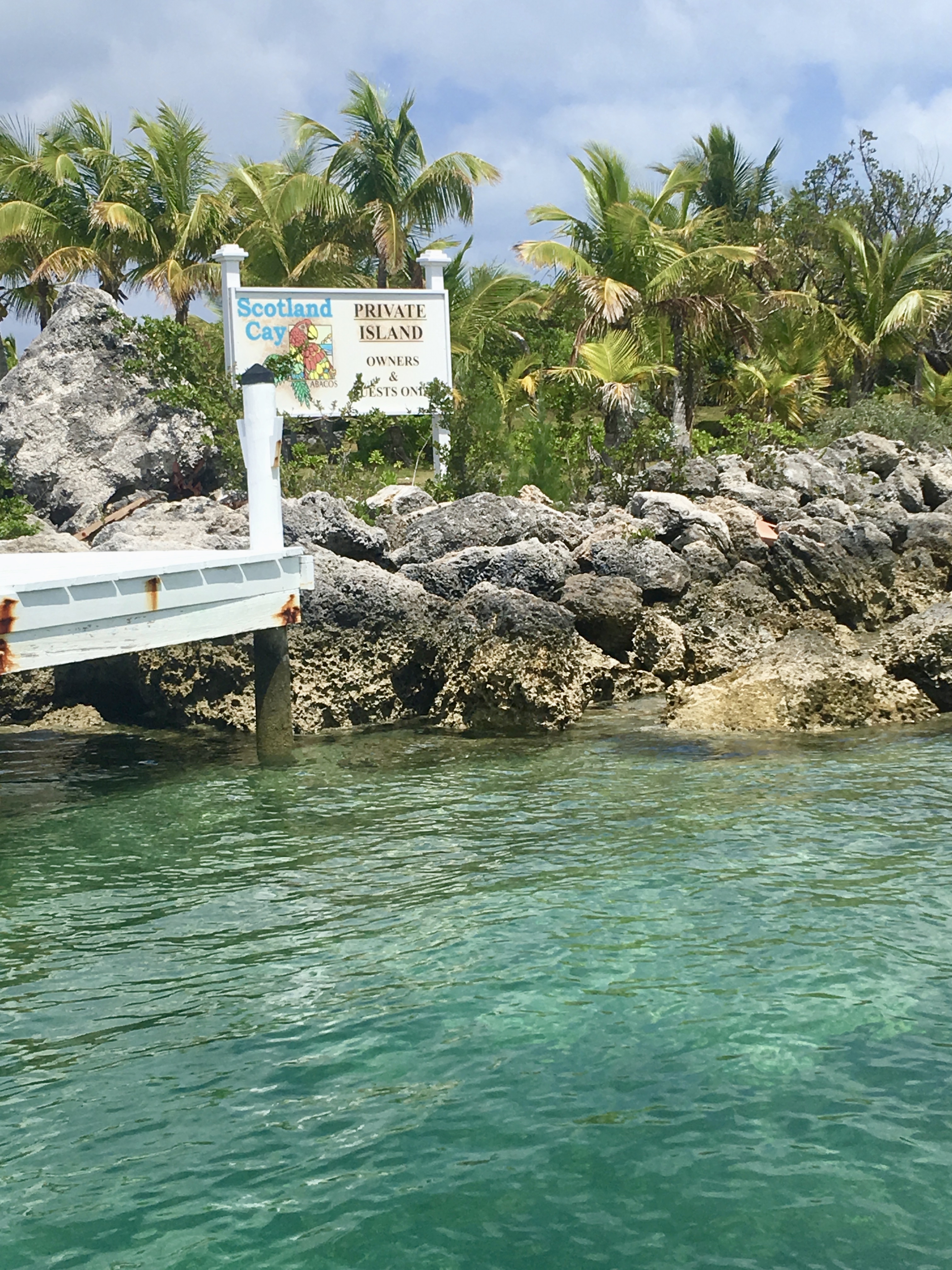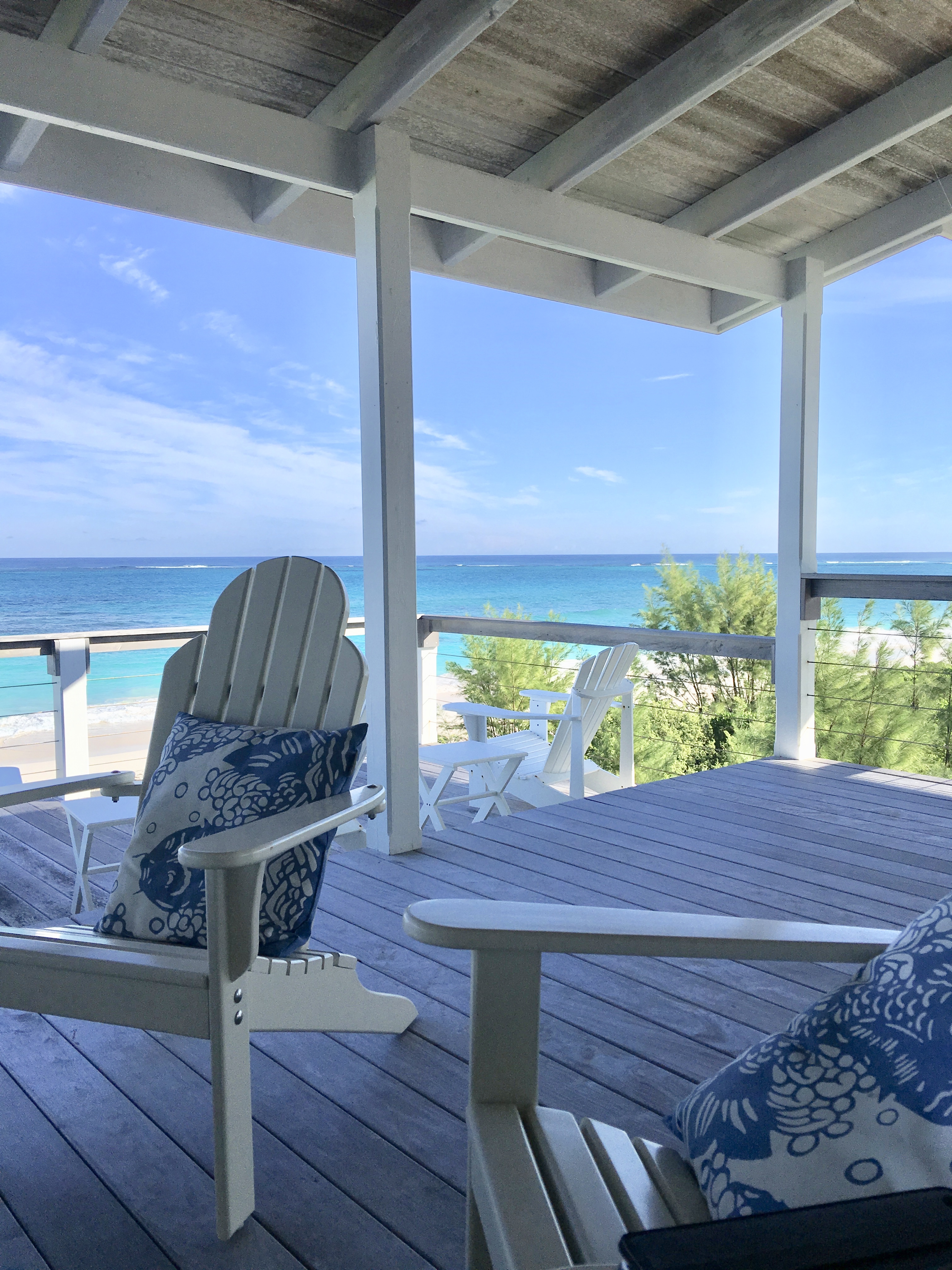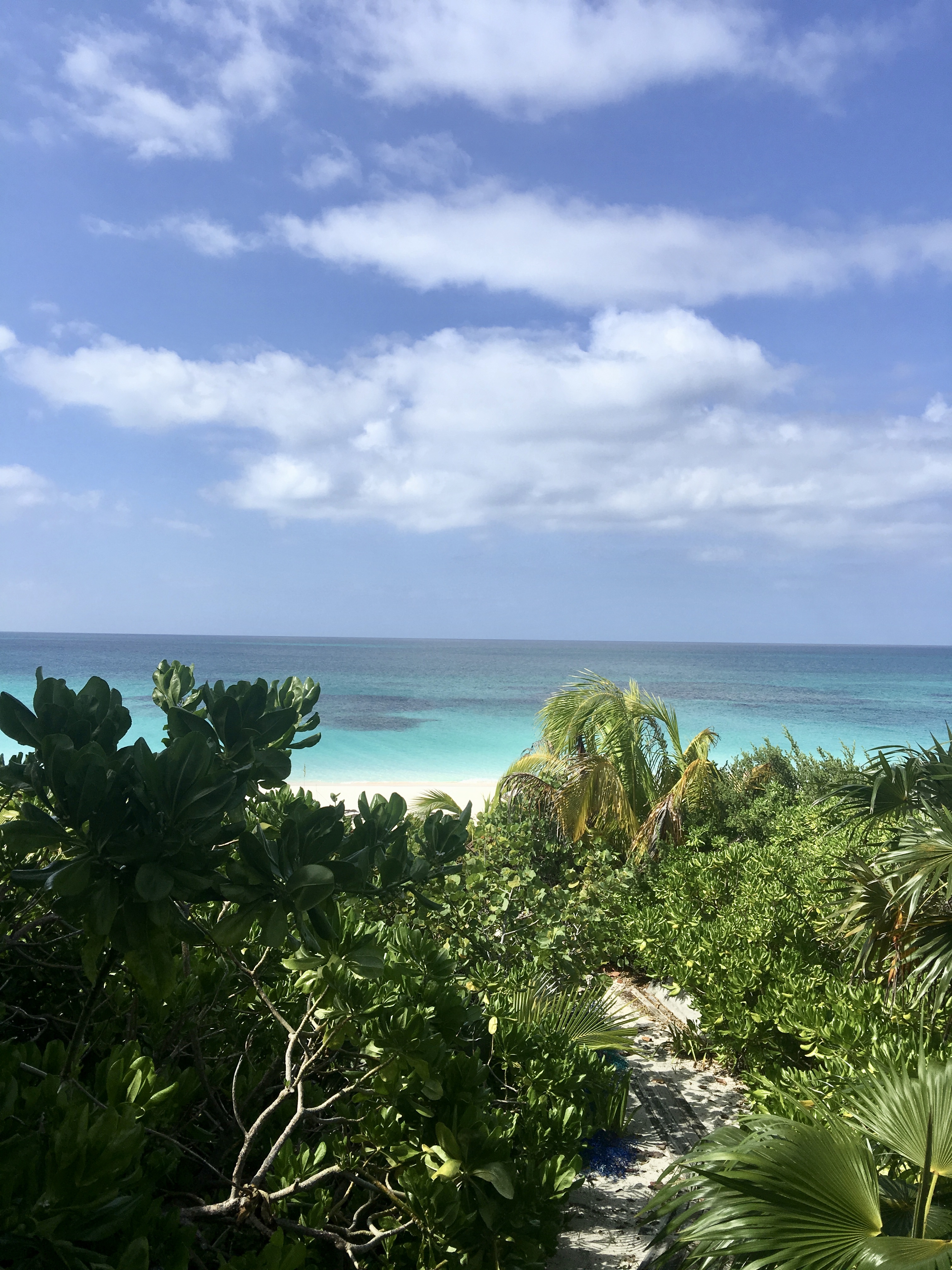 I haven't stayed at a resort in the Bahamas, but if I ever need to  I would consider  The Abaco Inn or Firefly Sunset Resort both located on Elbow Cay. Or I would try a rental home available through Elbow Cay Properties.
What we did
We had our 11 year old twins with us this time so our focus was on them. Coincidentally, a family with 4 children, who we have known for years had recently purchased a home on the island and was on vacation there at the same time. The kids (and all of the parents) reconnected and had a blast. It made the trip fantastic.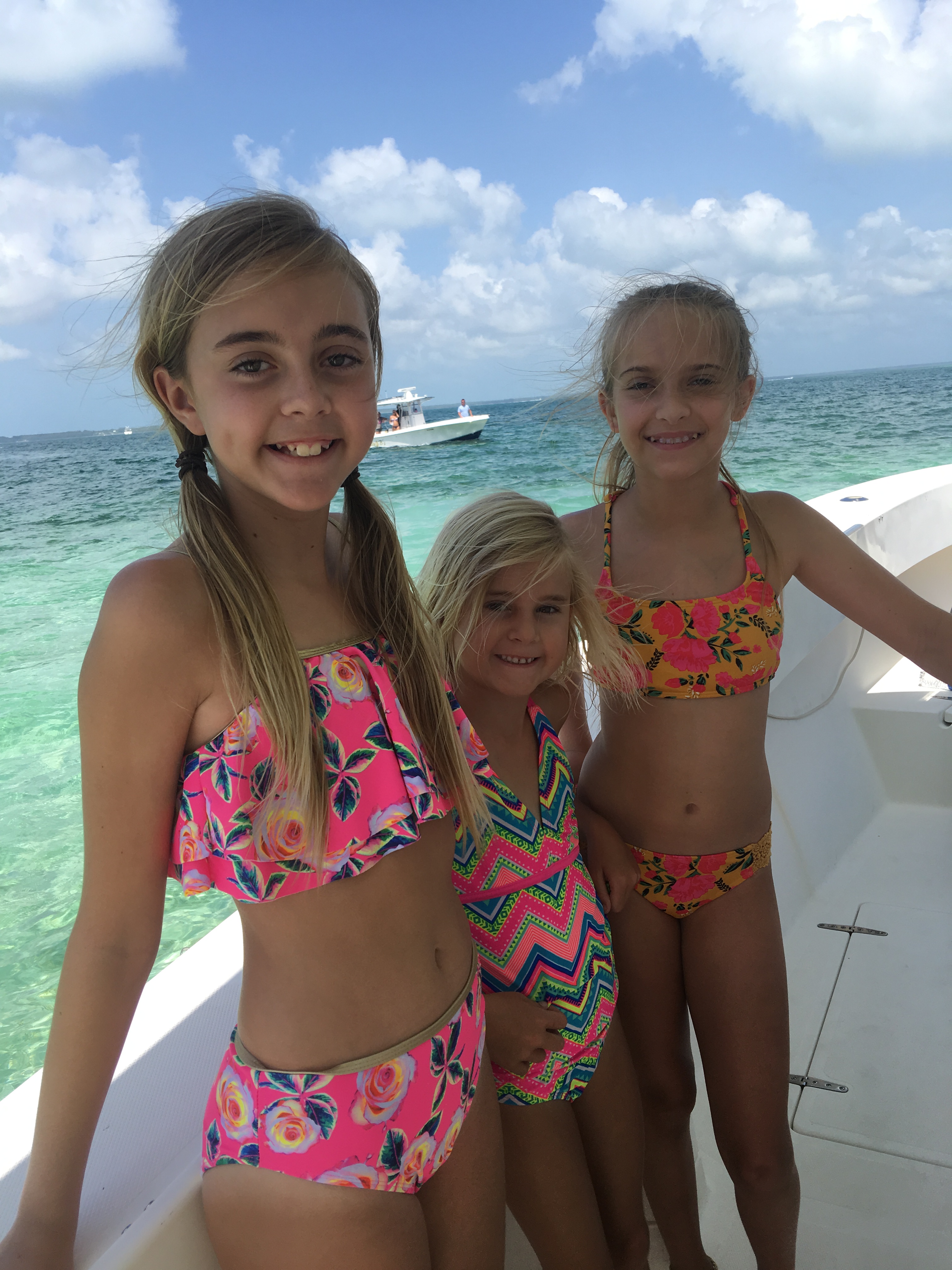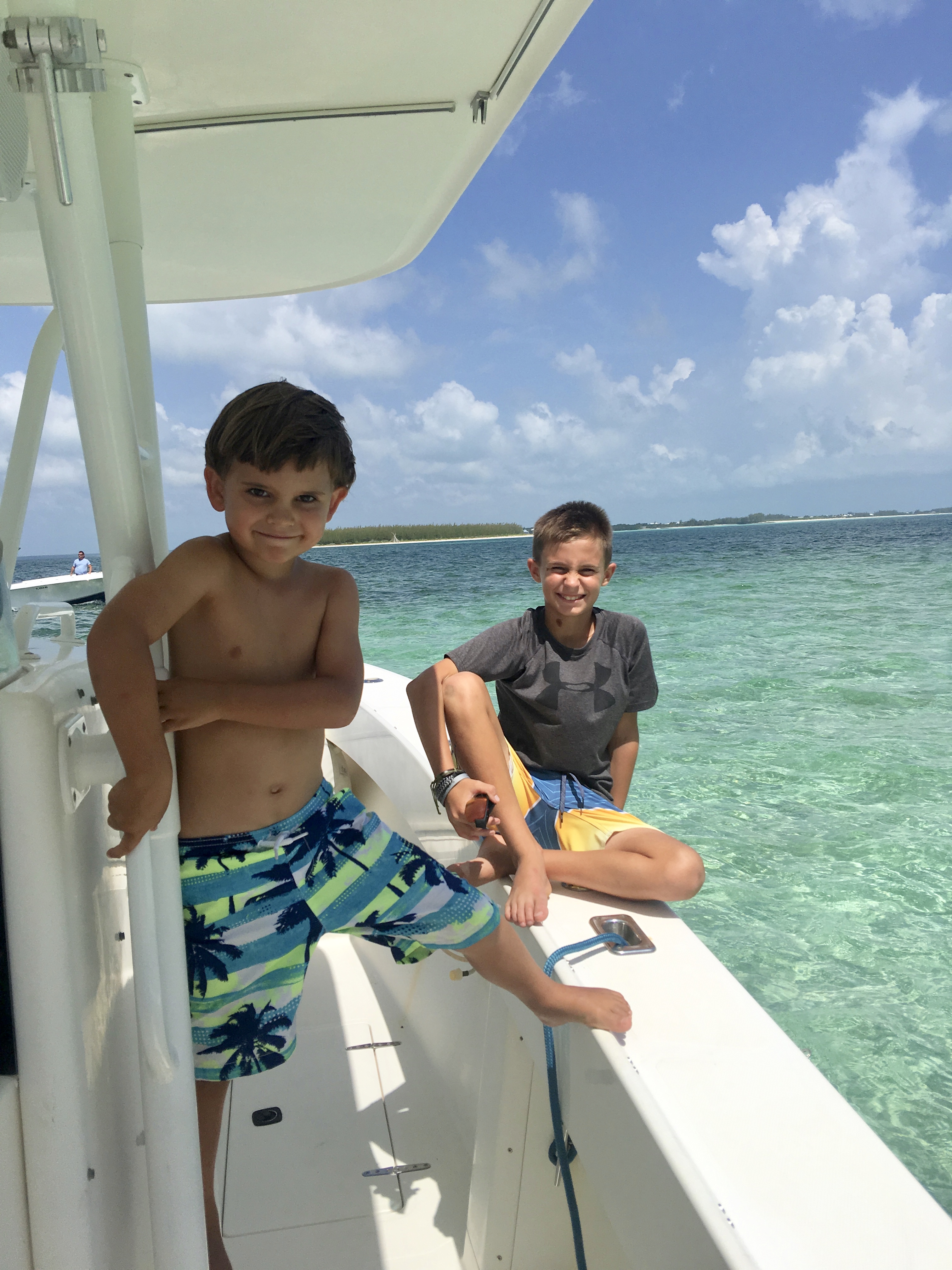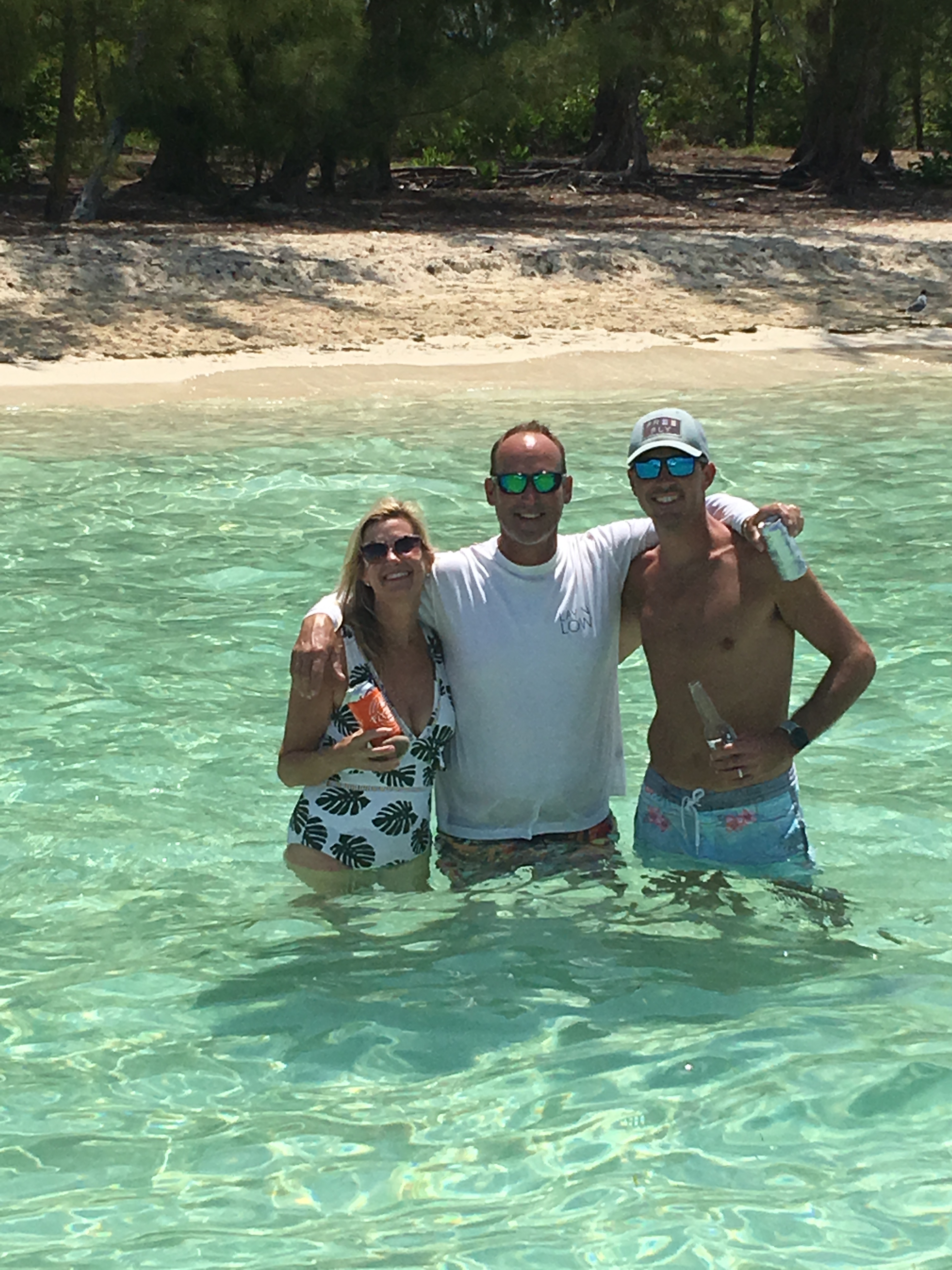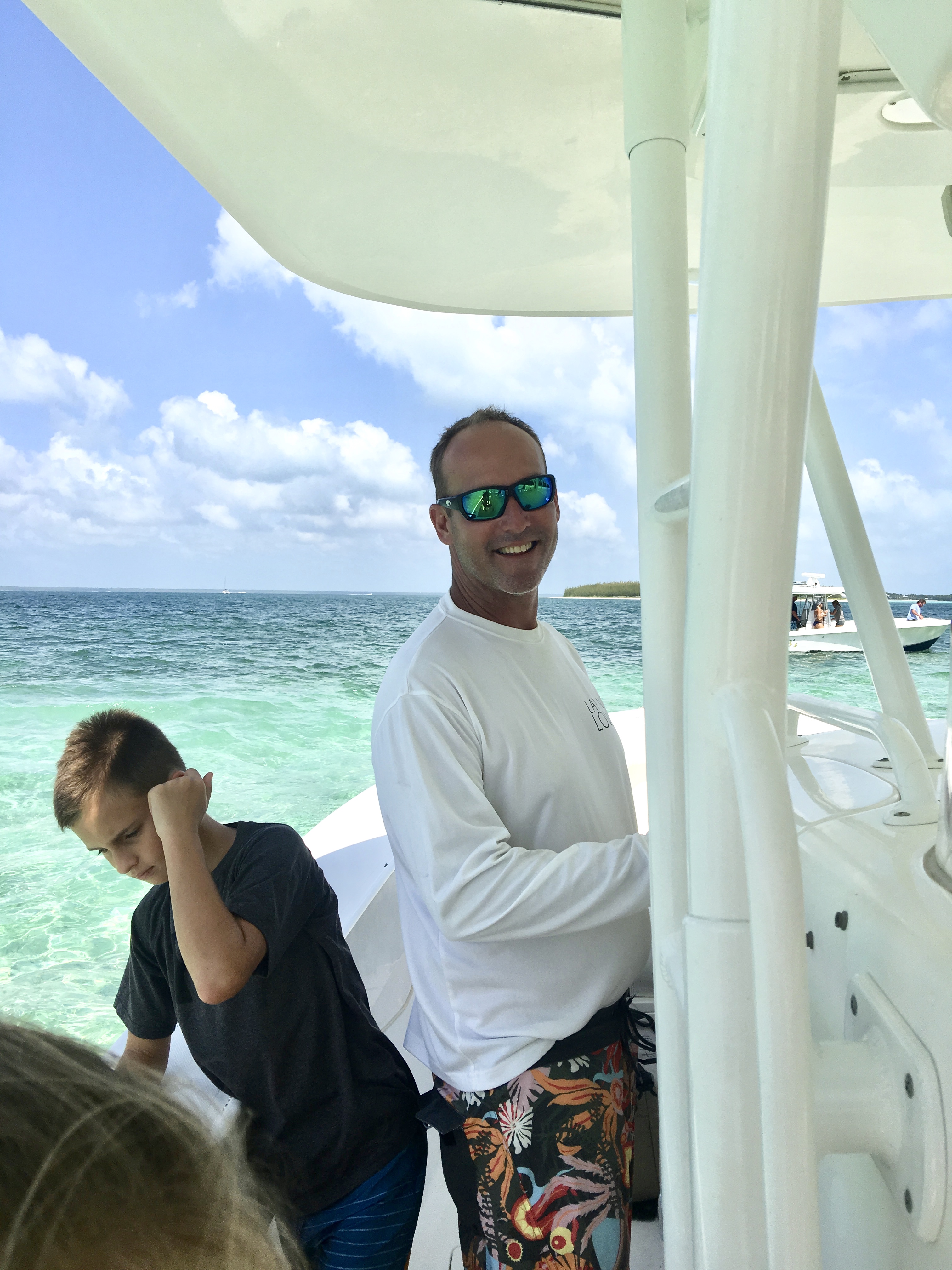 Day one:
We headed straight to the Abaco Inn on Elbow Cay for a late lunch. They have great food, amazing views and a pool that you can use as well. I've never stayed there but I would definitely consider it.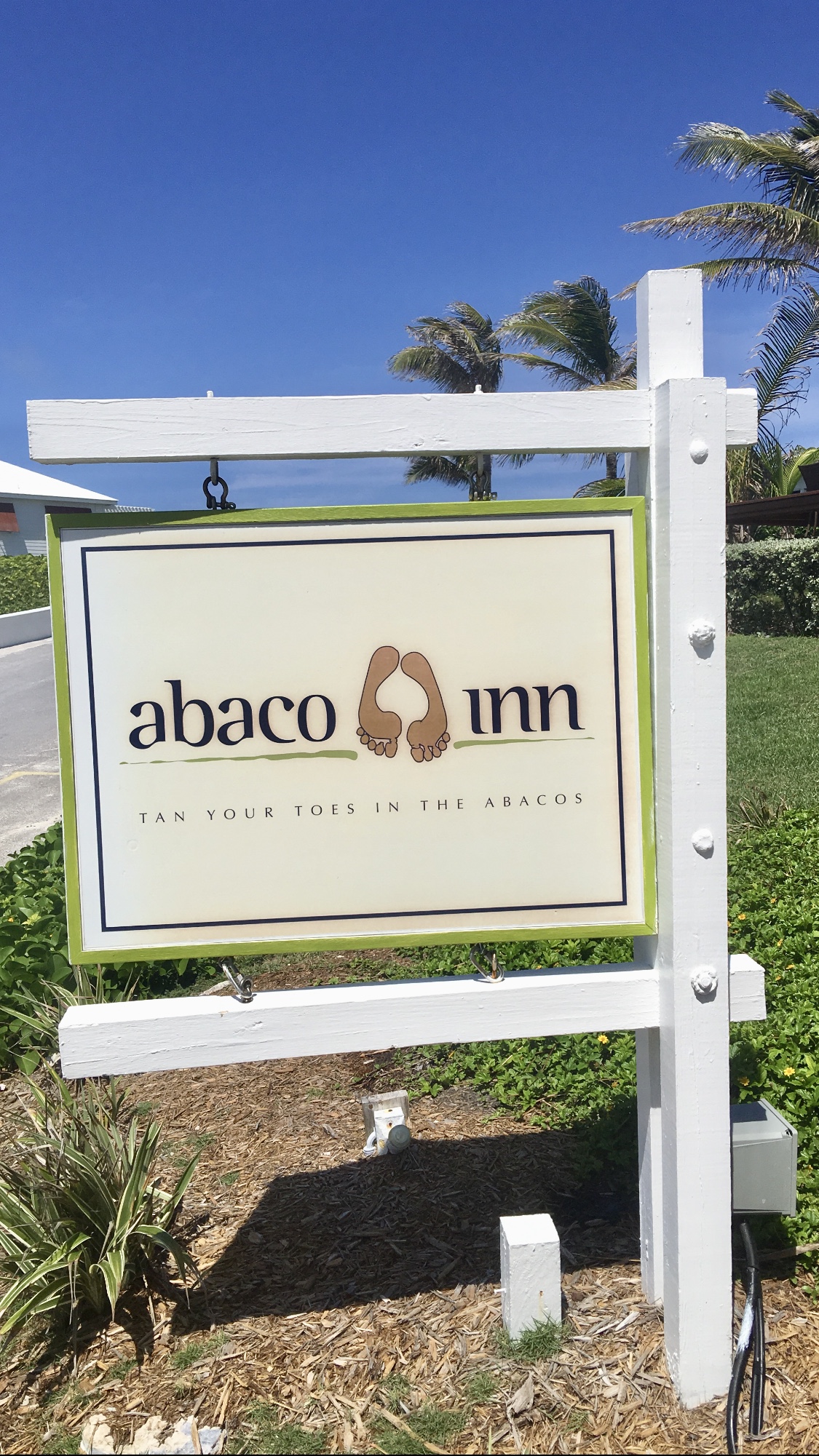 We ate lunch at Abaco Inn several times. When it's hot, we like to find a restaurant that has a pool so that the kids have something to do and can cool off. The bar is so cute there. I like the Tuna Won Tons. Slade always gets the cracked conch. Cracked Conch is  the specialty of the Abacos so definitely plan to try it! For a cocktail, I recommend the "Cranberry Split". So yummy!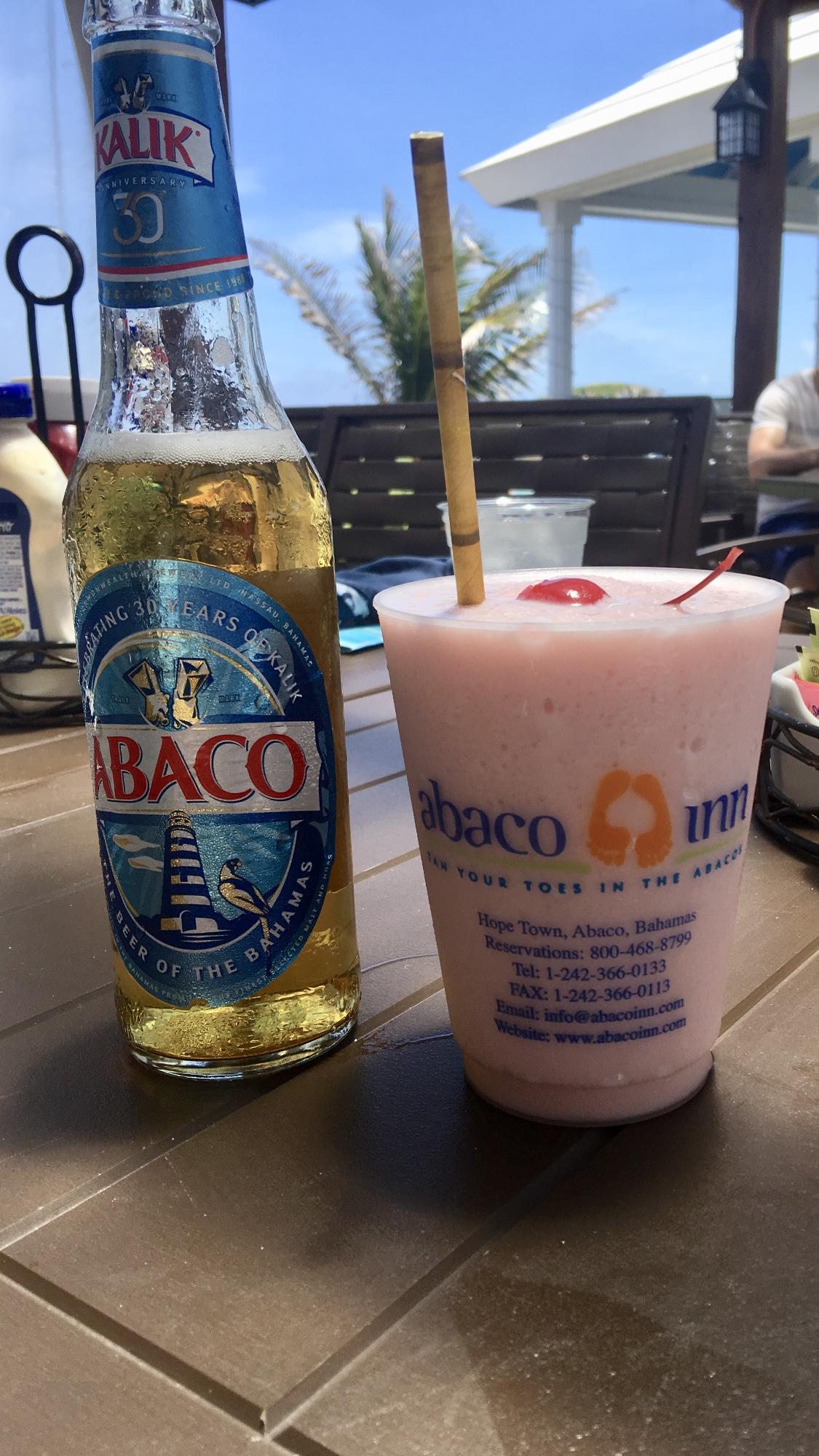 On the way back to Scotland, we also stopped Firefly Sunset Resort for a drink and a quick trip to the gift shop.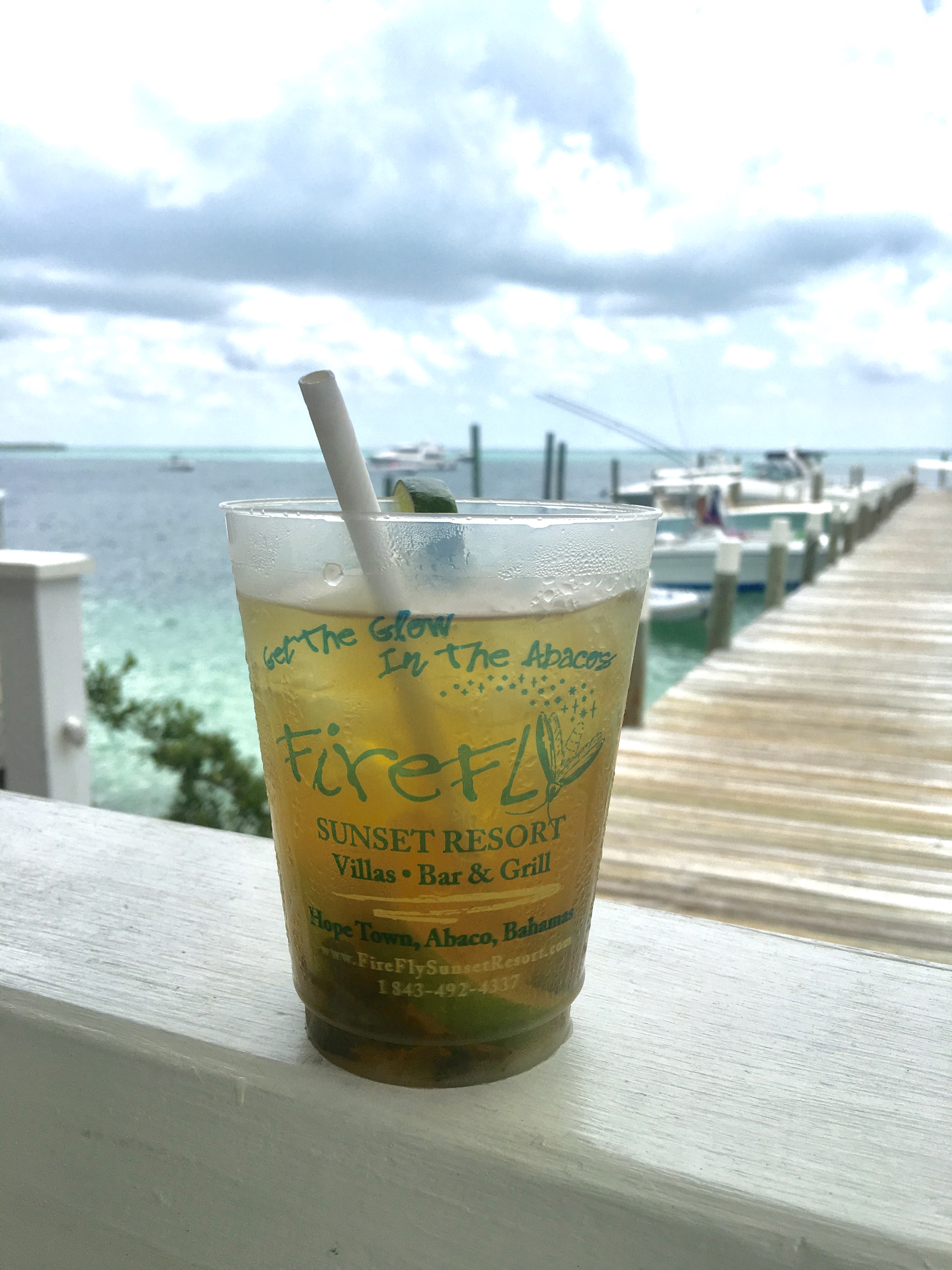 Day Two:
Late morning, we jumped on our friend's boat with all of the kids and headed to Green Turtle Cay where there's a little lagoon known for being a great place to see sea turtles and nurse sharks. Sure enough, as soon as we pulled in, the sharks swam right up to the boat. They were small, 3-4 feet long.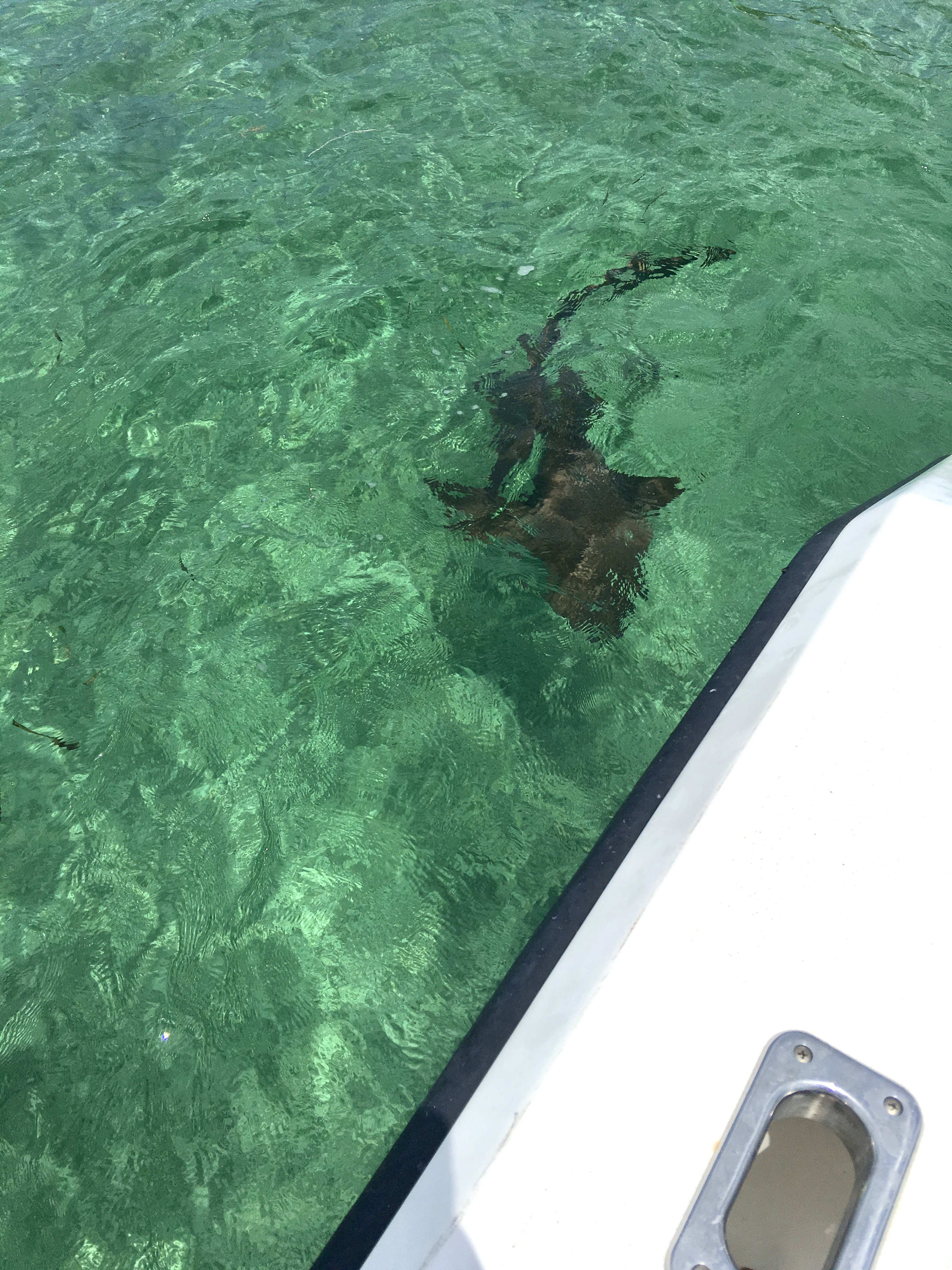 A few minutes later a big, beautiful sea turtle swam up too.  It was an amazing experience. I was so excited about the sea turtle that I didn't get very many good photos.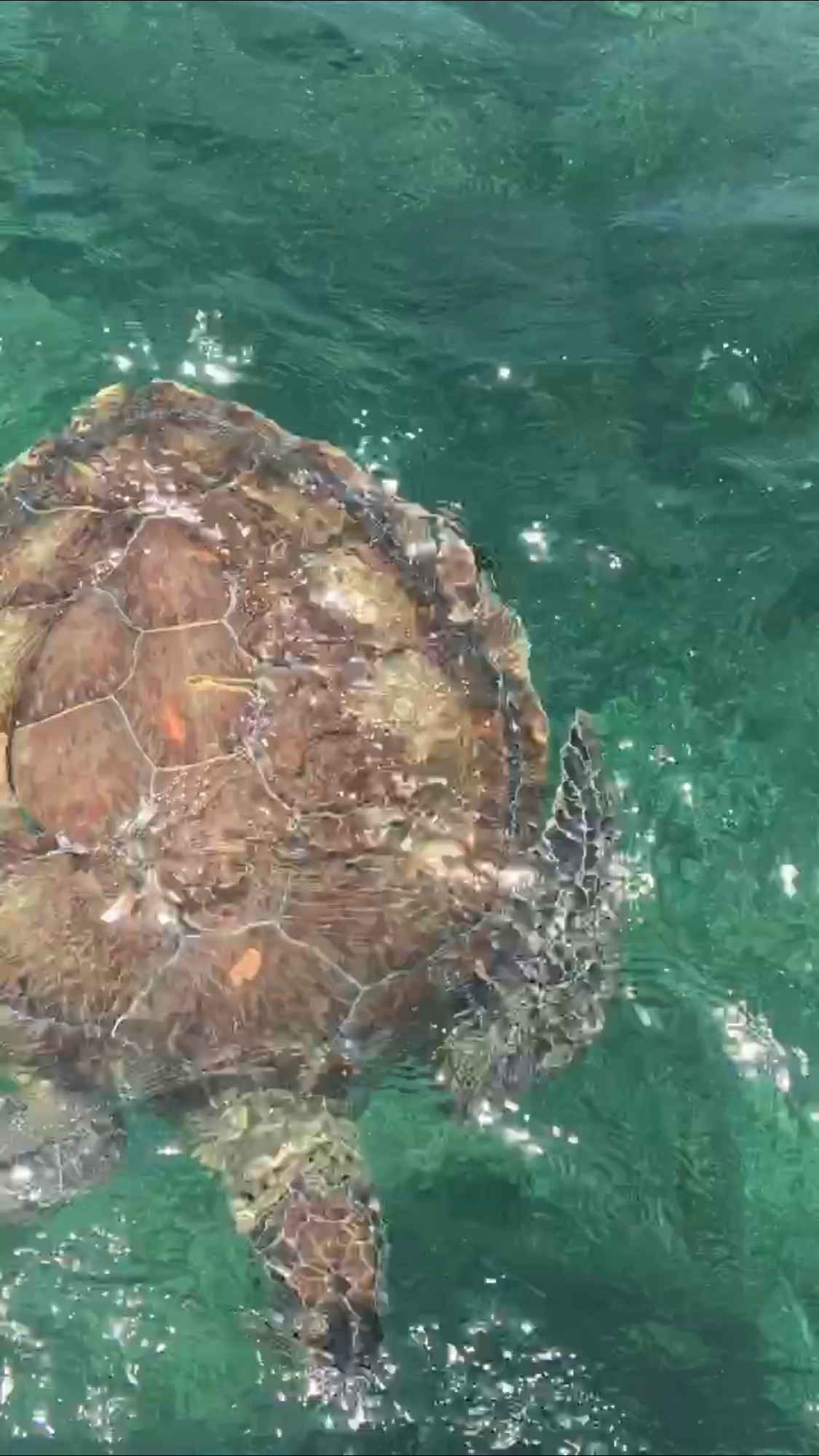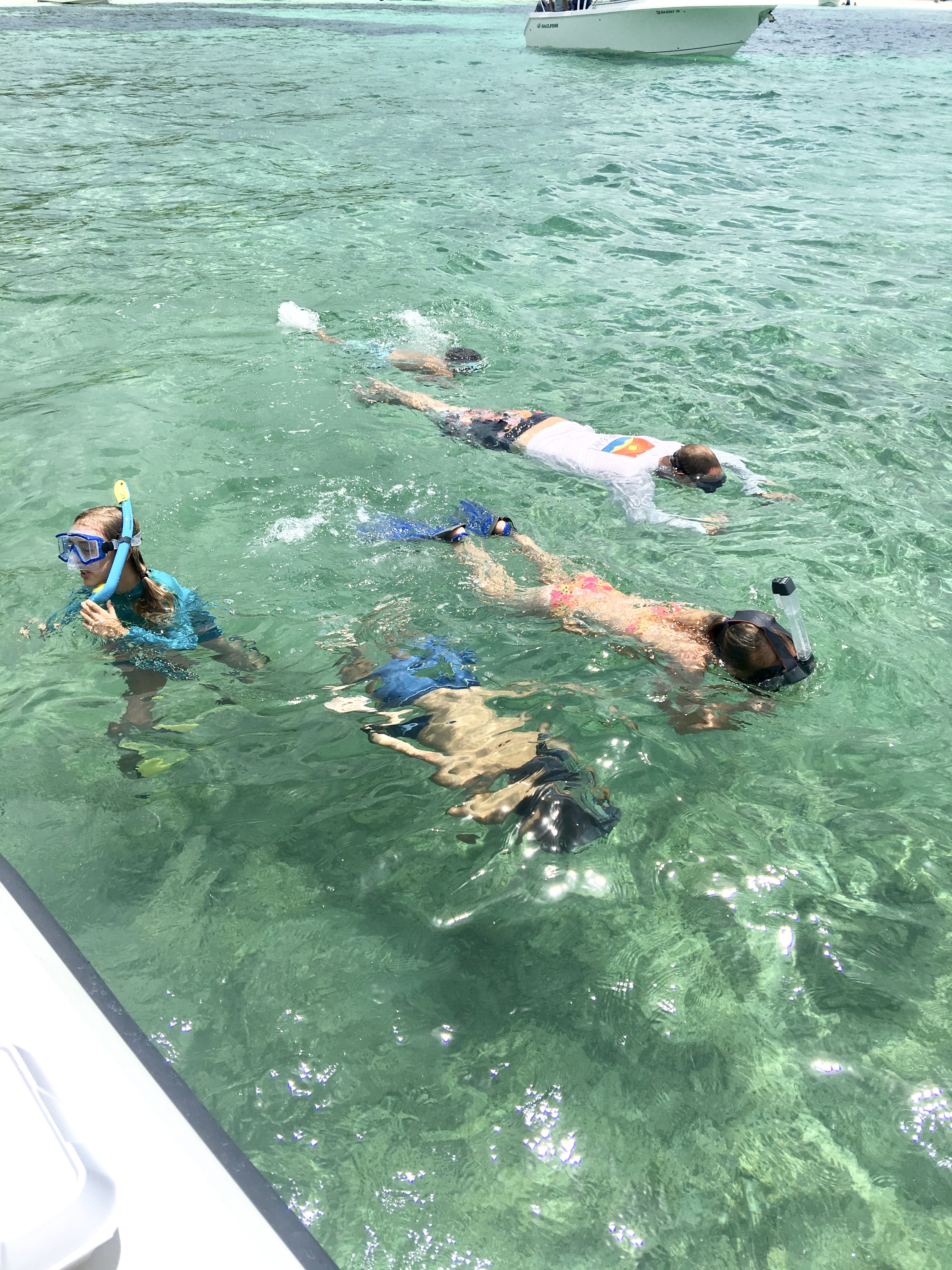 Our next stop was the Tranquil Turtle Beach Bar  on Green Turtle Cay. The food was good and there's a beach, dock and swim pad. They don't have a pool but it didn't matter, our kids were jumping off the dock and swimming right there in front of the restaurant.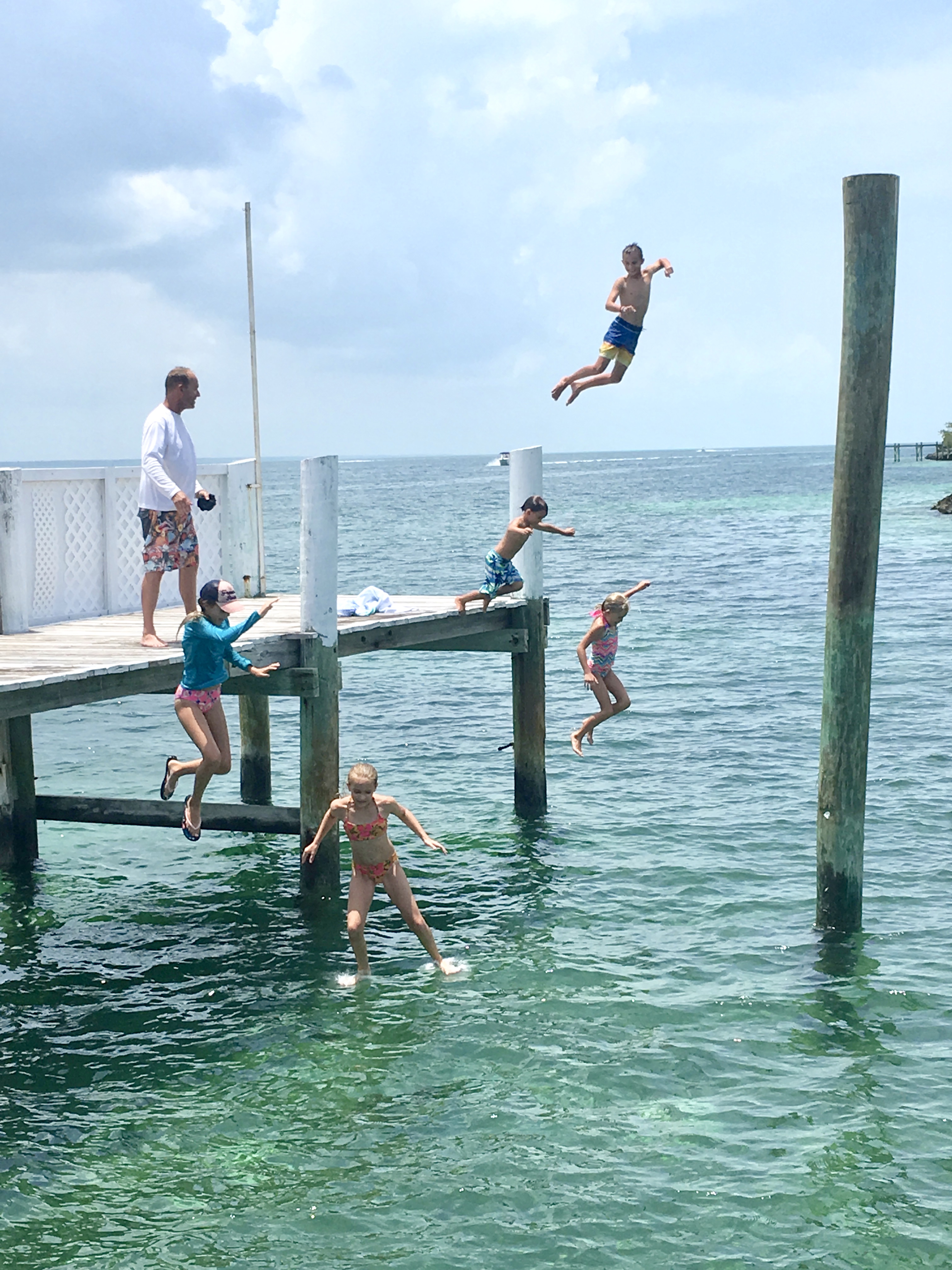 Our next adventure was to see the swimming Pigs on No Name Cay! There were a lot of people there to see them as well. I guess the pigs are all the rage!! The kids loved it! We brought food for them so I guess the pigs probably loved it too.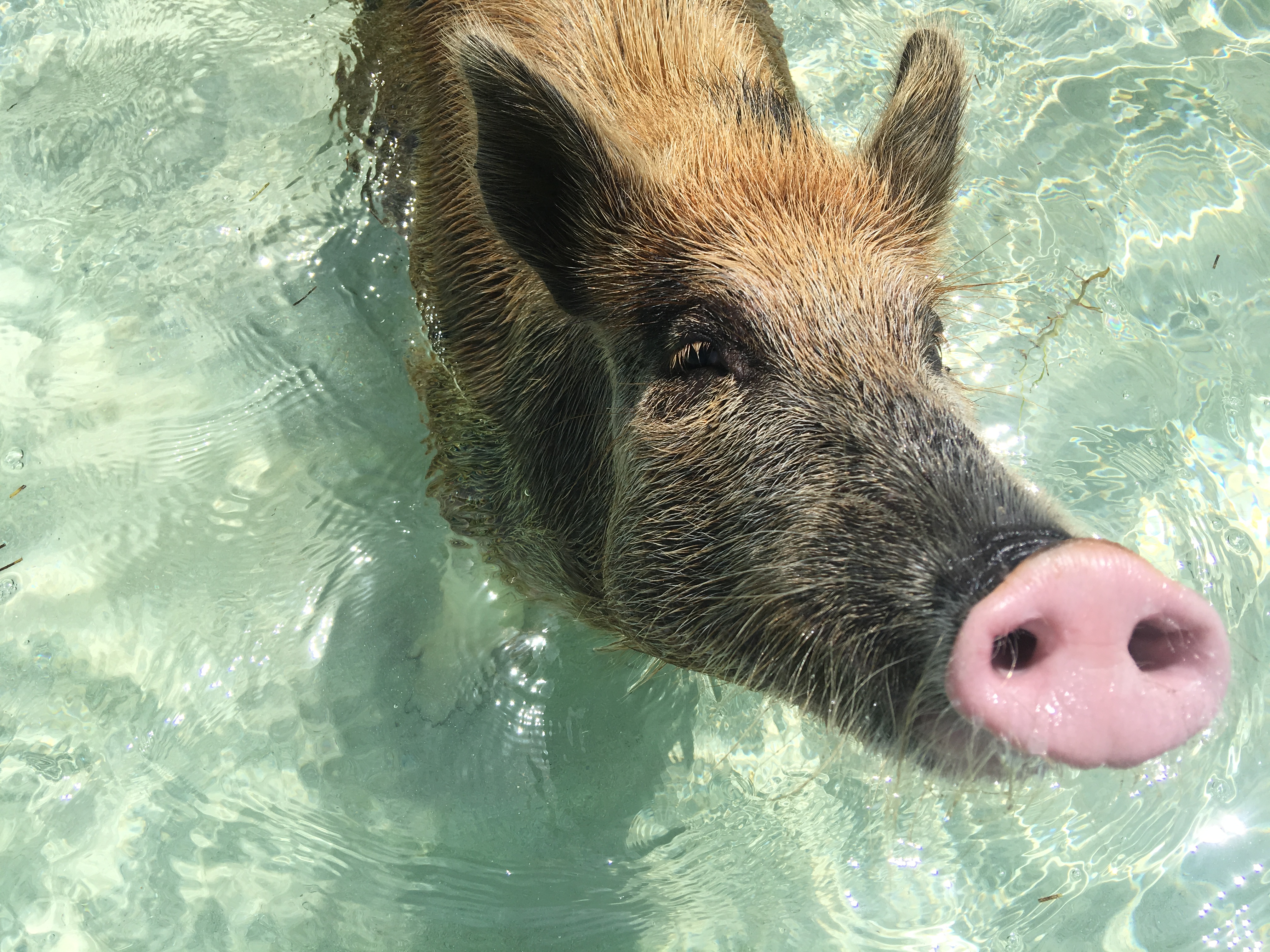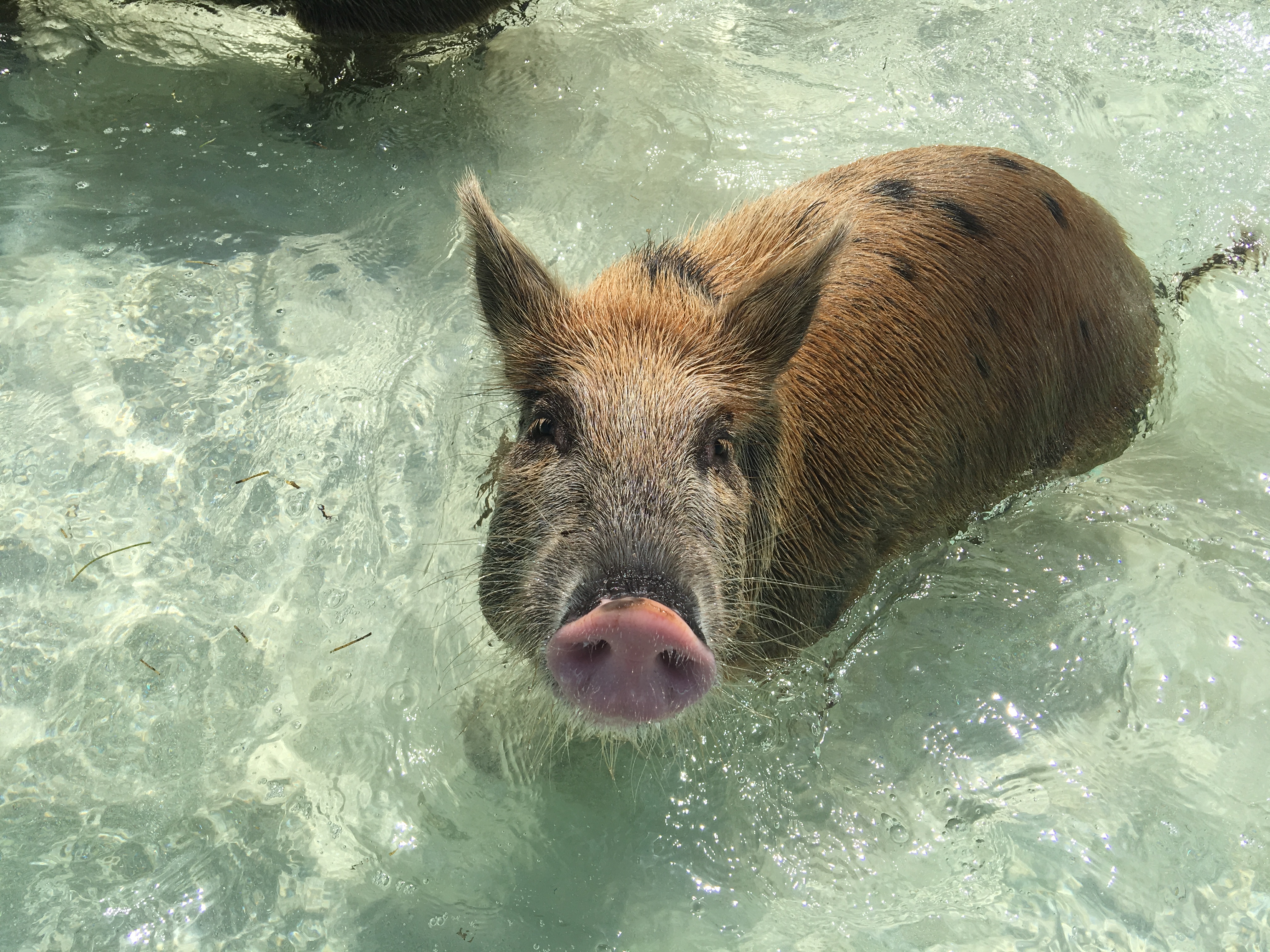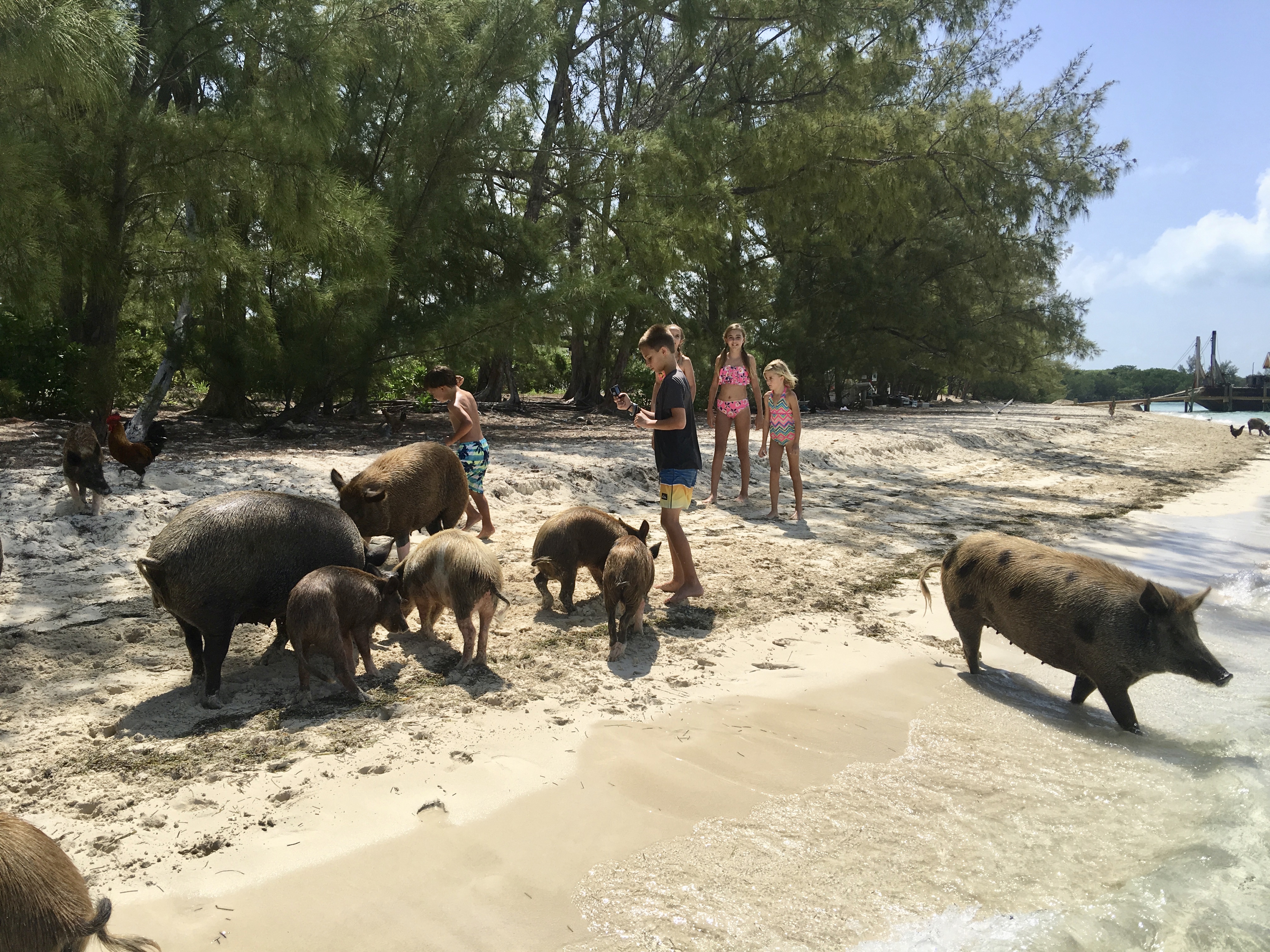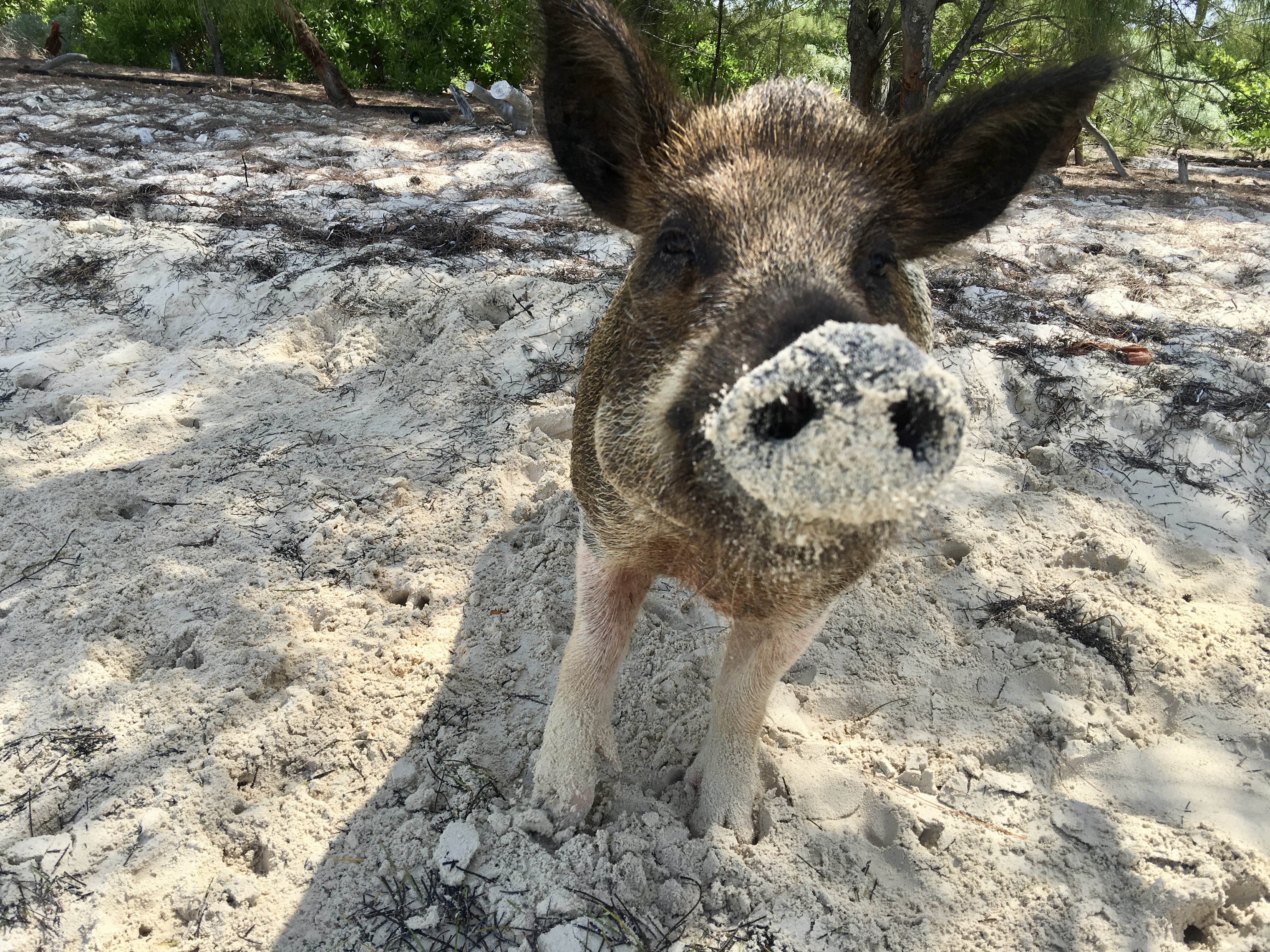 I recommend  taking fruit or veggies for them. Be careful! Sometimes they bite!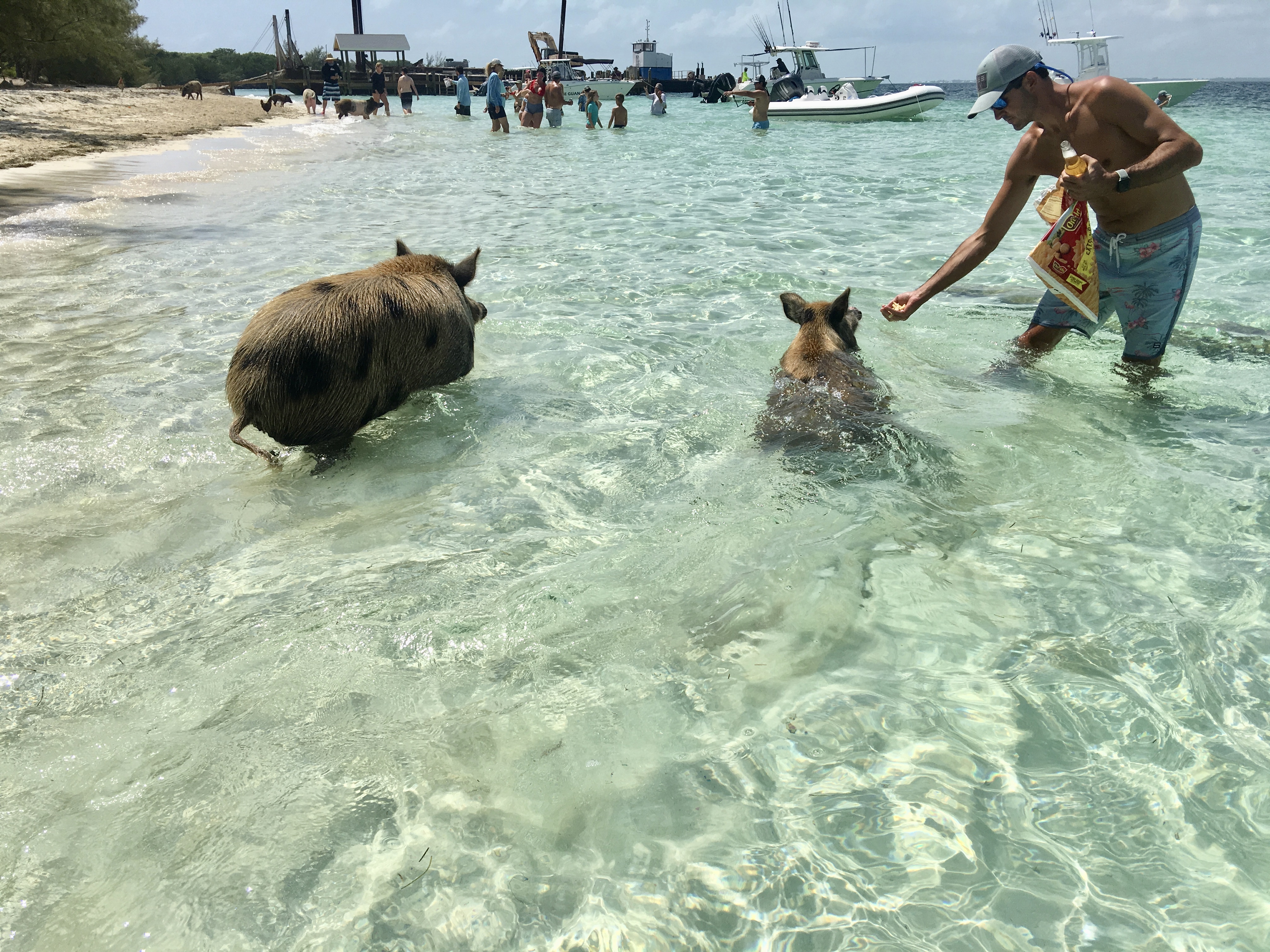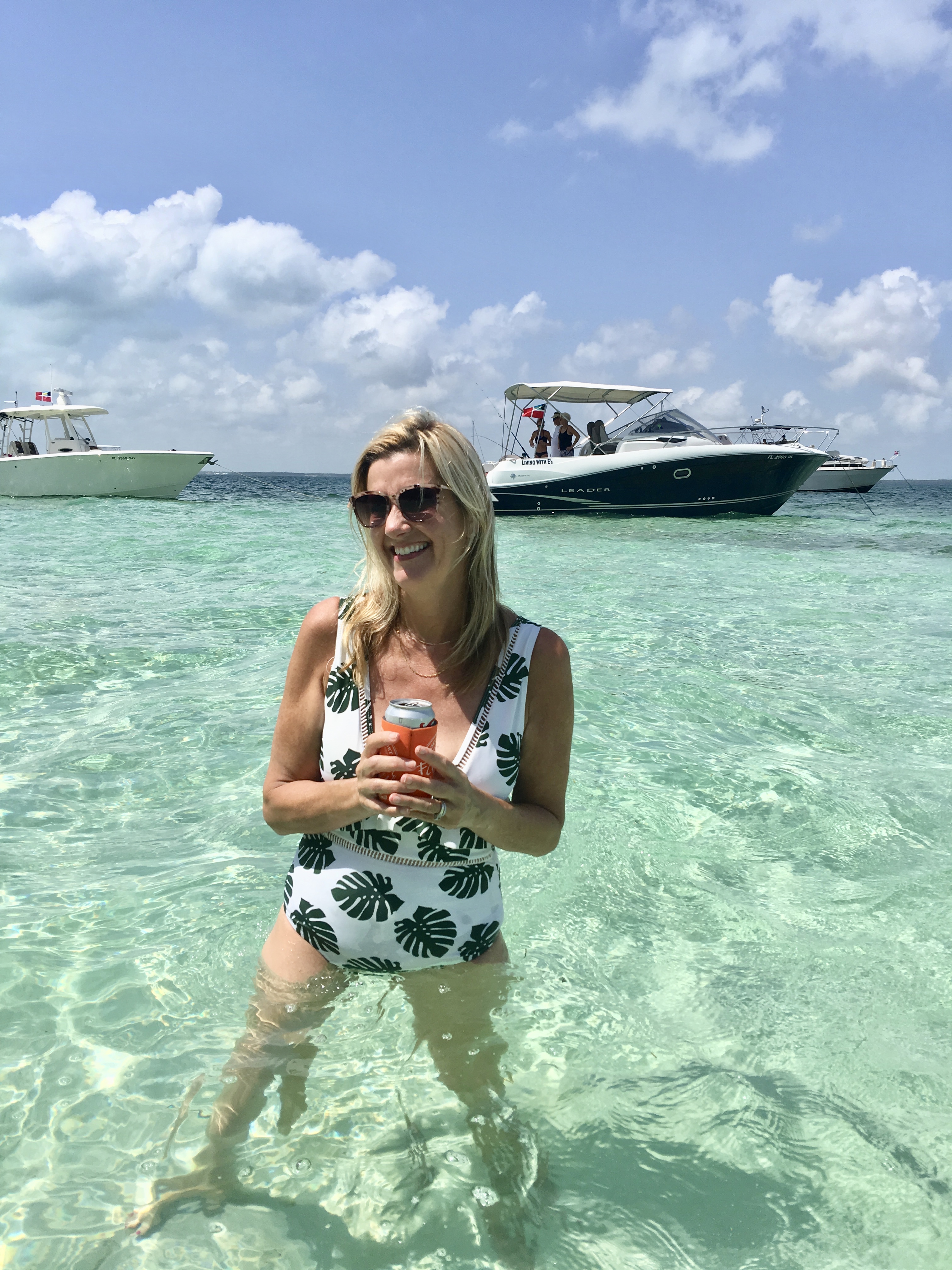 We were back to Scotland Cay by 4pm and went straight to the lagoon. The lagoon is a common area for the homeowners of Scotland Cay. It is the most beautiful beach I think I've ever seen.Apparently, it's becoming pretty well known and quite a few boats come to anchor out there.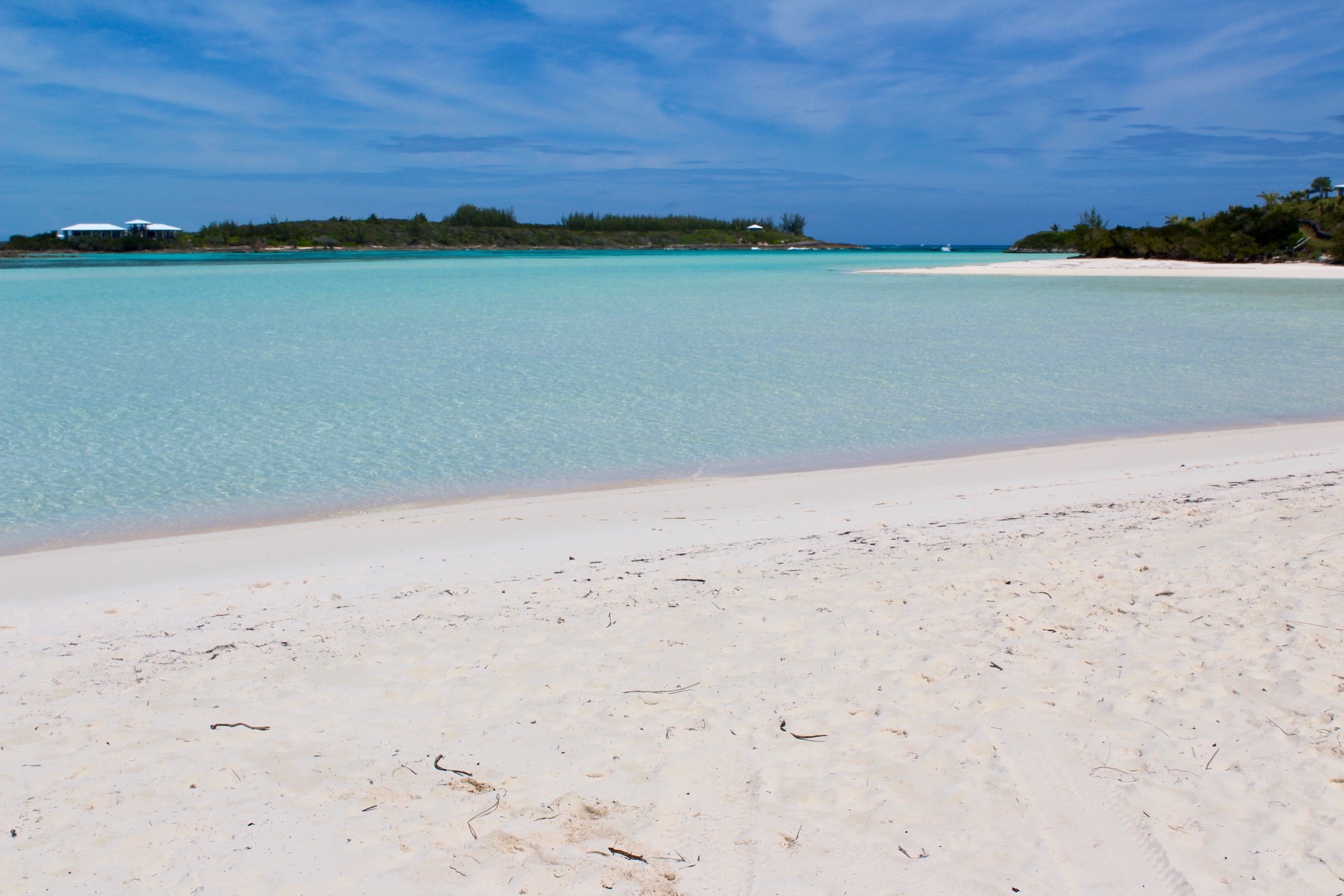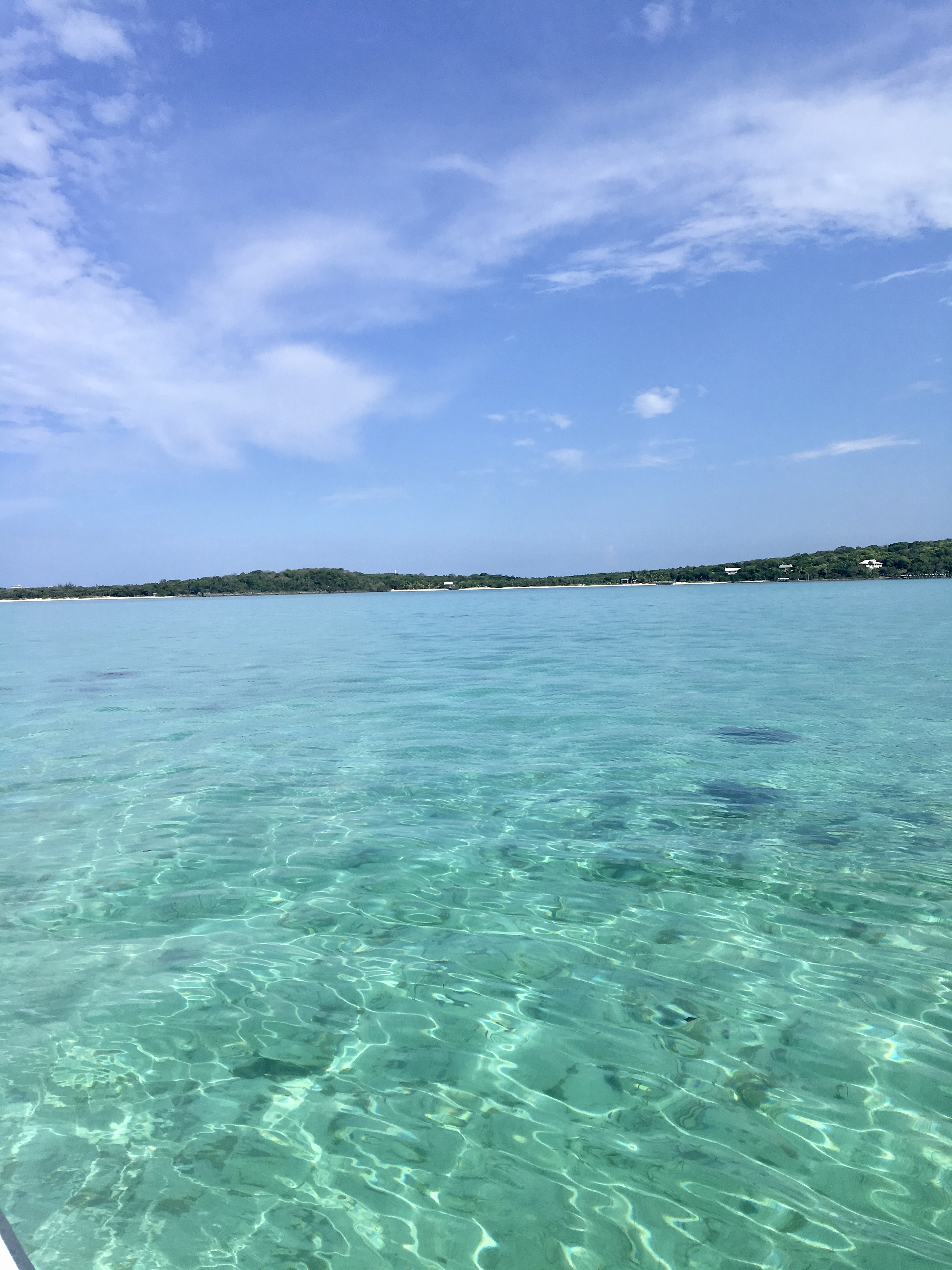 After the lagoon, back to the house to make a simple dinner and let the kids relax. They were so worn out!
Day Three
Back on the boat!
We headed to the Hopetown Lodge  on Elbow Cay for lunch. To go by boat, you dock at the marina and have to hike up a hill to get there but the food was good and they have a pool so the kids loved it. It's always fun to walk to the the shops to have a look around. We bought the typical tourist type of stuff there, shark tooth bracelets and t shirts and the kids had ice cream cones for dessert.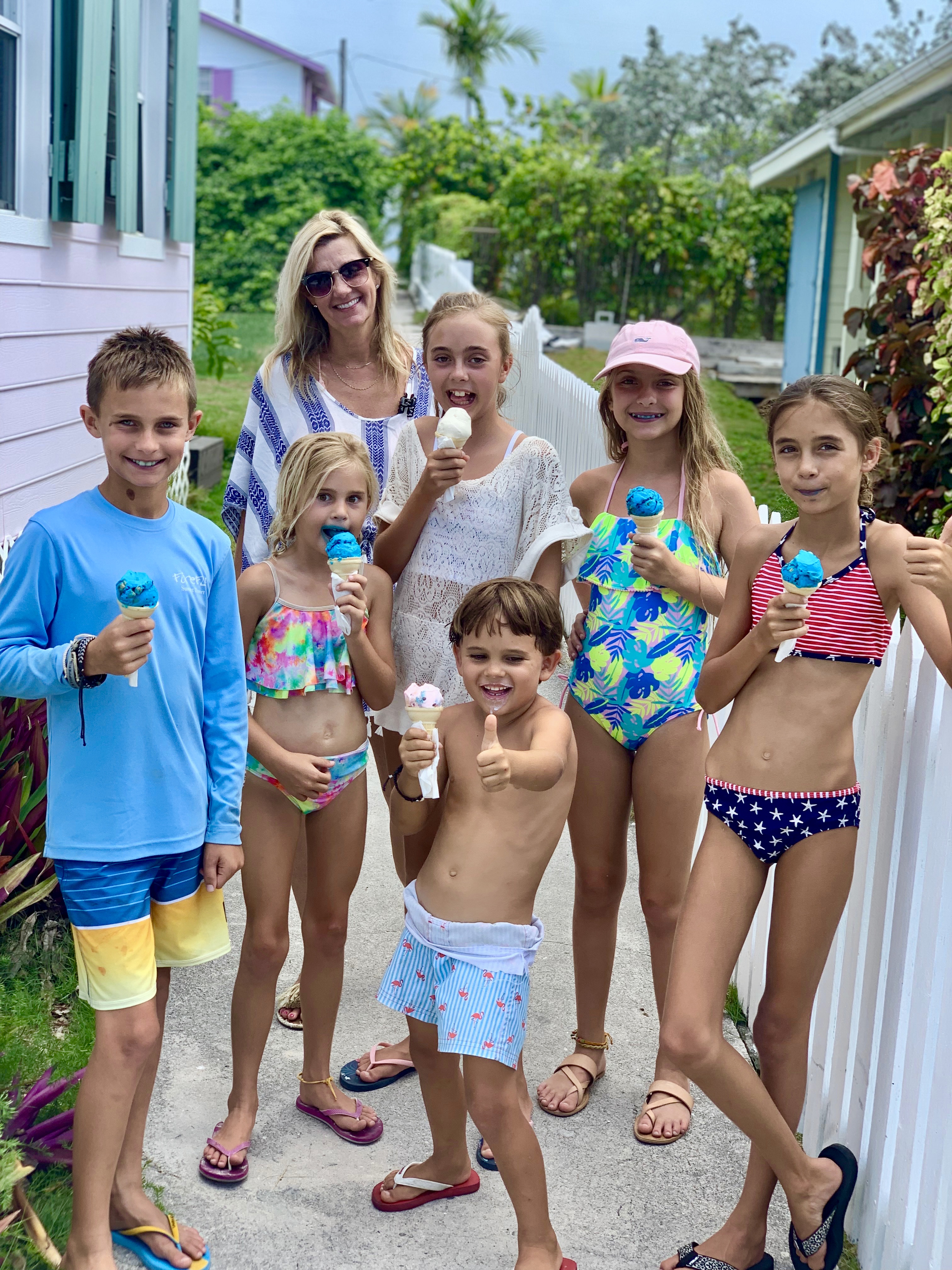 We also made a stop at Man-O-War Cay to go to one of my favorite shops. Sally's Seaside Boutique has a great selection of Androsia fabric and I always seem to find a new pattern or pillow cover that I can't live without. Albury's Sail shop is also on Man-O-War. Lots of people love that. I also really love Hopetown Canvas sail bags. So cute!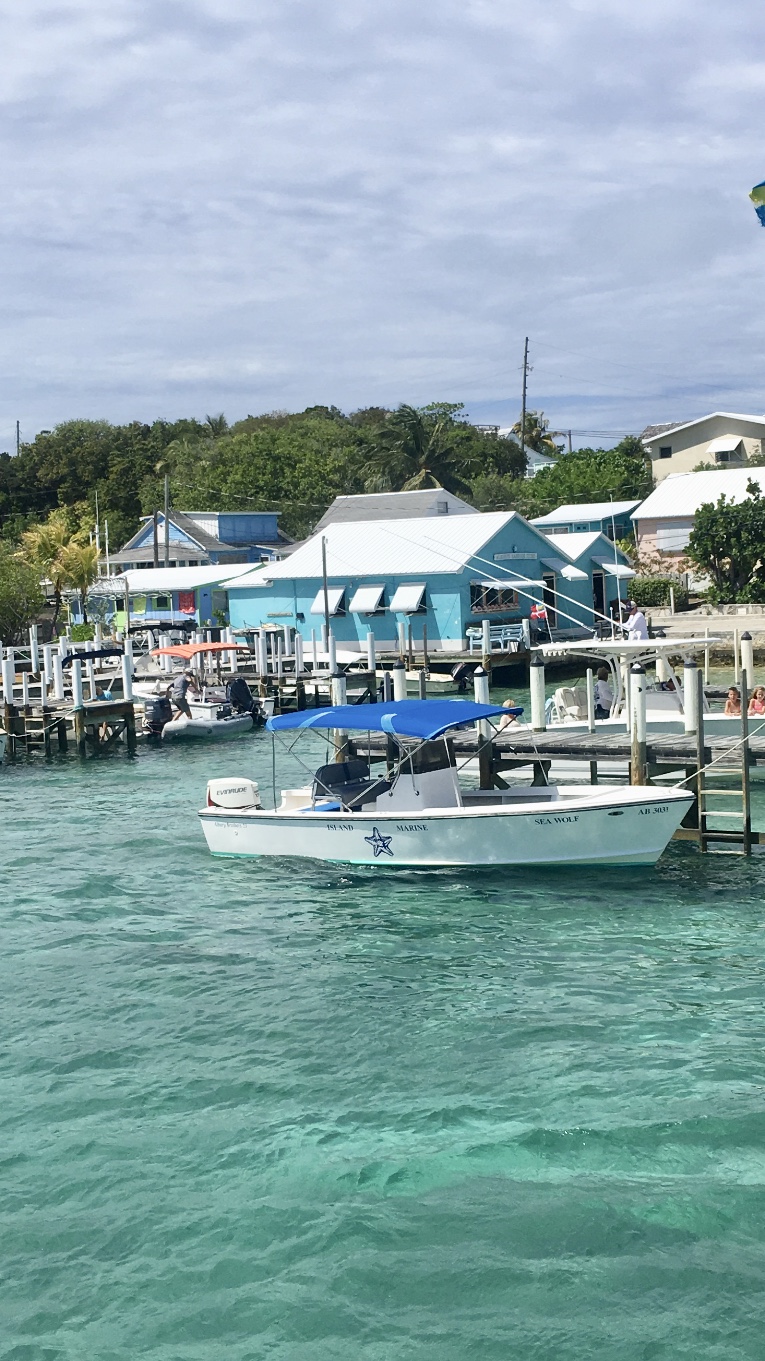 Day Four
On Monday we went to Grabbers . Grabbers is located on Great Guana Cay and honestly one of my favorite spots. They have a great bar, good food, a  beach with paddle boards and kayaks, a pool and the fabulous Grabber frozen cocktail. The kids were in heaven there! They stayed in the water, paddling around and then jumped in the pool. We had a hard time getting them to sit down long enough to eat!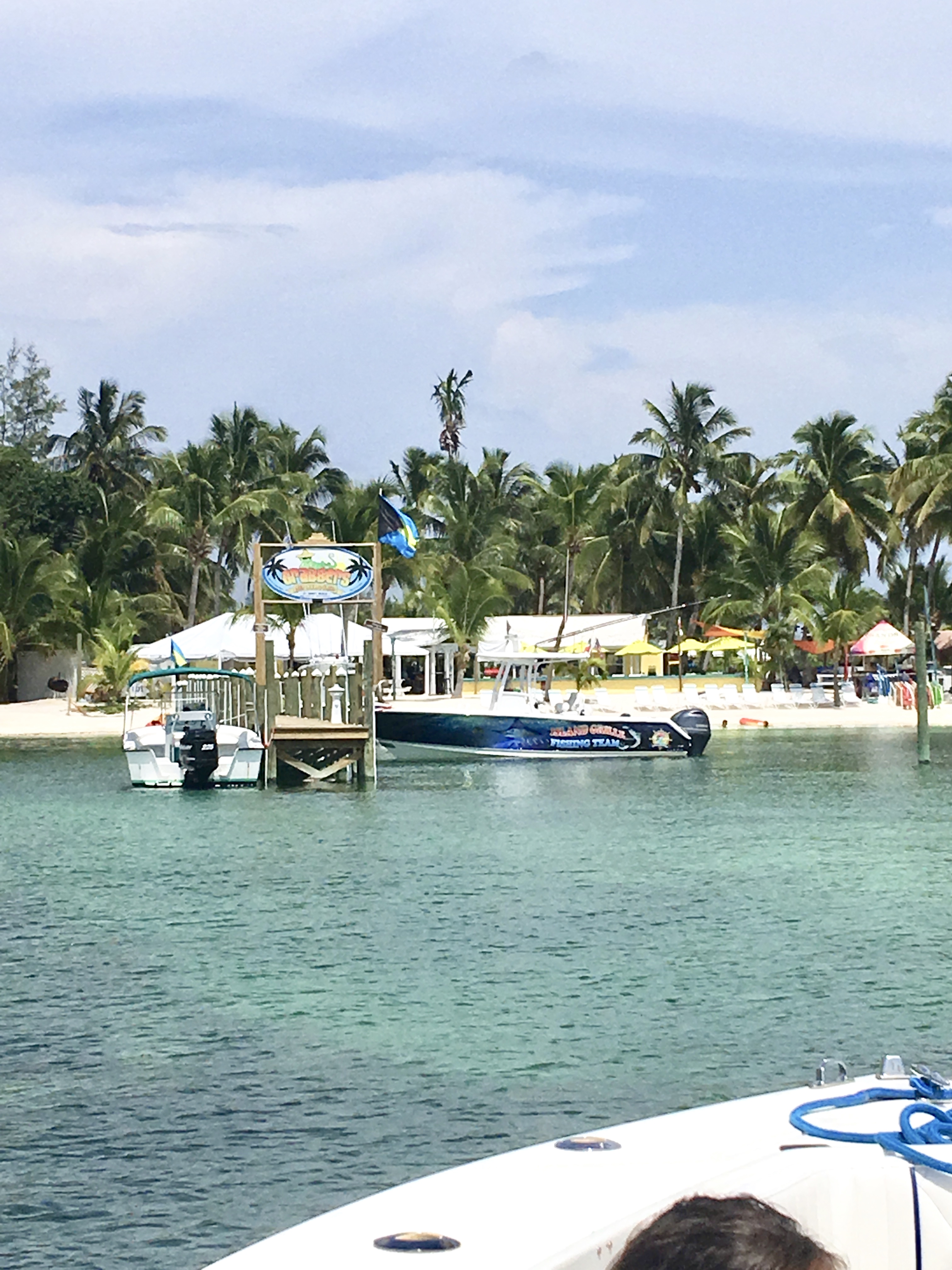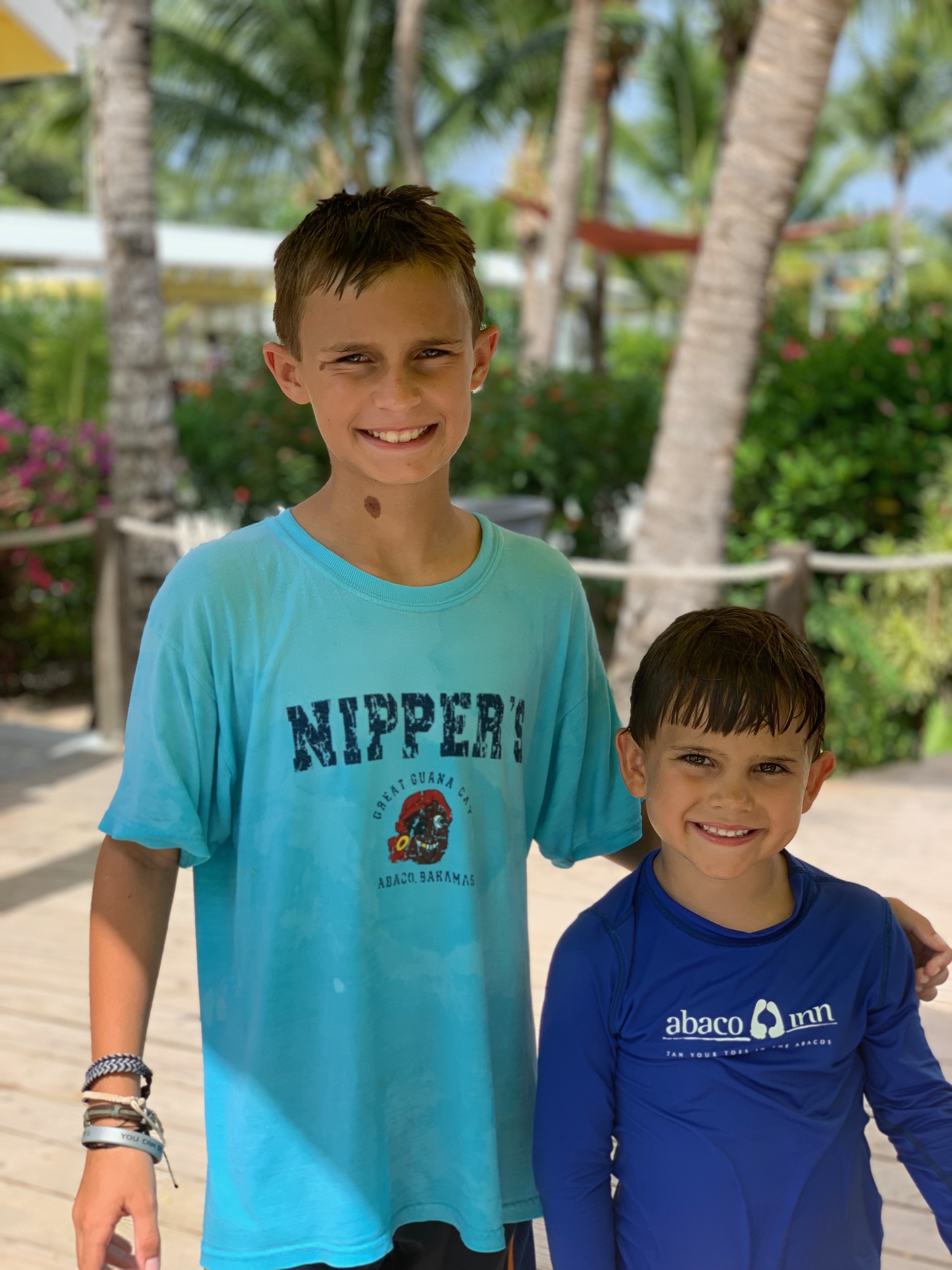 Cute boys!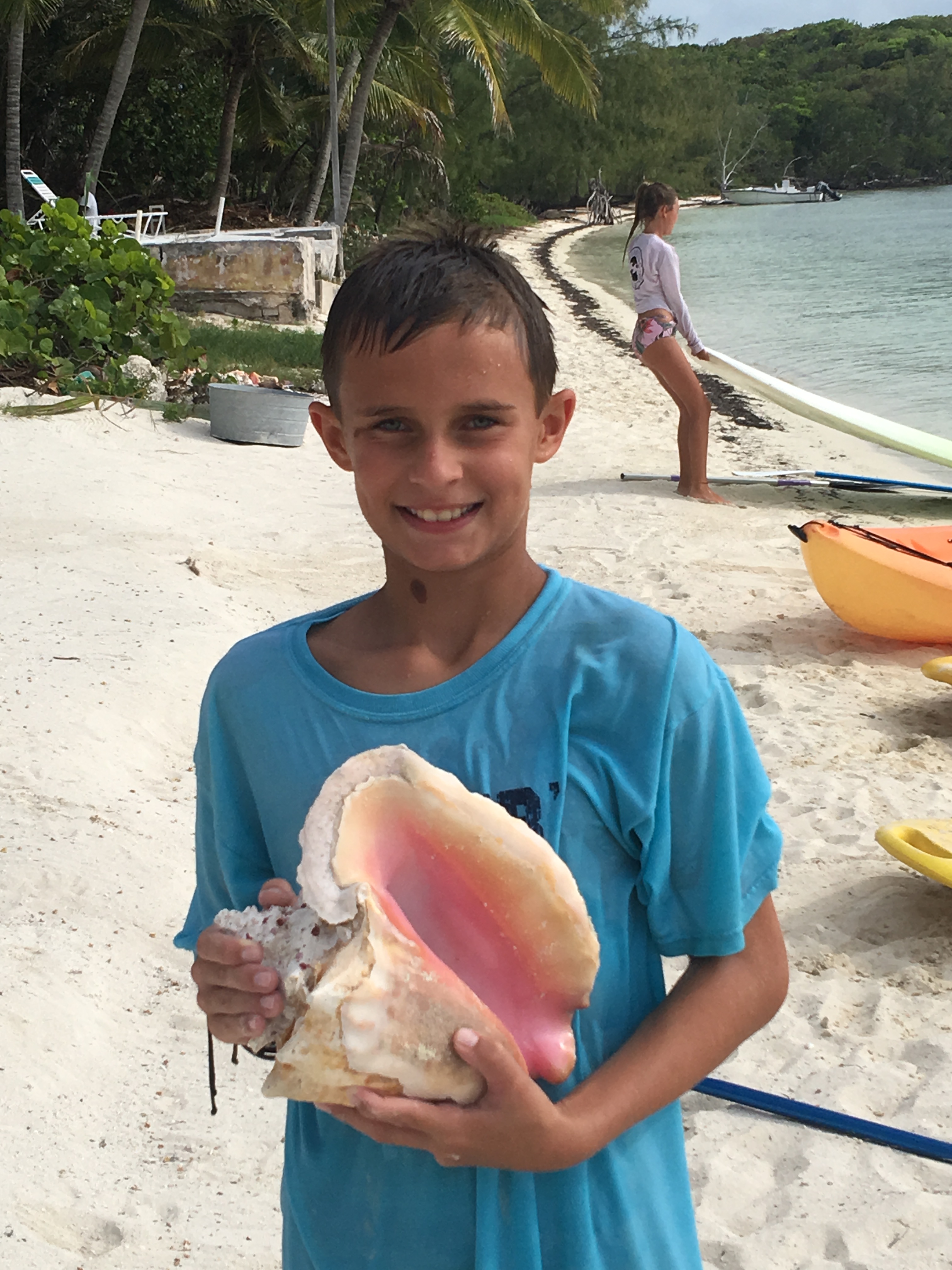 Just your everyday shell on the beach.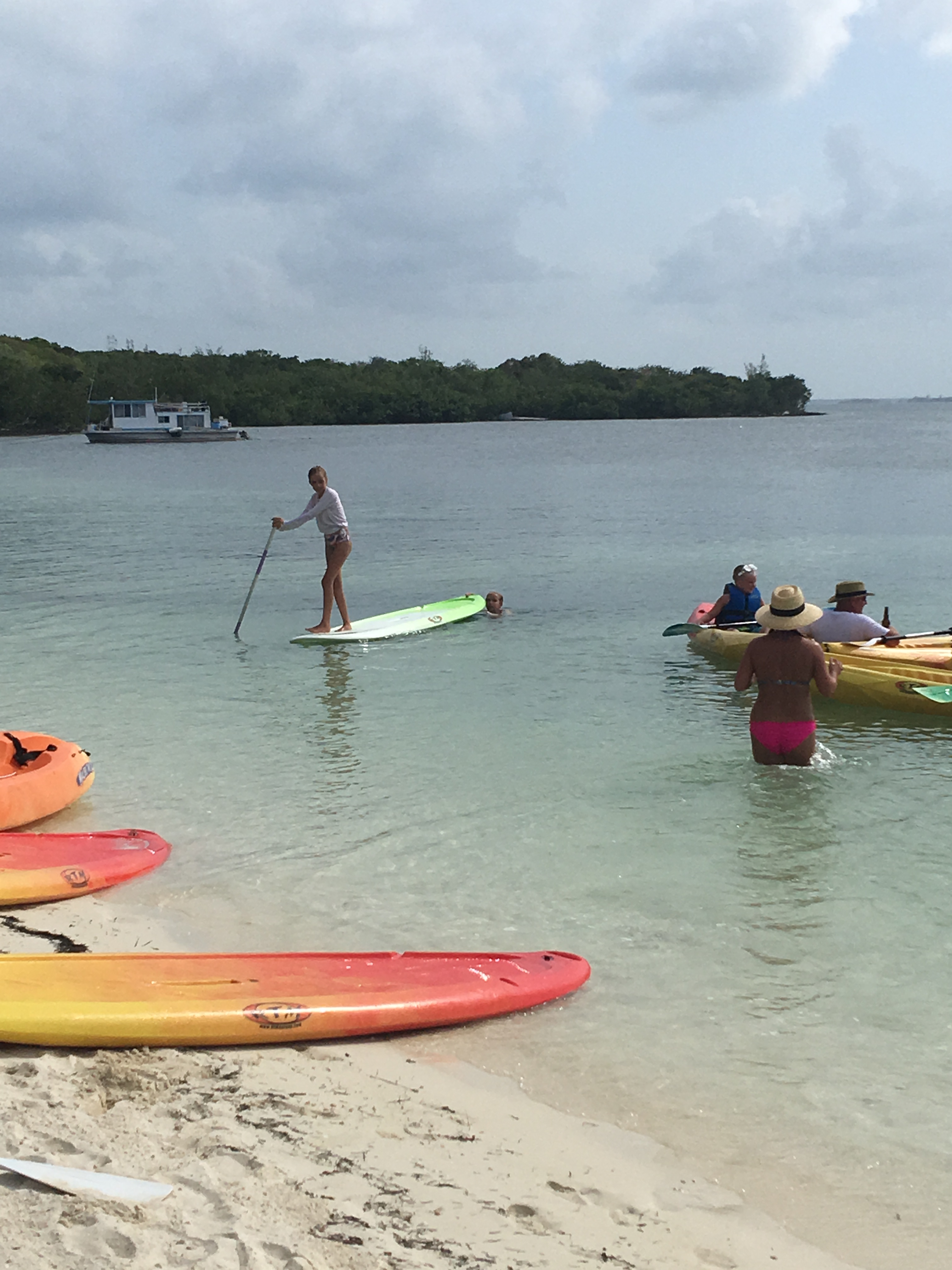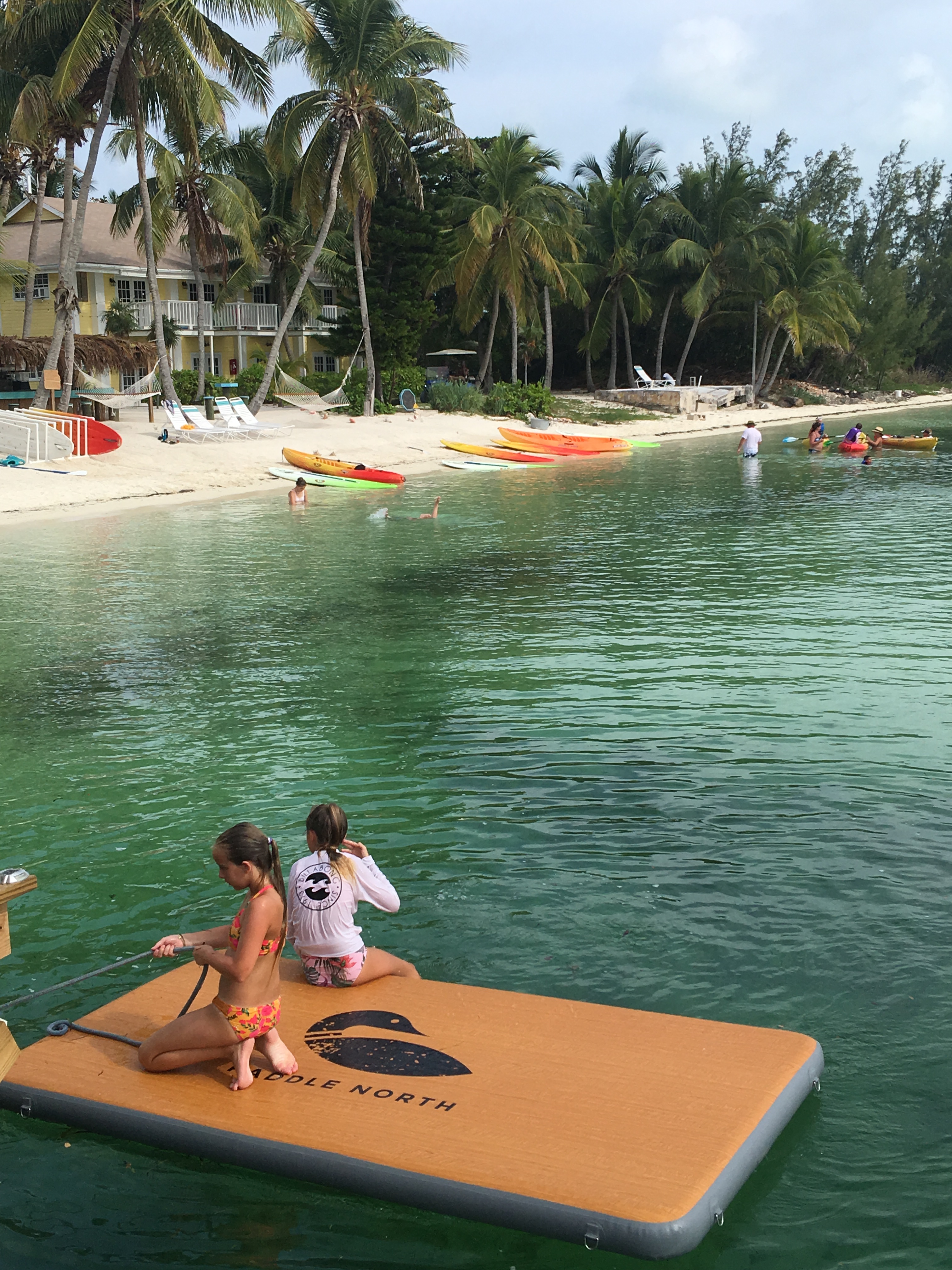 I recommend the cracked conch and the frozen Grabber cocktail!  One thing to note, Grabbers can be a "Sunday Funday" spot. It can get loud and a little wild. This is the reason we went with the kids on Monday. It's not really kid friendly on Sundays. The other "Sunday Funday" spot is Nippers. We didn't get there this trip but it's a lot of fun. But again, not kid friendly on Sundays.
Slade had to get back to work but I managed to squeeze in 2 extra days!  The kids were having such a good time with their friends and so was I. I welcomed the extra time to stretch out the vacation. It was an amazing trip. Everyone had a great time and we made so many wonderful memories!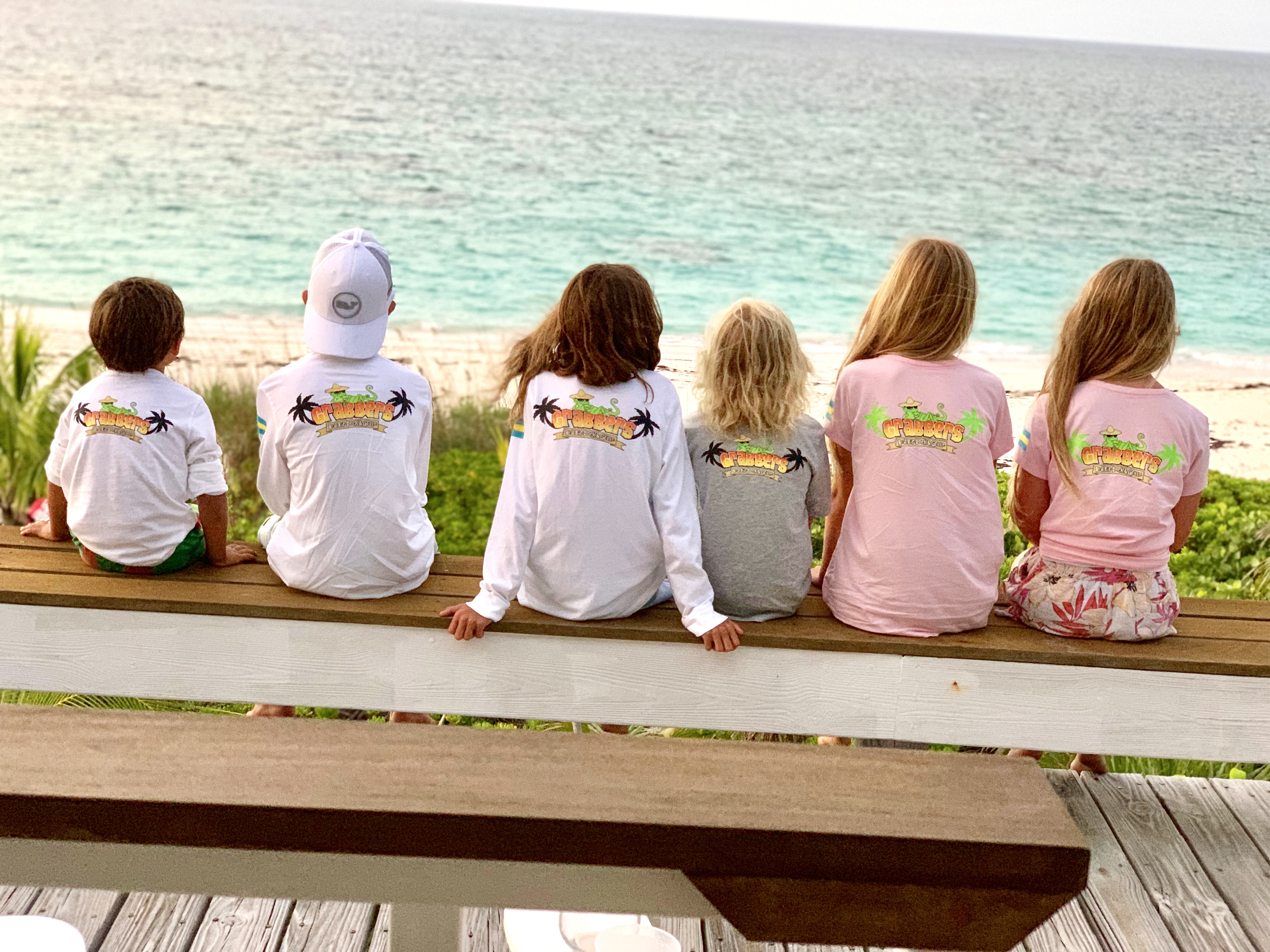 I hope you enjoyed reading! I'm no expert, but if you need any recommendations or have questions about the Abacos, email me at hello@lifeonpineapplelane.com and I'll answer your questions as best I can!
Have a great weekend!