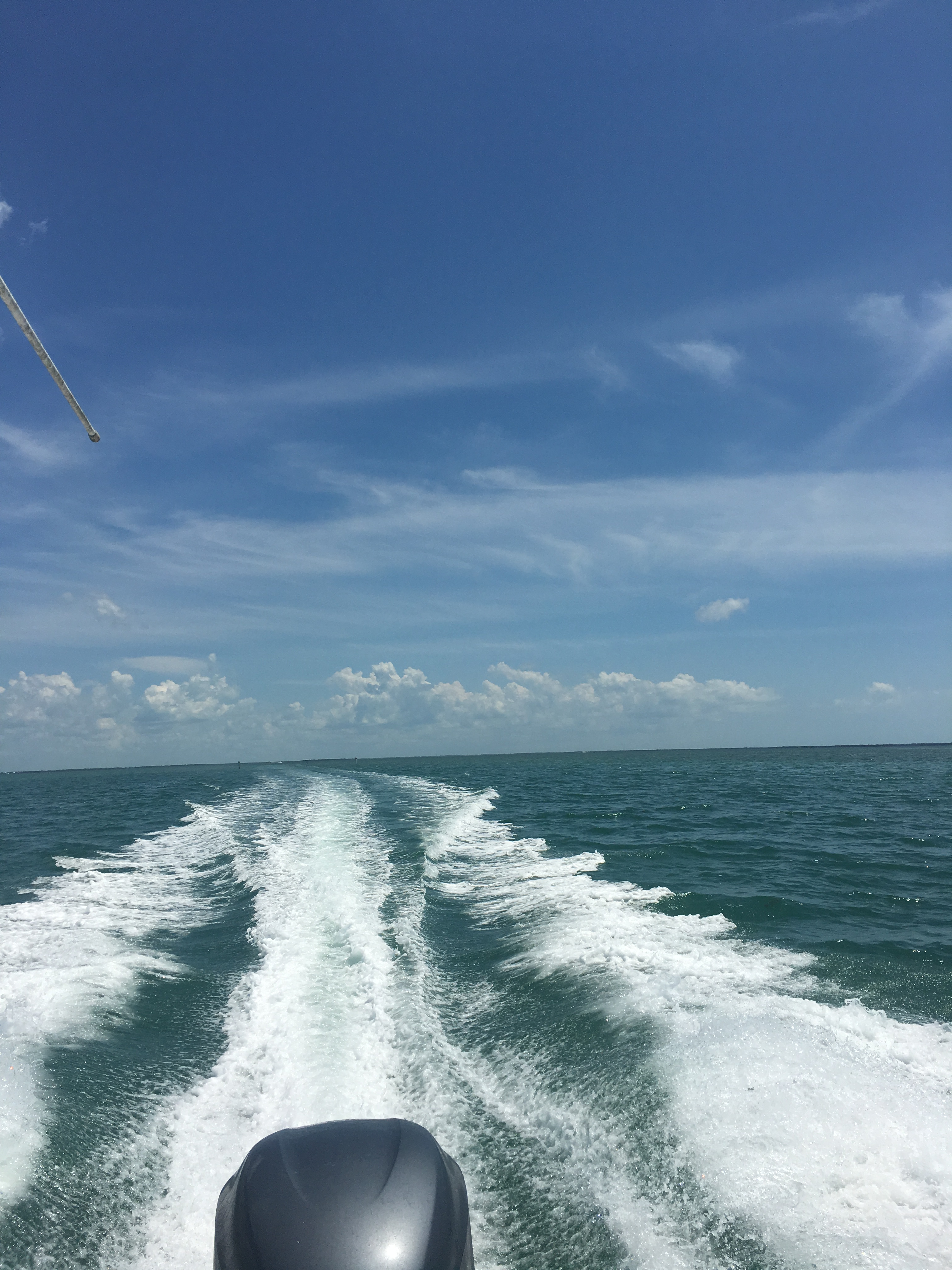 Happy Father's Day Weekend!
I'm so thankful for my wonderful husband who is such a great dad to our twins and a fantastic step-dad to my 3 boys and also grateful for my own sweet daddy and my step-dad!  This is a special Father's Day for me this year because I have my Dad here with me! He moved in with us a few months ago and it has been such a blessing! He is pretty house bound but we are going to do a brunch at home and then whatever Slade wants to do (most likely boating). But I thought it would be fun to share a few things you could do with any of the dad's in your life here in SW Florida!
Boating
This is hands-down my husband's favorite thing and why not? We live in such an amazing place and to be on the water here opens your world up to so many adventures. If you are visiting or don't have a boat and want to dip your toes into the boating world, there are plenty of places to rent a boat.  The Beaches of FtMyers and Sanibel website has some great information on that and you can see that here.
After you're on the water, head to the beach at Cayo Costa for a few hours to play on the beach and water and either eat a picnic lunch there or head over to Cabbage Key for a late lunch. Watch out for the Cabbage Creepers! If Cabbage Key is too crowded you might try Barnacles on North Captiva Island. Then a slow cruise home and watch to catch the sunset! This may or may not be our exact itinerary!
Beach
A fun beach day is always a hit. Pack a picnic and head out with Dad to the beach. Here are a few of my favorites:
Gulf City Park Sanibel– Restrooms available
Lovers Key Beach Ft Myers Beach– Restrooms available
Cayo Costa State Park– Accessible only by boat and no facilities are available.
Grab your fishing rods and head out to the beach or a local fishing pier (Try the Sanibel Island Fishing Pier) or if you'd rather go by boat,  Adventures in Paradise offers private fishing charters which include All fishing equipment, bait, tackle and appropriate licenses. Reservations are required so book ahead. 
Take him to the farm!
Yep, you read that right! If you're not up for a day on the water, Make a brunch reservation at Rosy Tomorrows Heritage Farm and experience true Farm to Table fare at their highly acclaimed restaurant. It is only open for Brunch Thursday – Sunday and reservations are required. We have never been there but have heard amazing things. It is definitely on our to do list! 
Go on a Day Trip to a local Hotel
There are a few local hotels that allow you to use their facilities for a day and I can't think of anything better than laying by a hotel pool and being served food and drinks. I think Slade would love that too! Just call ahead and make sure that they are allowing day passes on that day. Occasionally, they will close the access down to day passes depending on their occupancy rate.
Here are a few of our favorites:
Hyatt Regency Coconut Point, Bonita Springs Florida– Coconut Point Hyatt is one of our favorites. It's a beautiful resort and the best thing about it is it is kid-friendly with a really fun slide and a new water park! However, if you just want some peace and quiet at the pool, there's a beautiful Adult pool as well. The resort can be reached by car only. Lots of other amenities are available and trust me, you will want to book a weekend! Day passes are available starting at $65/adult and $30/child through resortpass.com and overnight stay reservations are available by calling the hotel directly (239)444-1234 or online. Florida Resident and other Discounts based on dates and availability.
T'ween Waters Inn, Captiva Island – "T'weenies" has a very laid-back island vibe and can be reached by boat or car. I suggest going early as many times they fill up and close down the access if the parking lot or docks are full. There is a poolside bar that also serves food and may I suggest the Mudslides? They are SO good! For overnight stays, they are offering some summer rates as well. Ask about the "Stay 3 Get One Free" Deal that they have going on now! Book by calling (800)223-5865
Casa Ybel Resort, Sanibel Island – This is a great Sunday Funday spot! You really have the best of both worlds at Casa Ybel as it sits directly on the beach overlooking the Gulf of Mexico. Sit by the pool or the beach and enjoy the day! They also offer Florida residents rates and summer specials if you want to stay more than a day. Book by calling (800) 276-4753
If you can't make it to our local area but would love to spend the day at a local resort pool or spa, resortpass.com has you covered! You can reserve and pay for your day pass at a local resort. Check it out for a hotel near you or somewhere you may be visiting!
If you need some ideas for gifts, check out my Nautical Father's Day Gift Guide here!
I hope you have a wonderful Father's Day no matter how you spend it! You will most likely find us out on the water and who knows where we might end up! We head off to the Bahamas next week and I'll have a post up then with my full packing list! Tell me what you're doing for Father's Day and also any Bahamas recommendations! We will be in the Abacos! Cheers!