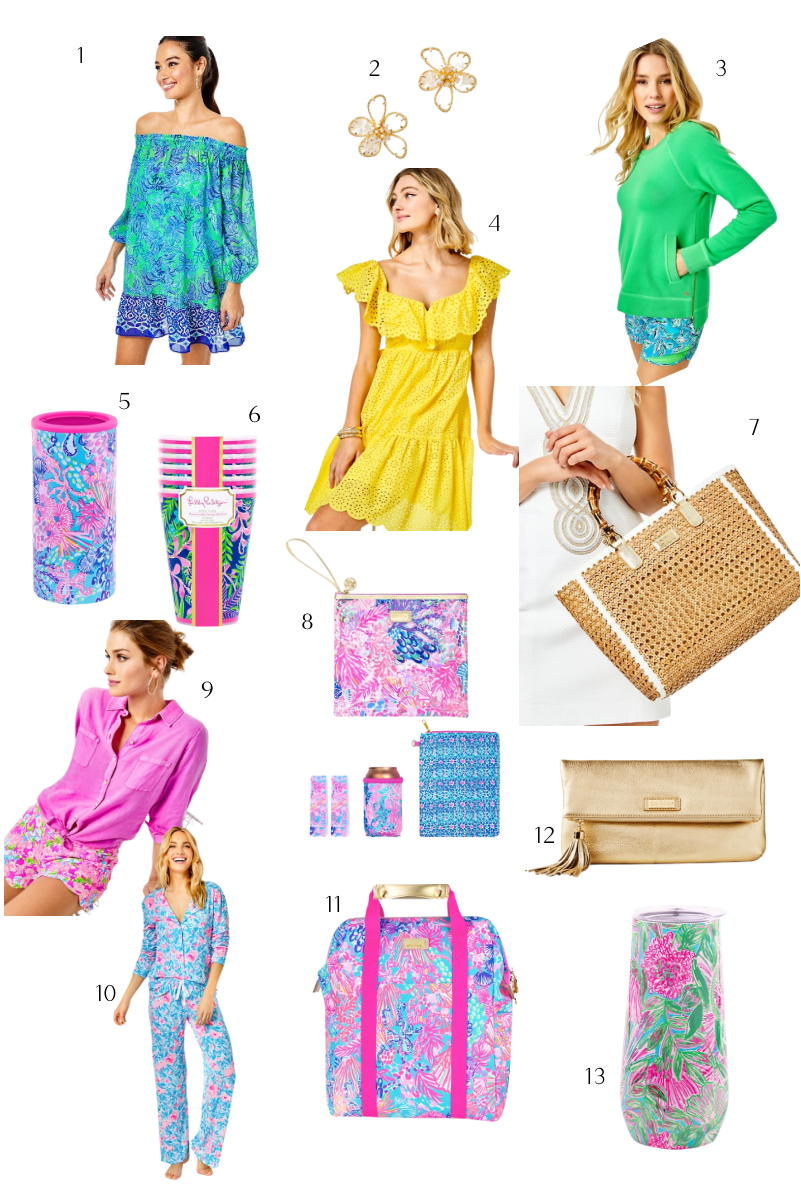 1 / 2 / 3 / 4 / 5 / 6 / 7 / 8 / 9 / 10 / 11 / 12 / 13
Hi Friends!
Mother's Day is right around the corner, which hopefully means some well deserved pampering and relaxation for each of us. You all know my obsession with Lilly Pulitzer, so I thought that I would put together a Lilly Pulitzer Gift Guide + $500 Gift Card Giveaway for you in honor of  Mother's day, dedicated to some of my Lilly favorites right now.
Surprise!
I'm also so excited to announce that I am going to be giving away a $500 Lilly Pulitzer gift card in honor of Mother's Day, so make sure to add some of these cute pieces to your cart and scroll down to learn how to enter for your chance to win!
Lilly Pulitzer Mother's Day Gift Guide 
-I love a good coverup like this one that easily transitions from beachside to dinner.
-These Golden Bloom Earrings are such a beautiful statement piece for spring or summer. They are a slightly more subtle version of my favorite Oversized Orchid Earrings.
–This Pullover is perfectly lightweight for summer and comes in so many fun colors. It's definitely a closet staple for those cooler spring days or summer nights.
-I absolutely love the sleeves on this Eyelet Babydoll Dress 
-This Stainless Steel Skinny Can Holderis perfect for keeping your drink cool while enjoying a day of boating or floating in the pool.
-I have these cute Pool Cups  and use them all the time!
-I adore this gorgeous Greydon Cane Tote
-This cutie Beach Day Pouch
-This Sea View Linen Button Down Top
-These Pajamas are so comfy and cute! Perfect for lounging on the weekend!
-This Backpack Cooler is perfect for your beach or boat day!
-I have a similar gold metallic Seaside Clutch and it works with everything!
-this Stainless Steel Champaign Flute is on my wishlist!
$500 Lilly Pulitzer  Gift Card Giveaway!!!
Now for the $500 Lilly Pulitzer Gift Card Giveaway details! It's super simple to enter. All you need to do is Click Here and share your name and email then hop over to my Instagram and follow me there and comment "I love Lilly". The winner will be announced on my Instagram Stories on Mother's Day! Good Luck!! I'm so excited about this gift card giveaway! It's a thank you for following along with me on this journey and allowing me to spend a few minutes with you during your week!
Thank you for reading my post Lilly Pulitzer Mother's Day Gift Guide + $500 Gift Card Giveaway! I hope you'll take a moment to enter! I'd love to see you win it! Remember, the winner will be announced on May 6th!
For more inspiration, check out 4 Vacation Outfits For The Beach & Beyond and The Best Swimsuit Cover Ups Under $30! 
Feel free to reach out to me via email or instagram DM if you have questions or suggestions! I'd love to hear your feedback! Don't forget to Follow me on Instagram and Pinterest!

Shop This Post