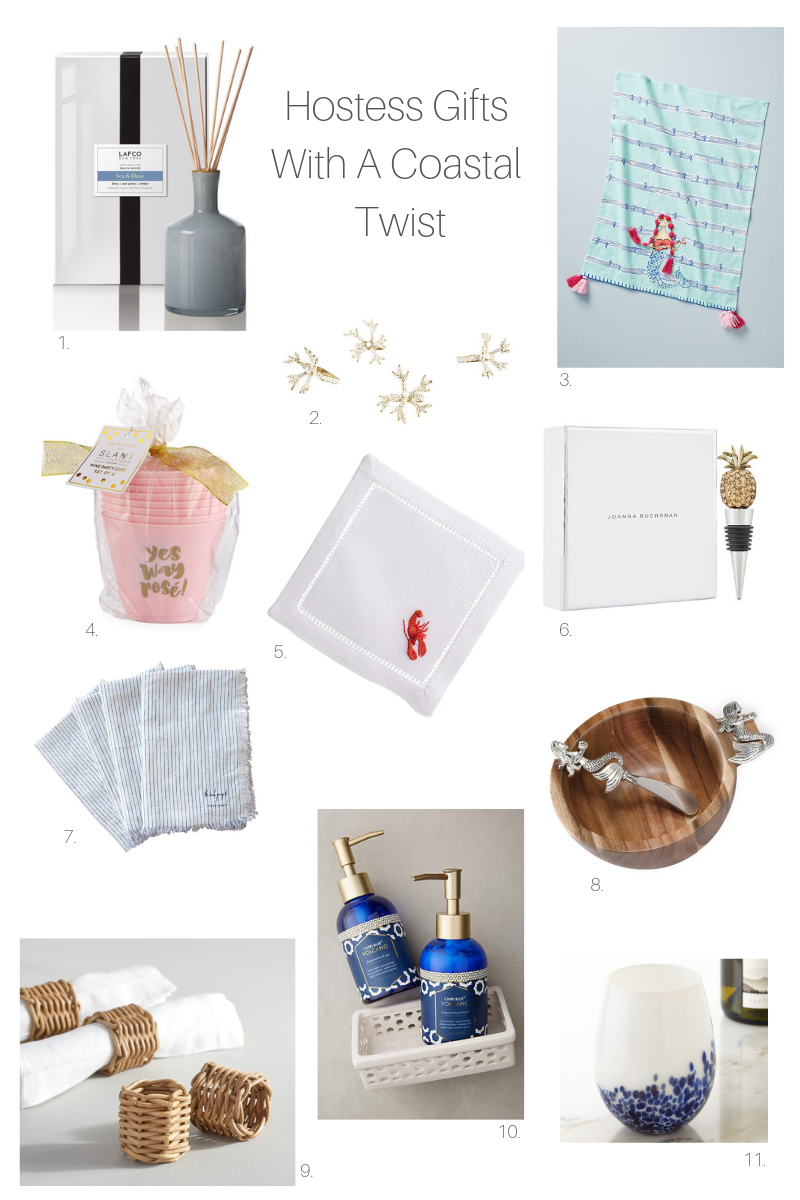 Hey There Party People! I don't know about you guys but I am always running around at the last minute looking for a unique hostess gift and just seem to end up grabbing wine or chocolate (nothing wrong with that). But this holiday season I'd like to up my gifting game a bit so I thought I'd put together a little hostess gift guide for you (and me). These gifts are for any season and any budget. I suggest stocking up on some of them so that you can have something on hand for parties throughout the year.
Gifts With A Coastal Twist
1. LAFCO Diffuser – I absolutely love the amazing scents that LAFCO offers. My favorite winter scent is "Ski House". I have the diffuser and the candles and it just gives me a cozy, warm winter feel. The diffuser is a bit pricey so if that isn't in your budget, go with the candle instead.
2. Napkin Rings – These beaded coral napkin rings are so beautiful and would dress up any table.
3. Mermaid Dish Towel – My Grandma's signature hostess gift was a dishtowel. She never came to someone's home empty-handed and always brought a beautiful linen towel as a gift. She would buy them throughout the year when she saw one that caught her eye. I think this cute mermaid towel would have definitely made her smile.
4. Yes Way, Rosé  Party Wine Cups, Set of 8- I have stocked up on these! They have a variety of cute sayings and are super budget friendly.
5. Lobster Cocktail Napkins – These are the cutest embroidered cocktail napkins! For a more budget friendly choice, try some cute paper cocktail napkins.
6. Embellished Pineapple Wine Stopper – Of course I had to throw in a pineapple! This wine stopper is so pretty and it's from Harrod's!
7. The Beach People Set of 4 Linen Napkins – I just loooove this brand! Go check out their Instagram here and you'll see what I mean. These napkins just look amazing and I want everything in my house to look like this.
8. Acacia Wood Mermaid Bowl & Spreader – perfect for a yummy dip!
9. Willow Napkin Rings – I know, more napkin rings. But these are so cute and inexpensive that I just couldn't resist.
10. Capri Blue Volcano Hand Soap & Lotion Caddy – The Capri Blue volcano Candle is so popular so naturally, the soap and lotion are a great gifting option if you want something a little different.
11. Artglass Stemless Wine Glasses, Set of 4 – Aren't these the prettiest wine glasses? Love, Love, Love these!
I Hope you find my little coastal hostess gift guide helpful and inspiring! Thanks for reading! Happy Holidays!!