Happy New Year!
How was your New Year's Eve? Did you do anything fun or did you spend a quiet night in? We spent a quiet night at home with the kids and some friends. It was great!
I love the new year! It is a lovely reminder that we can leave the past behind and start fresh. That we have a wonderful blank slate to create the best year ever for ourselves. Each year I take some time alone (not easy) the week between Christmas and New Years to reflect on my past year and see where I need to be in the coming year to improve myself, my productivity, my relationships and my health. 2018 was a good year for me but I can definitely see some improvements I need to make to have an even better 2019! I started this blog in 2018 and I am so excited to improve it and make it something that you love reading!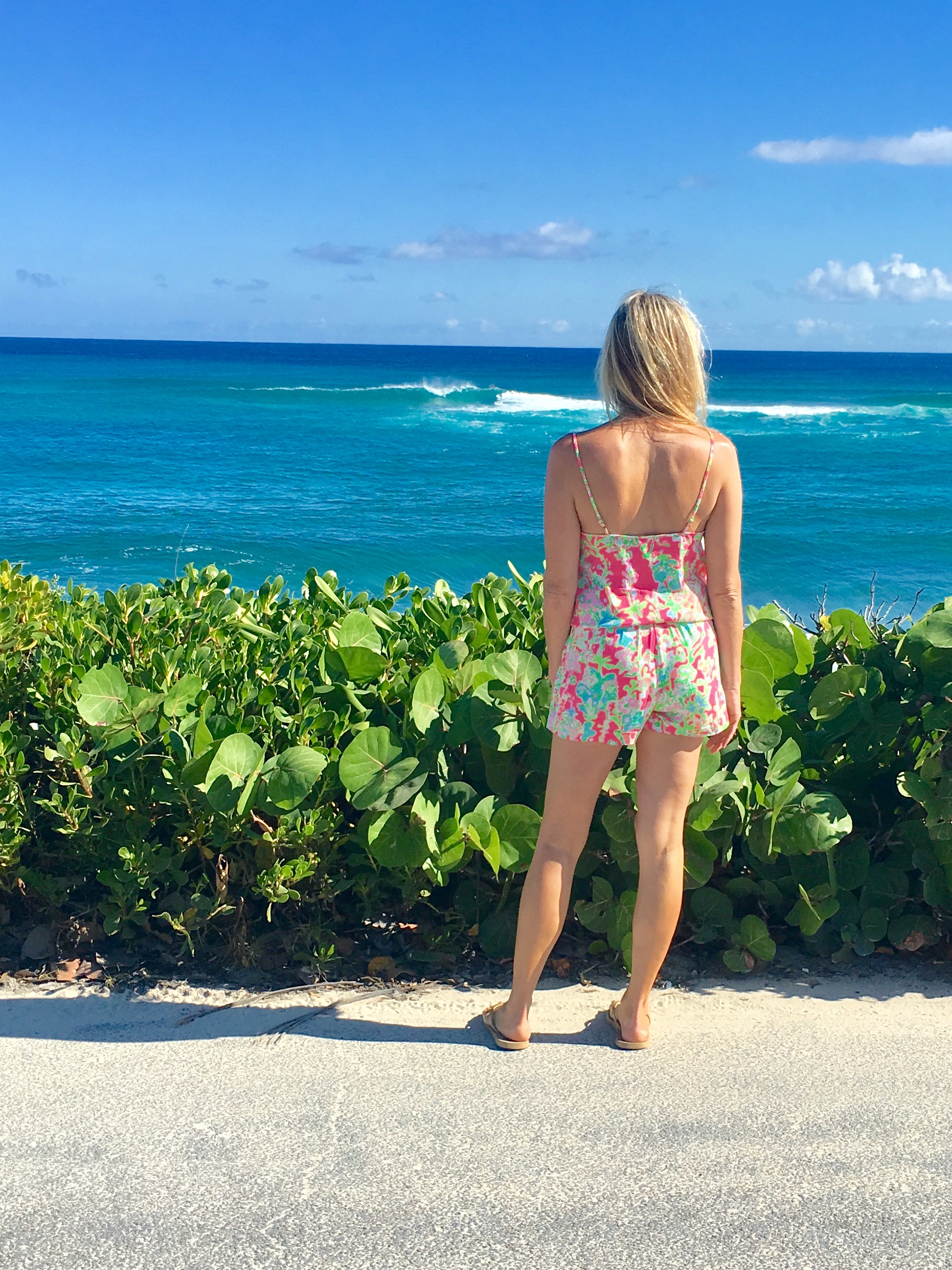 Similar Lilly Pulitzer Romper here and here.
Do you have a planning process and goal setting meeting with yourself? My planning process looks like this: I sit down with my planner, computer and a notebook and list out the areas of my life such as health, spiritual, physical, marriage, parenting, relationships and work. Then underneath each category I list where I can change or improve myself and then action steps to accomplish the goal. I also place a date by which I intend to reach the goal.
Next, I do my calendar planning by adding in all of the dates that I know of that are already planned such as school holidays, birthdays, etc…Then If I need to adjust anything on my list I can do it there . I also add my goals to my calendar as deadlines. So, for instance, If one of my goals is to have more alone time with my husband, I will pre plan some date nights and place them on the calendar. It enables me to see that I have an upcoming event and to plan for a sitter or make reservations at a restaurant. That way, I am much more likely to accomplish my goal than if I just wrote it down on a piece of paper and forget about it.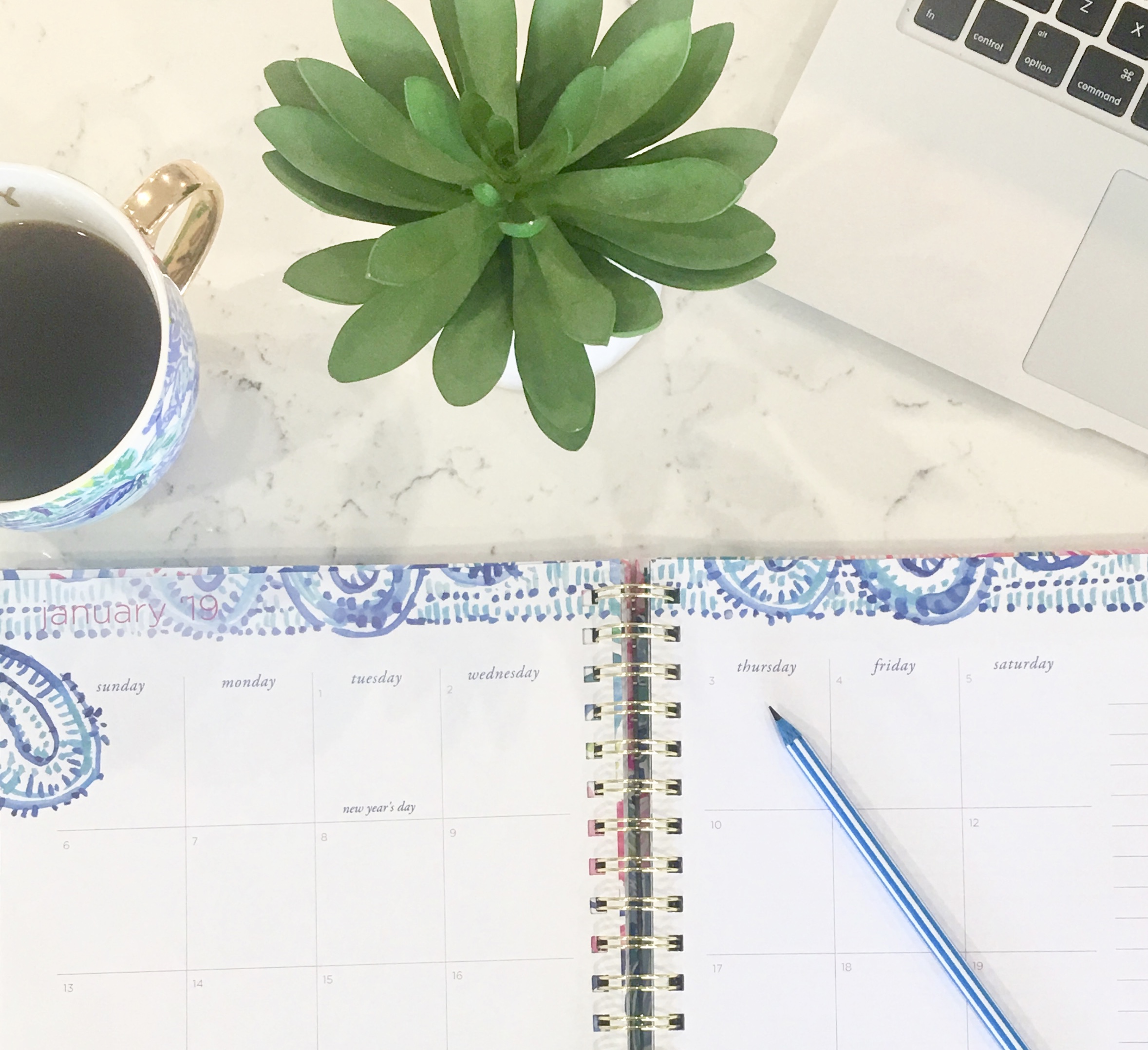 I know many people use their iPhone calendars but I still love the pen and paper planning. It must be because I feel like I remember it more if I WRITE it down. I use the Lilly Pulitzer planner. I have used this planner for years. My mom always gets me a new one for Christmas! It is so pretty and fun and it makes my planning not seem like a chore. It comes with fun stickers and travel planning pages. I like to have the monthly view but also, the daily space to get more into detail about what my plans are. I also love these other planners here, here and here.

5 Simple Steps to Setting Goals For The New Year
1. GET AWAY!
Take some time for yourself and reflect. You don't need a trip to do this. Go sit in your backyard or go to a local park. Personally, I feel like the ideas flow easier when I am outdoors. Jot down general ideas, dreams and fantasies. No limits Then take your list home and sit in your office or a quiet place where you can focus and start to plan.
2. WRITE IT DOWN. Start by writing out the categories of your life that you would like to change or accomplish things and then list out the goals. For instance, if you have a category such as spirituality, perhaps your goal is to go to church more often or complete a bible study. Or if your Category is work, maybe your goal is "make more money".
3. LIST ACTION STEPS. Underneath the goal, list action steps to accomplish the goal. For example, if your goal is to " be a better parent", perhaps your action step would be to schedule some one-on-one activities with each of your children like dinner and a movie or miniature golf.
4. PUT A DATE ON IT. Putting a deadline on the goal will make you more likely to accomplish it. Now is the time to use your planner to do that! Add your dinner and movie date to your calendar and commit to that. Make reservation or purchase tickets in advance. Bam! Goal reached!
5. REVIEW AND REVISE. At the end of each month, review your goals and action steps and line through the ones you have completed and revise or extend the ones you didn't. Add those to next months list.
If you need some inspiration about where to start, check out this post from Marc & Angel Hack Life.Or this one and this one from Gabby Bernstein.
What is your planning and goal setting process? Share them with me in the comments! I'd love to hear them! Good luck and make 2019 your best year ever!
Happy New Year!