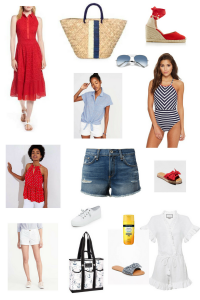 Have I told you that my husband sells boats and yachts and he has AMAZING job perks?!
So, because of his awesome job we are lucky enough to be leading a Getaway on a gorgeous MarineMax Yacht and staying at  South Seas Island Resort on beautiful Captiva Island for the 4th of July holiday! We can't wait! We will be taking along our 10 year-old twins and enjoying the resort and all it has to offer as well as boating to nearby islands for lunch (at Cabbage Key) and a beach day (at Cayo Costa).
MarineMax prides itself on creating an amazing boating lifestyle experience for their clients and Getaways! are one of the benefits of purchasing a boat or yacht from them. They have stores around the country and host getaways for their clients to various exciting destinations. You can learn more about that here.
So, in preparation for the trip, I've rounded up a few things I'm packing. Certainly not a complete list!  I can't wait to share my complete trip report and guide in the coming days. I'll also be posting some trip highlights to my insta stories throughout the holiday so check that out as well!
Happy Weekend!