Hi Friends! Happy Weekend! I hope you had a great 4th! We spent the week in Captiva on a MarineMax Getaway! To South Seas Island Resort And had a fantastic time! I will be sharing my full trip report in the coming weeks. Right now I'm still trying to get back in the swing of things and finish up my laundry from the trip!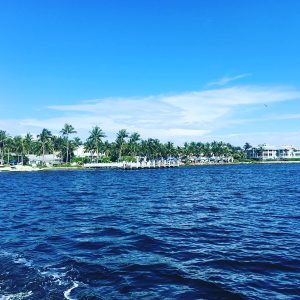 South Seas Island Resort as seen from the water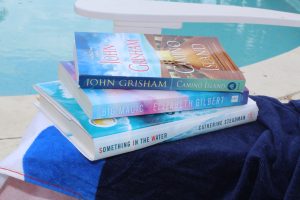 Big Magic by Elizabeth Gilbert/Something in the Water by Catherine Steadman/Camino Island by John Grisham
At the beginning of June I set a goal for myself to read more this summer. I purchased Magic by Elizabeth Gilbert,  Something in the Water by Catherine Steadman and Camino Island by John Grisham and have already finished reading them! Yay Me! I haven't read this much in years! Perfect book recommendations for you! I know Big Magic by Elizabeth Gilbert (my fave author) has been out for a while but I just now got  around to it. Boy, am I glad I read it at the exact time I did. It was the number one catalyst for me to get over myself and all of my insecurities about launching my blog and just launch it!
I put together 5 things I thought you might like for the weekend:
1.  Coastal Living has rounded up the Top 10 CAR free Islands to visit and I was happy to see 2 of our local islands featured there! Useppa Island and North Captiva Island! Both are great choices for a summer trip! Even though they are very close in proximity, they have a completely different vibe. Two other car-free islands local to SW Florida I would add to the list are Cabbage Key and Little Gasparilla Island.
2. A new restaurant, Deep Lagoon Seafood opened in Ft Myers last week. Slade and I got a sneak peek of it at the soft opening and it was great! I especially like the ceviche! It is walking distance to my home so, I think we will be spending some time there.
3. Speaking of ceviche, Delish has a ceviche recipe that is definitely on my list to try.
4. Shauna, over at House of Silver Lining recently featured her amazing Kitchen reveal. She and her builder husband have been hard at work building their new home and the results are stunning! Check out her cute Naples beach cottage too!
5. I have found so many cute things at Loft recently! There are so many styles on Sale now! I think you'll find some great items to add to your summer wardrobe!
I hope you have a happy weekend! Thanks for reading!